The Fortnite Champion Series Trio event for Season 5 starts in just two weeks, and Epic Games have now revealed details of the competition. It will likely run for the entirety of 2021, and span several seasons.
The total prize pool this year will be significantly higher than in 2020. Epic Games is forecasting a total endowment of $20 million in 2021, across all regions combined — up from $17 million in 2020.
Europe will receive the highest share, with $1,350,000 on offer in each of the FNCS EU season finals.
FNCS Chapter 2 Season 5 Schedule
Qualifier 1: February 4-7
Qualifier 2: February 11-14
Qualifier 3: February 18-21
Bye Week: February 25-28
Semi-Finals: March 5-7
Reboot Round: March 12 & 13
Finals: March 12-14
FNCS Format
Players will compete in a single, cross-platform player pool. This allows players on multiple platforms (i.e. PC and console) to play together as teammates.

Weekly Qualifiers will have an additional round to pare down to the final lobby more gradually. See details below.

Once qualified to the Semi-Finals, teams will be locked and unable to play in additional Qualifiers. This means if a team directly qualifies to the Semi-Finals in Week 1, that team won't be able to influence the Week 2 or Week 3 Qualifiers.

The Semi-Finals and Finals will be played out on separate weekends to better manage both player fatigue and tournament operations.

All prizes have been shifted exclusively to the Finals.

The top three teams from each region's Finals will auto-qualify for the next season's FNCS Finals. Note: This change requires that all three members of the team remain together during the next season.

FNCS Champions and other consistent top performers will earn the opportunity to be invited to the mid- and end-of-year prize competitions.

There will be slightly different scoring formats for single lobby vs. multiple lobby gameplay, to account for the increased level of competition and the increased challenge of obtaining eliminations in the later stages.
This is the EU format. The Official Rules for other local regions are coming next week.
Qualifiers Format
Each week, the top performing teams will progress through different rounds of competition, culminating in a 33-team field in the final stage.
The top 10 teams from each region in the final stage will move on to the Semi-Finals. Series Points will be awarded to teams that advance to Round 2.
Friday: Round 1 → Open
Saturday: Round 2 → Top 1500 teams
Saturday: Round 3 → Top 250 teams
Sunday: Round 4 → Top 33 Teams
Additional Qualifier Path — After three weeks, the top 102 teams based on Series Points will also advance to the Semi-Finals, for a total of 132 teams in each region progressing in the tournament.
Semi-Finals
Once teams advance to the Semi-Finals, they will be placed into four groups in their respective region. Each group consists of 33 unique teams. The top eight teams from each group will advance to Finals. Teams that placed 9th-16th in each group will compete in the Reboot Round.
Saturday: Group 1 (33 teams) and Group 2 (33 teams) → Top 8 teams of each group advance
Sunday: Group 3 (33 teams) and Group 4 (33 teams) → Top 8 teams of each group advance
Reboot Round (March 12-13)
Teams ranked 9th-16th in each Semi-Finals group will move to a special consolation round, the Reboot Round.
The Reboot Round is a winners-take-all single match, where the team that earns the Victory Royale will be awarded a qualifying ticket to the Finals.
Finals (March 12-14)
With the competition down to the top 33 teams in each region, our Chapter 2 Season 5 FNCS winners — and new wielders of the Axe of Champions — will be determined across 12 total matches in two days (six matches each day).
Additionally, the top three teams from each region will automatically qualify for the Chapter 2 Season 6 FNCS Finals.
Original content by Romain "Zorg" Becquelin.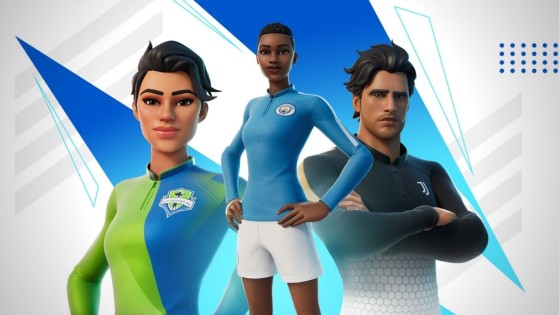 Earning Victory Royales while wearing your favorite club's jersey will now be possible thanks to a partnership between Epic Games and some of the biggest football (soccer!) teams on the planet.