Home Ground by Red Bull is the first foray into professional VALORANT for the brand, and it brings together some of Europe's biggest teams.
From G2 Esports to SUMN FC, watch along as they get to grips with a unique tournament format.
Home Ground by Red Bull Tournament Format
The tournament is a best-of-five, single elimination event. The twist is that teams get to choose a favoured map — the Home Ground — which get played first.
If a team wins both home grounds, they instantly get the 2-0 victory, and move on to the next round. This means the pressure is on in the early game, and reverse sweeps are off the table completely.
Should the home grounds be shared between the teams, then the entire best-of-five series is played to its conclusion.
This video primer explains the format in more detail.
Home Ground by Red Bull Schedule
The tournament bracket can be found below. Remember, matches are single-elimination — once a team loses, they're out!
Quarter-Finals: January 28-29, 2021
Semi-Finals: January 30, 2021
Grand Final: January 31, 2021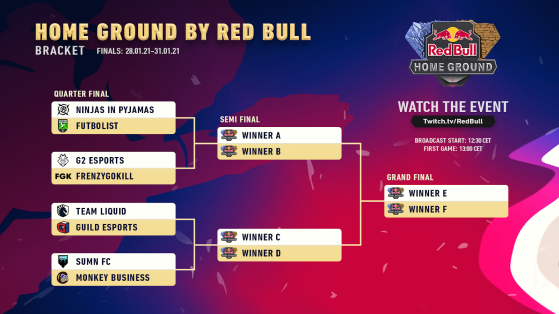 Home Ground by Red Bull Teams & Talent
The following EU teams are taking part in the event:
G2 Esports

Team Liquid

Ninjas in Pyjamas

SUMN FC

Futbolist

FrenzyGoKill

Guild Esports

Monkey Business
Bringing you all the action is a stellar lineup of talent:
Frankie Ward

Lauren "Pansy" Scott

Mike "hypoc" Robins

Mitch "MitchMan" Mcbride

James Banks
Home Ground by Red Bull Results
QUARTER-FINALS

Ninjas in Pyjamas

3-1

Futbolist

G2 Esports

2-0

FrenzyGoKill

Team Liquid

2-0

Guild Esports

SUMN FC

2-0

Monkey Business

SEMI-FINALS

Ninjas in Pyjamas

1-3

G2 Esports

Team Liquid

3-2

SUMN FC

GRAND FINAL

G2 Esports

January 31
13:00 CET

Team Liquid
Home Ground by Red Bull Live Stream
You can watch all the action using the stream below: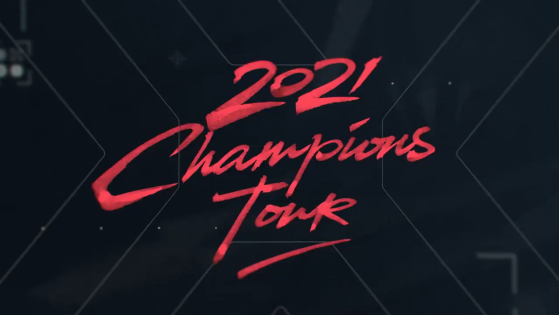 valorant-esports
The Valorant Champions Tour 2021 is about to begin, and for the occasion, Riot Games has released an explosive new trailer.