The League of Legends Championship Series (LCS) continued its pursuit of a Mid-Season Showdown champion last weekend. In the lower bracket of the event, four teams fought to stay alive to have a shot at claiming the crown.
Regular Split second-seed and reigning LCS champions TSM was the first to satisfy the fans, defeating sixth-placed team Evil Geniuses. After a dominant first game, Evil Geniuses did manage to get a hard-fought victory to tie the series. However, TSM proved to be too strong, especially when it came to team fights. On several occasions, TSM seemed to be driven into a corner by Evil Geniuses, who then miraculously lost the fight by seemingly poor communication. TSM mid laner Tristan "PowerOfEvil" Schrage led his team to a 3-1 victory.
On Sunday, 100 Thieves and Dignitas followed to keep their heads afloat. With 100 Thieves ending the Spring season in fourth place and Dignitas in fifth place, hopes were that the series would be close. However, those hopes were swiftly crushed by a determined 100 Thieves. The first game proved to be the closest one of the day, but with Ian Victor "FBI" Huang was so strong on the Kai'Sa that Dignitas' Nexus inevitably fell. The subsequent games were straight up stomps. 100 Thieves barely broke a sweat, sweeping Dignitas out of the tournament.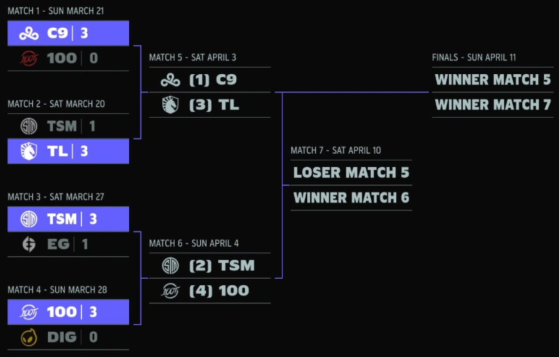 Coming weekend, the Mid-Season Showdown plays its upper bracket final between Cloud9 and Team Liquid, both of whom looked incredibly strong in the first round of the competition. The loser of that match will play against the winner of TSM versus 100 Thieves, with the second grand finals spot on the line.
Though the LCS has just one long Split this year, the Mid-Season Showdown still carries a lot of prestige with it. The winner of the tournament will represent the region at the Mid-Season Invitational in Reykjavik, Iceland, in May this year.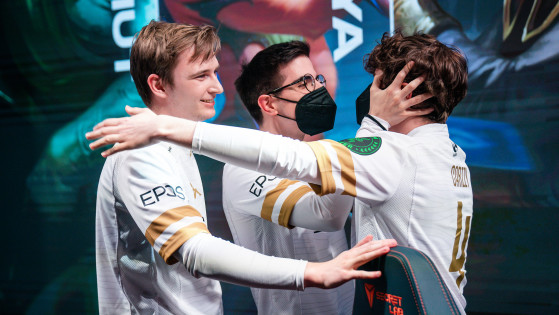 lolesports
The opening weekend of the LEC Spring Split Playoffs turned out to be a lot closer than expected, with fan-favorites struggling to close out wins.
Image courtesy TSM.