What many thought would be a boring weekend in the League of Legends European Championship (LEC) Playoffs turned out to be a nailbiter from start to end. All three series played were a lot closer than expected, giving fans an unexpected treat.
The weekend kicked off with Fnatic taking on SK Gaming. Fnatic, who came in as the fifth seed following a rough regular Split, opened the series with a win. But SK Gaming proved to be far more resilient than anticipated. They impressively fought their way back into the second game, bringing the series to a tie. While outstanding performances from Janik "Jenax" Bartels and Erik "Treatz" Wessén lifted up SK in the subsequent games, Fnatic edged them out just enough. With Elias "Upset" Lipp leading the charge much like he had during the regular Split, Fnatic won the series 3-1.
On Saturday, reigning champions G2 Esports met Schalke 04, an opponent they had picked themselves. It was a decision that G2 almost came to deeply regret. Initially, everything pointed towards the series being a clean sweep. G2 took a 2-0 lead, fueled by an unforgivingly strong Martin "Rekkles" Larsson. Schalke 04's mindset was not easily broken, however. Support player Dino "LIMIT" Tot kept finding fantastic engages on champions such as Gragas and Alistar, setting his team up for success. The series reached a fifth game. Despite Schalke 04 taking a dominant lead in the game, G2 managed to claw their way back into it, advancing in the upper bracket after a big scare.
MAD Lions and Rogue closed out the weekend. Rogue came in as heavy favorites, reaching the same score as G2 did in the regular Split and toppling MAD Lions twice in the Double Round Robin. They opened impressively, with Larssen dominating the rift on his signature pick Azir. MAD Lions didn't roll over just like that though. Norman "Kaiser" Kaiser and Javier "Elyoya" Prades Batalla brought their team back into the series, and MAD Lions took a 2-1 lead. When in game four Rogue was in a commanding lead and a fifth game seemed imminent, MAD Lions' true persistence came to light. They flipped the game around and struck down Rogue 3-1.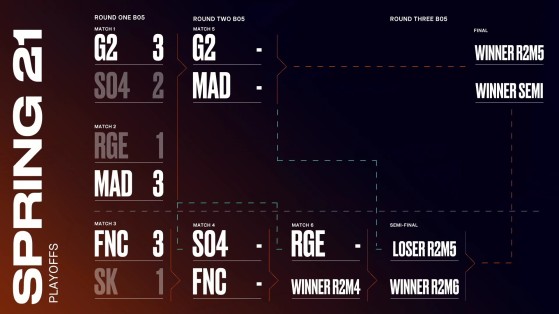 Coming weekend, G2 Esports and MAD Lions face each other in the upper bracket. Fnatic fights for a chance to stay alive against Schalke 04, the winner of which plays against Rogue in the same weekend.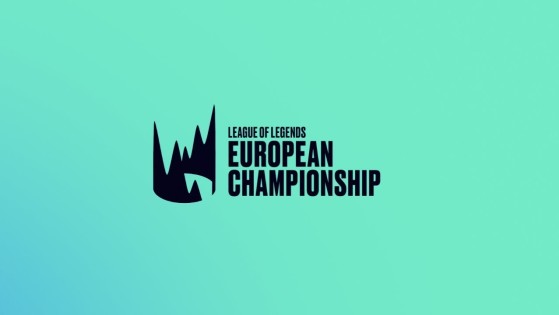 lolesports
Here you'll find the schedule and all the match results as the League of Legends European Championship heads into the business end of the 2021 Spring Split.
Image courtesy Michal Konkol for Riot Games.