The LCS is down to its final three teams competing for the first-ever Mid-Season Showdown title. Only Cloud9, Team Liquid, and TSM still have a shot at grabbing the gold medal.
On Saturday, the upper bracket finals between Cloud9 and Team Liquid determined which team would go straight to the Grand Finals. Cloud9 kicked off the series with a dominant win over Team Liquid, but it wasn't over that easily. With a pop-off performance from Barney "Alphari" Morris on Gangplank, Team Liquid tied the series. It was a consolation prize, however. With mid laner Luka "Perkz' Perkovic having one of his best performances of the season so far, Cloud9 brushed away Team Liquid in the subsequent games, closing the series with a 3-1 victory.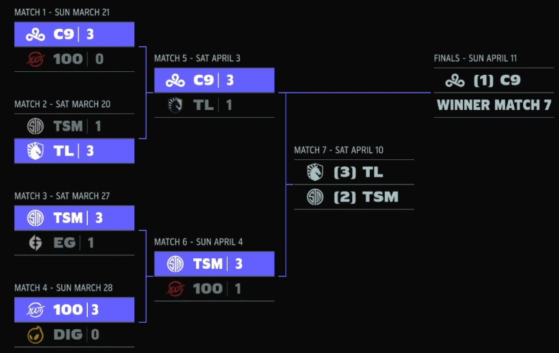 TSM faced similar opposition from 100 Thieves in the lower bracket of the tournament. After TSM opened the series with a fairly easy victory, 100 Thieves upped the pressure. In the second game they came close to a victory, but TSM edged out the win with simply better team fight coordination. Having tasted blood, 100 Thieves went into game three. Jungler Can "Closer" Çelik was all over the map helping his team gain a lead, which 100 Thieves snowballed to a victory. TSM proved to be resilient, however, and with a 3-1 result advanced to the lower bracket finals.
Team Liquid and TSM play against each other coming weekend in the Mid-Season Showdown. The winner of that game advances to the Grand Finals and takes on Cloud9 for a ticket to the Mid-Season Invitational, held in Iceland later this year.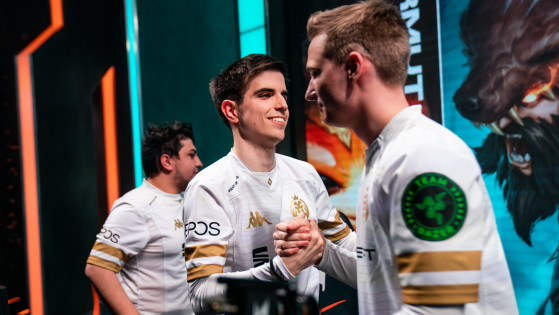 lolesports
The second week of the LEC Spring Split Playoffs eliminated Fnatic and Schalke 04 from title contention, while MAD Lions, G2, and Rogue stayed in the running for the trophy.
Image courtesy of Riot Games.