Only three teams remain in the League of Legends European Championship (LEC) Spring Split Playoffs following another weekend of action. MAD Lions, G2 Esports, and Rogue are the final teams with a shot at the coveted championship title and a spot at the Mid-Season Invitational.
The weekend kicked off with a lower bracket elimination match between Schalke 04 and Fnatic. Already being the favourites heading into the series after taking G2 to five games, Schalke 04 made quick work of Fnatic. With controlled gameplay, the Royal Blues swept a distraught Fnatic from Summoner's Rift and finished the series with a clean 3-0.
Saturday's match between G2 and MAD Lions wasn't as one-sided, though the end result was still a surprise to most. MAD Lions took a quick 2-0 lead in the series with outstanding play from jungler Javier "Elyoya" Prades Batalla and support player Norman "Kaiser" Kaiser. G2 managed to fight back in game three and secure a hard-fought win, but it was too late. MAD Lions came back dominantly in the fourth game, closed out the series, and advanced to the Grand Finals.
Closing out the weekend, Rogue welcomed Schalke 04 to the studio with open arms. Rogue had found their footing again following a loss to MAD Lions in the weekend prior, and were set to prove the doubters wrong. In traditional Rogue fashion, they played calmly and controlled the map, funneling gold to Emil "Larssen" Larssen and Steven "Hans sama" Liv. Though Schalke 04 did take one win off Rogue by throwing a curveball with a Nocturne in the top lane, Rogue adapted well and advanced with a 3-1 win.
Next weekend, Rogue will face G2 Esports in the lower bracket finals in a best of five. The winner of that series will take on MAD Lions in the Grand Finals to determine which team will represent Europe at the Mid-Season Invitational.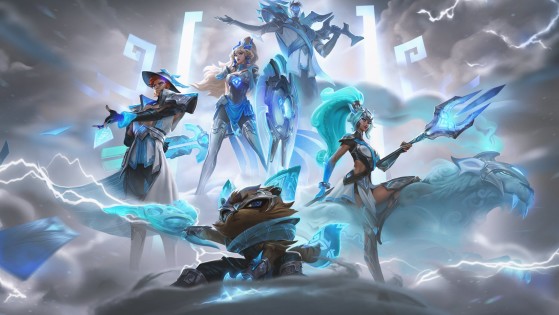 lolesports
The special skins celebrating DAMWON Gaming's League of Legends World Championship 2020 victory have been unveiled by Riot Games, with Kennen, Nidalee, Twisted Fate, Jhin and Leona chosen by the players.
Image courtesy of Michal Konkol for Riot Games.