The Spring Proving Grounds Circuit concluded on Sunday, April 25, after four months of Amateur League of Legends tournaments; with No Org taking the crown after their LCS Proving Grounds Finals win against Cloud9's Academy squad.
No Org, previously under the ANEW Esports banner, stormed their way through the Tier 2 Tournaments, and qualified straight to the LCS Proving Grounds after their dominant win in the first Tier 1 Tournament. The LCS Proving Grounds replaced the Academy Playoffs, but were structured with the Tier 1 and Tier 2 Tournaments as a way for Amateur teams to compete; basically to find the best NA team outside of the LCS.
No Org is full of names that have a storied history, with the likes of Omran 'V1per' Shoura, Andy 'AnDa' Hoang, and Terry 'Big' Choung who have all played on the LCS stage. But the name that is perhaps less heard of is the Midlaner, Aidan '5fire' Reckamp, who became the centre point for the team.
5fire has been at the top of the North American Amateur scene for years, having attended, and won, the past two Scouting Grounds events. However, he was never picked up by an Academy or LCS team, unlike Aiden 'Niles' Tidwell and Ethan 'Iconic' Wilkinson who joined Golden Guardians this year.
This just meant 5fire had something to prove, and this circuit he has done just that.
Cloud9 came into the event as heavy favourites, having won the past couple of Academy splits. They had a very dominant Spring Split, and came into the LCS Proving Grounds as Academy's First Seed.
No Org and Cloud9 Academy first met in the Semifinals. No Org were yet to drop a game after playing through Academy teams, while Cloud9.A had dropped games to other Amateur teams. During this inital matchup, Cloud9 got the better of their opponents, pushing No Org to the Losers' Bracket after a 1-3 defeat. There, they 3-1'd 100 Thieves Academy to take them to the Finals, where the rematch against Cloud9 Academy could happen.
While this first Proving Grounds Circuit provided a host of issues, primarily the amount of games which the unsalaried, work and/or school going, Amateur players were forced to play throughout the potential seven tournaments over the four months, it also put the spotlight on the young and developing talent. While the talk around the LCS has been about imports, hopefully the Spring Proving Grounds Circuit has given cause for eyes to look inward at the talent within the Amateur scene.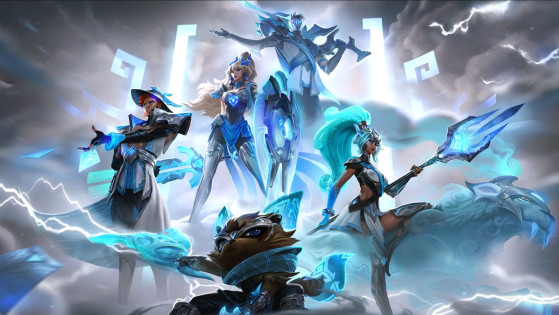 lolesports
We can now see in-game what the tribute to the 2020 League of Legends World Champions looks like.