Two teams have fought their way to the Rumble Stage at the League of Legends Mid-Season Invitational:MAD Lions and PSG Talon came out on top in Group B after a long day of best-of-ones.
PSG Talon were the first ones to lock in their ticket to the next stage. Despite playing the entire tournament with substitute support Chiu "Doggo" Tzu-Chuan (who was loaned from Beyond Gaming), following health issues of main support Wong "Unified" Chun Kit, the team dominated. Against both paiN Gaming and Istanbul Wildcats, PSG Talon showed that they are not to be trifled with, no matter who's playing on their roster.
MAD Lions had to sweat more to secure their spot in the Rumble Stage. Despite being 3-0 in score heading into the day, each of their victories were narrow escapes. The first game of the day served as a reminder and a wake-up call for the team, as they bit the dust against Istanbul Wildcats. paiN Gaming once again gave MAD Lions a difficult time, although MAD Lions persevered. With that win, the LEC champions locked in their spot for the next stage.
Two games still were played to round up the day: paiN Gaming and Istanbul Wildcats played a 'for-honor' game—a chaotic but entertaining game which paiN Gaming ended up winning. Lastly, MAD Lions and PSG Talon clashed to fight for the prestige of ending the Group Stage in first place. Seemingly unshackled, MAD Lions took a confident victory over their opponents from the PCS region.
MAD Lions and PSG Talon join RNG and Pentanet.GG, who qualified through Group A. Today, Group C concludes its Group Stage games, as DWG KIA, Cloud9, DetonatioN FocusMe, and Infinity Esports take to the Rift.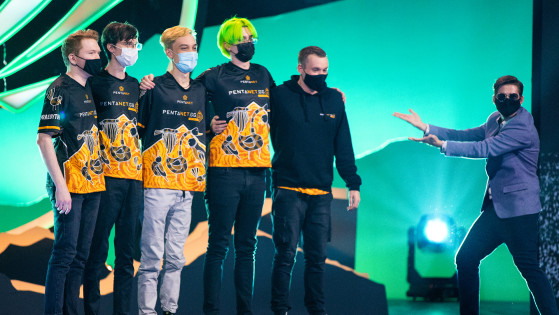 lolesports
Group A has rounded up its second half of the double Round Robin format, sending RNG and Pentanet.GG to the Rumble Stage.
Image courtesy of Riot Games.