League of Legends will receive a virtually unprecedented amount of news over the next month. The Sentinels of Light event has arrived in-game to bring us new content throughout the next two patches.
We will get skins of different themes, and of course there's the arrival of new champion Akshan.
However, Riot Games could have a few more surprises in store.
A skin as a reward in the next event?
A leak that took place a few days ago speculated on the arrival of:
Cyber Pop Akshan

Sentinel Pyke, Rengar, and Graves

Ruined Miss Fortune

Unbound Thresh
All these additions have been confirmed by Riot since the leak, which has led to the leak having a lot of credibility with the community. Now, they're paying attention to one of the most interesting details in the leak...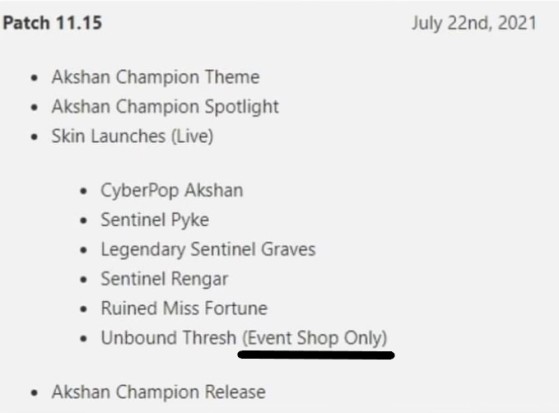 The possibility that we could get a free skin with Sentinels of Light event tokens had already been put on the table, following dataminers looking at the game's code.
To know if this skin will truly be free, we'll have to see just how much it costs in event tokens should it be confirmed.
Players who don't pick up the premium event pass are rarely able to get enough tokens for the top rewards, instead needing to spend money on chest offers for the extra tokens required. It remains to be seen whether Riot will alter its usual strategy in this case.
LoL: All about Akshan, the Rogue Sentinel, and his abilities
It's Akshan's turn to land on the Rift. Here is the full set of abilities for the new champion, which will go live in League of Legends on July 22.