Minecraft Dungeons didn't have the best launch. This Diablo-inspired title had some solid foundations, but the lack of content and deeper mechanics left a poor impression. However, the game has been improving, and is becoming a more interesting package with the arrival of different additional content.
Yesterday, the team at Mojang Studios announced Echoing Void, a DLC that will take the players to a deadly dimension called The End. At the same time, this will mark the conclusion of the main story arc that started with the original release.
However, the studio revealed that there will be more DLC in the future.
Echoing Void will feature brand new enemies, legendary gear, and difficult missions. But if this isn't enough for you, the team has revealed that a free update called The Gauntlet of Wales will launch on the same date (July 28) as the aforementioned DLC. This update will feature a "unique maze-like mission" that has challenging trials and puzzles. 
For those players who don't have the original title, an exciting Ultimate Edition, which includes the six released DLCs, will also launch on July 28. This version will include Jungle Awakens, Creeping Winter, Howling Peaks, Flames of the Nether, Hidden Depths and the content recently announced, Echoing Void.
In Minecraft Dungeons, Mojang have gone with a different genre, the dungeon-crawler, for their next take on the Minecraft universe. Does it offer something accessible to a general audience, while respecting the difficulty usually required for this kind of game? Our review reveals all.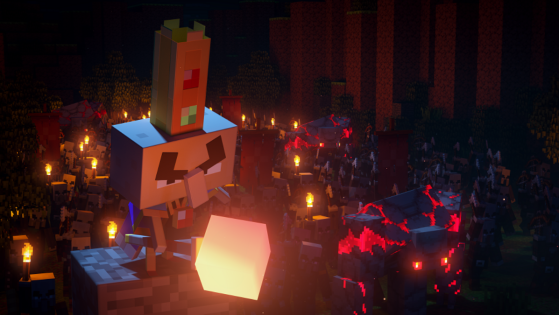 Minecraft Dungeons, Mojang's Dungeon Crawler, is finally out! Check out our guide to start the adventure and understand all the subtle mechanics of the game.