Following a long period of maintenance last night, Pokémon Unite is finally available on mobile devices.
Accompanying the release is a massive update that adds new Holowear, balance changes, a new interface, guild system, items  and more.
Download Pokémon Unite on Android

Download Pokémon Unite on iOS

 
If you've previously signed up for Pokémon Unite on a mobile device, don't forget to collect the many rewards that TiMi Studios is offering.
Note that crossplay is also possible, and you can transfer data from your Switch account to your mobile one.
What changes come with the release of Pokémon Unite on mobile?
The following is a non-exhaustive list of changes and new features added to Pokémon Unite for Nintendo Switch and mobile devices:
The game is now available in Spanish

A new Battle Pass with new daily and weekly missions

New Holowear skins for Charizard, Gengar, Garchomp, Lucario and Snorlax

A welcome event available until October 31 on mobile devices, granting Aeos Tickets, a Pikachu Holowear and more

Unite Squads, a kind of guild system

The ability to obtain Zeraora, for players who were unable to do so on Switch

A spectator mode

The possibility of obtaining many more item power-ups than before, through specific missions,

A new game mode

Cross-play and cross-save between Switch and mobile devices,

Three new items: Razor Claw, Choice Specs, and Weakness Policy 
Original Content: MGG FR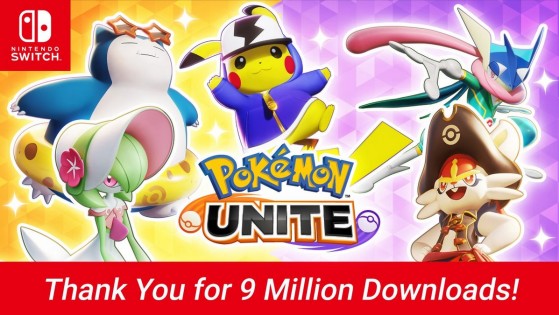 Pokémon Unite reaches 9 million downloads on Nintendo Switch. The Pokemon MOBA continues its ascent a few days before its mobile release.