Rumours surrounding the G2 Esports' League of Legends operation continue to swirl online and on social media.
MAD Lions have already granted permission for SuperLiga ADC Victor "Flagged" Lirola to tryout with G2 -- amid tampering claims from the current LEC champions, and there have been suggestions that G2's top, support and head coach positions could be open.
Now, Pablo Suárez from Dot Esports has seemingly corroborated that last rumour, reporting that the Samurai are looking to sell the contracts of Martin "Wunder" Nordahl Hansen, Mihael "Mikyx" Mehle, and coach Fabian "GrabbZ" Lohmann for between €160,000 and €2,000,000.
While the trio have contracts until the end of the 2022 season, CEO Carlos "ocelote" Rodríguez has already declared that there will be changes for 2022.
This comes after G2 missed out on Worlds qualification for the first time in its history, and a particularly poor 2021 -- despite bringing in superstar ADC Martin "Rekkles" Larsson to bolster their side.
According to Dot's report, Team Vitality and Team BDS -- who acquired the Schalke 04 Esports slot -- are interested in the trio. The report lists the following valuations for the trio's contracts:
GrabbZ: €160,000 ($187,628)

Mikyx: €1,500,000 EUR ($1.7 million)

Wunder: €2,000,000 EUR ($2.3 million)
There has been no official confirmation from G2 of these rumours, although there has been the typical memes posted to social media. 
G2 have already renewed Rasmus "Caps" Winther through 2023, while Suarez reports that they are close to an extension with Marcin "Jankos" Jankowski.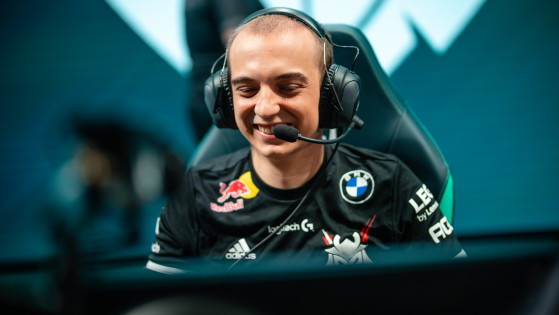 lolesports
While there are plans to renew the deals of the full G2 Esports roster for 2022, the org have already tied down midlaner Rasmus "Caps" Winther to a contract extension.