The release date of Santa Monica Studio's next title, God of War: Ragnarök, is not so far off, as it is scheduled for November 9 on PS4 and PS5. But for a highly anticipated AAA, less than 2 months away from its release, it hasn't shown much yet. Many elements are still kept secret, so as not to spoil the players, or to attract their attention at the right time. GameInformer got an early preview of the game, with details on some features. This time, it is accessibility that is highlighted.
Tons of accessibility options
The fan audience for video games is increasingly large and varied, which explains why with the maturation of the media, studios are also seeking to make their games more accessible. It is not a simple question of difficulty, far from it. Not all players are created equal, age can have an impact on in-game performance, as can certain disabilities. Color blindness is one of the most notable examples, since an alternate display mode has long been available in quite a few titles. But it is now far from being limited to this, and since it is difficult to offer individualized options for each situation, the studio would have prepared more than 60 different accessibility options , divided between 4 distinct categories: motor skills, vision, hearing, and cognitive understanding. A fuller list is expected to be revealed closer to release, but the video above already offers a preview of what they have in store.
Tailor-made controls and display
On the visual side, this includes better highlighting of objects, interactable items, and enemy attacks, for example. Different color schemes, with distinct contrast levels are also provided. We can expect visual alerts, or vibrations from the DualSense 2 on PS5 to replace certain sound effects designed to warn the player. The PS5 controller is fully exploited in this area, since the touchpad can also be used to replace a lot of commands and actions that can be simplified or even automated, such as sprinting.
Finally, there are also accessibility options related to puzzles and riddles, which tend to require fairly quick and precise sequences of actions. In addition to the possibility of directing Kratos instantly towards the element with which he must interact, certain types of puzzles will give the player greater room for movement. To take the example of the video, the rocker will continue its movement for 12 seconds, instead of , which gives much more time to pass, or to carry out the following action. This has the merit of being more nuanced than simply offering a story difficulty mode, entirely devoid of challenges.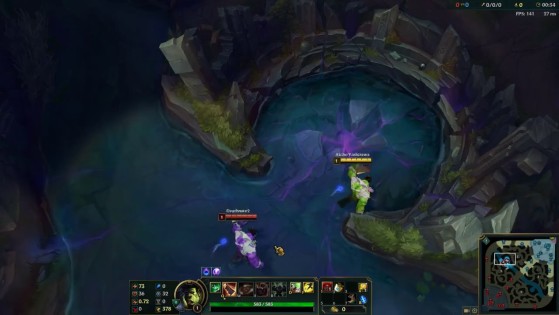 You may have heard about it in the past few days, but a new game mode is coming... to Wild Rift. A special mode, probably permanent: 1v1. An addition that did not go over very well with the League of Legends community.