God of War: Ragnarök will be released in a few days and the hype around the production of Santa Monica studios continues to increase. Thus, many streamers embarked on the epic God of War of 2018 before following the continuation of the adventures of Kratos and Atreus on November 9th. This is particularly the case of Miss Mikkaa who tried a run on Sony's production... all on the dance floor!
God of War on the dance floor, she did it!
If you have followed the news around the latest FromSoftware production, you undoubtedly know the nickname of this streamer. Before embarking on God of War, she had defeated most Elden Ring bosses using a dance pad or even with one hand. Real feats given the level of difficulty of this soulslike.
While waiting for God of War Ragnarök, therefore, the player has launched an assault on terrible creatures from the 2018 opus, we are of course talking about the Valkyries. Although they bring the best equipment in the game, these kinds of harpies are undoubtedly the most formidable opponents in the game and defeating them without a dance mat is already very difficult.
After defeating most of the Valkyries, the streamer completely annihilated their queen... not without difficulty. Indeed, Miss Mikkaa took about 6 hours to finish Sigrun, the ultimate boss. After all this time of intense tryhard, the player savors her victory and intends to take a little rest. However, as we can imagine, she will be back very soon with a totally unusual new challenge that she will accomplish brilliantly!
The streamer responds to the haters
Of course, Miss Mikkaa accomplishes such feats that many don't actually believe it. Under his Twitter post, several comments accuse him of cheating. According to them, she would pretend to play on the dance mat doing random steps while another player would be behind her with a controller in order to actually control Kratos.
"-If you believe this, you believe everything! Meanwhile, the guy in the background with the controller... -If you think about it for more than a second, you'll probably understand that it's harder to pretend to playing the game on a dance pad for 6 hours straight while being LIVE on 11 different occasions than actually doing it. Feel free to analyze the hours of available footage."
Réponse de MissMikkaa à un utilisateur Twitter
(
Source
)
The content creator explains that it would be much more complicated for her to pretend than to actually learn to play on the dance floor. In addition, when analyzing the images of his streams, we can see that his leg / foot movements are perfectly synchronized with those of Kratos. There is therefore little (if any) chance that the streamer will lie about her exploits. Her community has noticed it, since she started playing on the dance floor she has indeed progressed, to the point of being able to delight us with totally crazy content!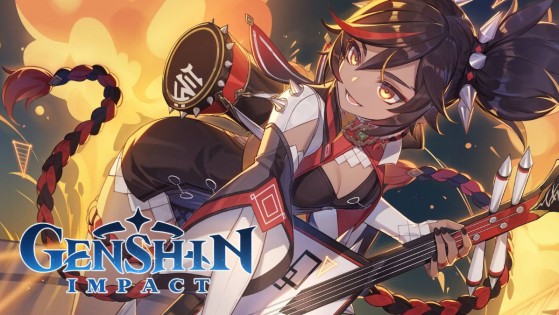 Genshin Impact embodies the lucrative gatcha game par excellence, which with each character release manages to fill its community with hype. This craze for ultra-charismatic heroes translates into spending sprees among some players. Also called "whales" by their peers.