For LCS veterans Team SoloMid, the weekend was hard and painful. After all, who could have expected Clutch Gaming to win three Bo3 series in a row? Who could have predicted that the team who ranked fifth at the end of the Summer Split would actually manage to reach the Regional Finals? This is the kind of mystery, the kind of surprise, that makes League of Legends esports so entertaining. Here at Millenium, we can't express how magical we think this victory is.
Everything seemed to be already written in stone. The first game of this Regional Finals was completely dominated by TSM, the LCS veterans seemed ready to 3-0 their opponent. However, Clutch Gaming wouldn't accept the loss so easily, and beautiful engages from Huni and Damon put TSM in a cold sweat. Sadly, it wasn't enough to beat Bjergsen and his teammates, who prevailed in the first two games.
0-2, and Clutch Gaming were backed into a corner. Their only favourable outcome was the reverse sweep... which is exactly what they pulled off. From this point, Clutch Gaming were like a whole other team — Huni and his teammates were no longer pro players: they'd become demons. TSM left Qiyana open, and Damonte immediately locked in his power pick — thus entering the third game with confidence. TSM were then unable to stop CG taking the third game.
At 1-2, the tide was turning... but it wasn't over yet. TSM didn't want to concede, to admit the very possibility of a reverse sweep. From teamfight to teamfight, the balance shifted from one team to another. Clutch Gaming eventually managed to take the lead — and the game.
At 2-2, the dream was real... TSM looked mentally broken, facing a team powered by the rage of winning. Gradually, Bjergsen and his teammates lost control of the map and were eventually obliterated while trying to contest Baron.
3-2, Clutch Gaming prevailed.
Clutch Gaming secured their ticket to Worlds — and that wasn't even the biggest news of the day.
That is Huni being back on the Worlds stage — becoming the only player in League of Legends history to reach the World Championship with three different regions. In 2015, he reached the semi-finals with Fnatic, then suffered a 3-0 loss to KOO Tigers. In 2017, Huni and SKT made it to the Finals, eventually losing to Samsung Galaxy. This year, Huni will attend Worlds with Clutch Gaming.
However, they only secured the 3rd seed for NA — meaning they will first need to get out of the Play-In phase. Will they make it?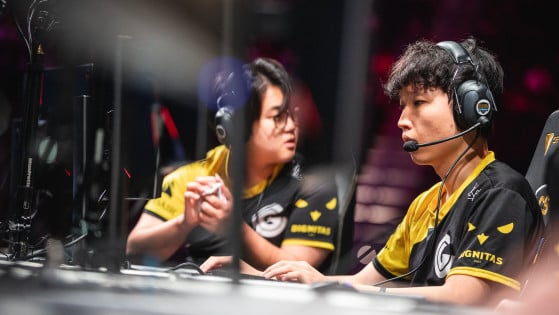 lolesports
As winners of the Regional Qualifiers, Clutch Gaming booked their tickets to Worlds as the LCS third seed. This comes after Doublelift and Team Liquid snatched a fourth title following five tense games against Cloud9 in the LCS Summer Finals.