Available from the 10th on almost every platform, besides the Nintendo Switch and the Playstation 5, the latter of which received the game on the 12th, Assassin's Creed Valhalla is the first major title to launch on next-gen consoles while we await the arrival of other releases, like Demon's Souls. In this article, we'll give you our thoughts on the most recent outing from Ubisoft Montreal, which we experienced on Xbox Series X with its optimisation patch.
Genre: Action/Adventure
Release Date: 10/11/2020
Platform: PC, PS4, PS5, Xbox One, Xbox Series, Stadia
Developer: Ubisoft Montreal
Publisher: Ubisoft
Prix: $59.99 on

Amazon

Played on: Xbox Series X
A Saga Begins
Each new outing in the Assassin's Creed canon comes with its own new historical setting, with Valhalla taking place in 9th century England, during the Viking invasion. You play as Eivor, The Wolf-Kissed, a drunkard that's always ready to lend a hand and to whom future holds a lot in store. Their destiny will take them from the coasts of Norway to the lands of England in order to conquer the kingdom alongside their blood brothers. On these new lands, the invaders set up camp, allowing Eivor to get stronger as they rack up victories, and you'll have the chance to return there during your time with the game. It's a lot more than just a throwaway mechanic, as expanding you base plays a key role in the game's narrative, with significant revelations occurring as the camp swells in size; the Viking base is another essential part of the storyline in Valhalla.
The rest of this Viking saga plays out on the field of battle, with more than 15 territories to conquer and rulers to defeat. The Assassins will once again covertly insert themselves into the situation to tie the setting back to the series. And while a focus on warriors is a welcome addition to the franchise and the various dukes and duchesses do enough prevent the formula from getting too stale during each narrative arc, in truth, the plot of Valhalla unfortunately fails to leave any discernible impression on the player. This issue stems in part from its mythological themes, which are often uninspired and even clash with the game's poor direction: the plot itself isn't bad, but the way it is relayed and presented to the player prevents from truly being able to sink in. Taking over lands and vanquishing their rulers is still an enjoyable endeavour, but there's nothing here to make the story feel memorable.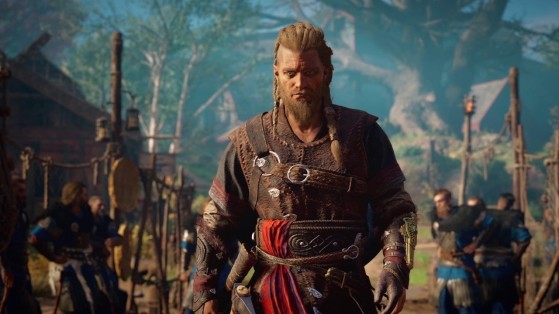 A New Take on an Old Formula
Assassin's Creed Odyssey received a warm welcome following its 2018 release. Expansive and stunning, Odyssey was a perfect incarnation of the new direction for the franchise first introduced in Origins. Above all else, Odyssey was perhaps too generous, both in terms of loot and things to do, meaning that there was still an enormous amount of content left untouched even after players had sunk tens of hours into the game. The team at Ubisoft have carried this over to Valhalla, and although the game remains an ARPG-lite experience at its core, the devs have got rid of some of the more complex features, and exploration has finally been addressed to make it, in simple terms, easier to understand. Gone is the level cap, which only really served to hinder your power, as is the immense talent tree, with its 3 unique branches: one for close-combat, one for ranged attacks, and one for assassination.
This only way to unlock new attacks is to spend the skill points you receive for reaching a new experience level, as these skills, unlike classic abilities, can't be found whilst exploring. Loot has also been revised and refined to make it a lot rarer than in previous outings. No longer will you be able to count on getting incredible drops from random foot-soldiers. If you want to get your hands on the best of the best, you'll have to work your way through the campaign, which isn't a bad thing by any means. Everything is still laid out for you on your map, just as you might expect from an open-world game from Ubisoft, though this time it does feel slightly less invasive. The map features place-markers, with more important locations appearing larger than minor detours. For example, a tiny chest containing several items will be a small yellow dot, while a chest containing important gear will be a lot more prominent. In the same vein, traditional side-quests have been completely removed to add an element of mystery, now being replaced by short, sometimes absurd, events that will aid Eivor to get stronger.
This a very welcome change, but one that fundamentally doesn't change much. All it does is manages to empty areas of numerous artificial points of interests that characterised previous Assassin's Creed titles in an effort to make what it does do feel more memorable. The fact that the content on offer is shorter and less dense this time around means that the game is more considerate of the player's time, even if you can still pick faults out of the game's buggy animations. It's become a bit of a time-honoured tradition whenever a new Assassin's Creed comes out to point out any bugs, and Valhalla is certainly no exception. The game is filled with minor glitches, most of which affect Valhalla's merchants, and given the amount of contact you'll have with shopkeepers, these glitches will get on your nerves sooner rather than later.
Thankfully, Valhalla can rely on a more direct and satisfying combat system this time round to help it get back on track. Hour-long encounters against elite enemies and magically healing through skills are now a thing of the past. Given that this is a game about Vikings, things feel a lot rougher around the edges this time. Thanks to an incredibly lenient counter-attack system, which borrows from Sekiro's Posture mechanic, you can perform a brutal execution on an enemy with your weapon once you reduce their bar to zero. The game also attempts to return to its roots, with more options for infiltration this time around: putting on a hood with make Eivor less recognisable and you can always slip into the crowd for cover, though it should be said that besides strongly-held zones, highly populated areas are not a common feature in Valhalla. The Hidden Blade also makes its return, now once again made lethal, just as it was during Altair's adventures. However, you'll have to reactivate that feature in the options menu.
After an assassination, you'll have to make it across a high-security zone, which offers up a fair challenge. While Valhalla makes no attempt to change an already tried and tested formula, its execution is polished enough to allow players to spend enjoyable moments roaming the lands on horseback, or leading a bloody-thirsty band of your countrymen, capable of laying waste to a village in a moment's notice. The spoils of these raids can then be used to expand your base, offering you new opportunities to earn money and access new quests. This mechanic feels well executed, but ultimately, it's just more of the same, as it barely adds anything new. We would've liked to have seen Ubisoft Montreal take a few more risks on Valhalla, but regardless, everything feels well-polished.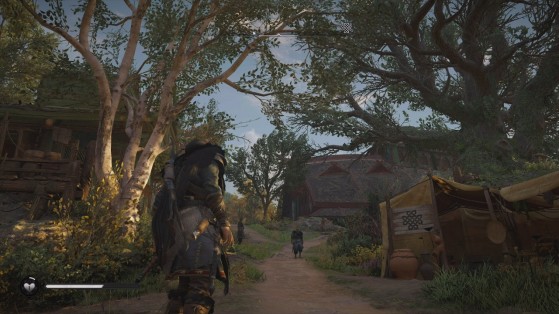 The Next-Gen
The Xbox Series X launched with the promise of 4k resolution at a steady 60FPS, something Assassin's Creed Valhalla manages to accomplish – at least most of the time. The game occasionally suffers from drops in FPS, though not to the extent that you might call it an issue, as it's an incredibly infrequent occurrence. This, alongside a stunning English landscape – featuring an incredible view distance and a staggering amount of detail – makes Valhalla a truly impressive achievement from a purely technical standpoint. As you surely know, AC: Valhalla is a 'cross-gen' title, making it an insufficient way of gauging the quality of a next-gen console, so don't expect a drastic difference between how Valhalla looks on the current generation and the next. But all the same, the developers have done a fantastic job on this one. Ubisoft Montreal have created a stunning environment, thanks in equal part to an impressive art direction, making Ubisoft's next open world a pure success on the Xbox Series X.
However, there are a few flaws to speak of: cutscenes suffer from frequent tearing, numerous bugs prevent players from getting too immersed, and some features have been scaled back for the final product. This is most evident when observing the pyrotechnics, which are immensely sub-par, and the physics on smaller objects, like flags blowing in the wind or flocks of birds, which fall prey to jerky animations. These complaints are all minor and certainly won't turn anyone away from the game, but regardless, the Xbox Series X version of Assassin's Creed: Valhalla is a true success. We can't wait to see what Ubisoft will be capable of once they can sit down an explore this generation of hardware to its fullest.
Assassin's Creed Valhalla manages to improve the RPG-lite formula introduced in Origins, by trimming some of the excessive rewards seen in Odyssey. Exploration has been re-given purpose, loot has been made more a lot more exclusive, and combat feels more meaningful – Ubisoft is definitely on the right track. Only, despite all their efforts to make levelling up feel more digestible and enjoyable, there are plenty of bugs to dampen the experience. It's a shame, even more so on the Series X, where the game looks magnificent and manages to retain 60FPS, only faltering in rare circumstances.
Levelling up has been streamlined
Combat is more brutal and satisfying than ever
Exploring feels worth your while
Hidden Blade returns to past glories
Story is rather played-out
Direction feels somewhat dated
Stealth is just as inconsistent as ever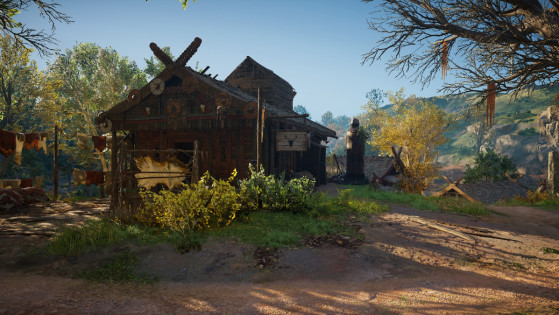 You can build the Hunter's Hut within your colony in Assassin's Creed Valhalla. There you'll be able to make hunting deliveries or to return legendary animals.