Summary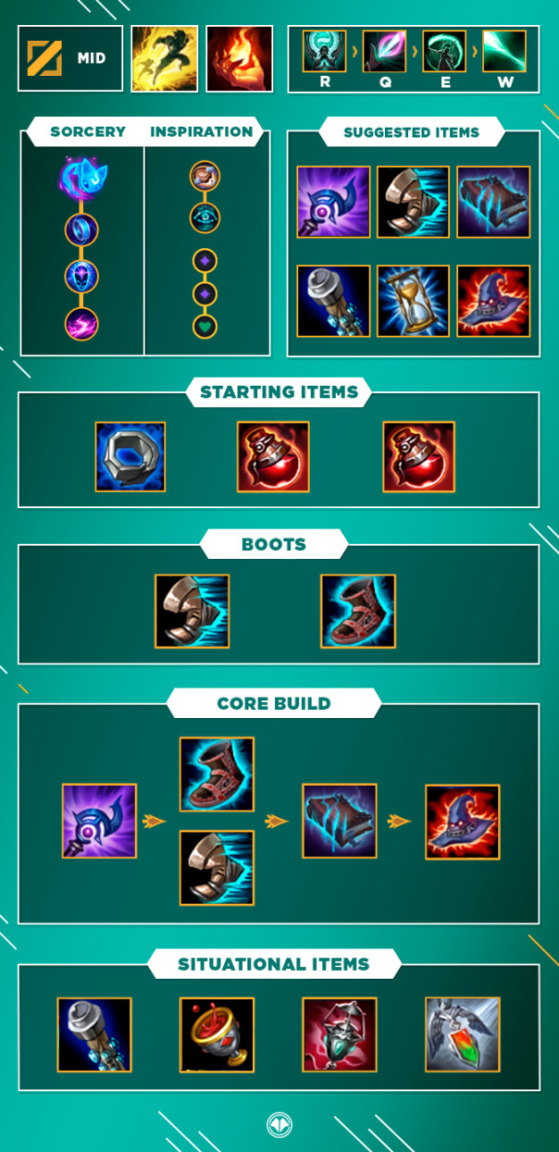 Boots
Sorcerer's Shoes is your default choice as a wizard.
You can opt for Ionian Boots of Lucidity if you know that you'll need 10% less cooldown for your spells to reach maximum cooldown.
Core items
Luden's Echo provides you with everything you need: power, CDR and mana. In addition, Luden's passive accumulated to your R - Mantra and Q - Inner Flame. Allows you to inflict huge damage without being within reach of your opponents.
Morellonomicon gives you AP and magical penetration. Moreover, it reduces the healing of your targets.
Rabadon's Deathcap gives you a lot of power. At this stage of the game, a Q - Inner Flame combined with R - Mantra is capable of exterminating a fragile target.
Situational items
If you feel in danger against an assassin, Zhonya's Hourglass will help you greatly. If only one recurring spell is bothering you, Banshee's Veil can help.
Void Staff will allow you to break through the magical resistance of enemy tanks. If these last ones are oriented on a ton of HP, then privilege Liandry's Torment.
Even played Mid Karma can still be a strong support if your team is already fed on other lanes. You can then decided to build support items like a Redemption or an Ardent Censor.
Match-ups
Tips & Tricks
W - Focused Resolve under R - Mantra allows you to get back your health if you are in difficulty during fights. Combined with E - Inspire, you will be able to delay a lot of enemy damage.

Mana is an aspect of Karma not to be neglected. In order to function well, you will need mana regeneration otherwise you will run out of mana too often and not be of much use.

Don't hesitate to use your shield offensively so that you can take advantage of the movement speed bonus to put some free auto-attacks on enemies.

The combination R - Mantra on your Q - Inner Flame is to be used in the first levels, because it will slow down the enemies but it will especially do lots of damage.