The fourth chapter of Galakrond's Awakening, Hearthstone's latest solo adventure, is called Showdown in Dalaran. On this page you can access all the information about the E.V.I.L campaign version — but don't worry, explorer friends, you'll find all the information for your camp on the other page!
You will be able to access this fourth chapter for 700 pieces or $6,99, like all the other chapters.

You will get two copies of each card rewarded at the end of boss fights (except legendary ones)!
Showdown in Dalaran: The E.V.I.L. campaign
In the course of this adventure, the forces of the Good and the E.V.I.L will face each other one last time in Northrend, for the future of the world of Azeroth. In a similar way to the first, the second and the third chapter you will play as one of the E.V.I.L. heroes, and you will face these damned explorers who will come to put a stop to your progress. Your deck (and your opponent's) is pre-built and themed according to your hero!
First Battle: Rakanishu vs George and Karl
For this first fight, you play Rakanishu, the fire elemental living into Togwaggle's crown. Initially, there are six market stands on the board and your hero power, BURN!!!, allows you to randomly destroy one of them for (1) mana. Once you destroyed the six stands, BURN!!! allows you to deal 3 damage to all enemy character for (2) mana.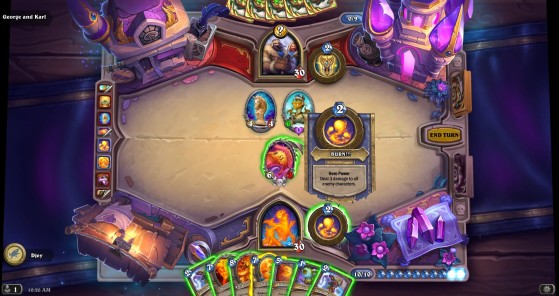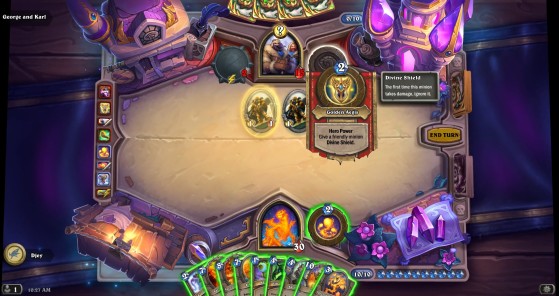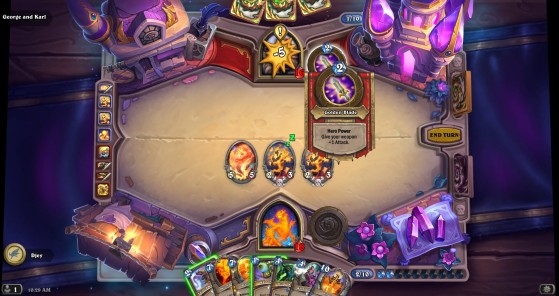 Your dual opponents are George and Karl, and their deck relies on card allowing them to swap from a stance to another one. George's hero power is Golden Blade: (2) Give your weapon +1 Attack, while Karl's is Golden Aegis: (2) Give a friendly minion Divine Shield.
Heroïc mode
Hero power is absolutely identical.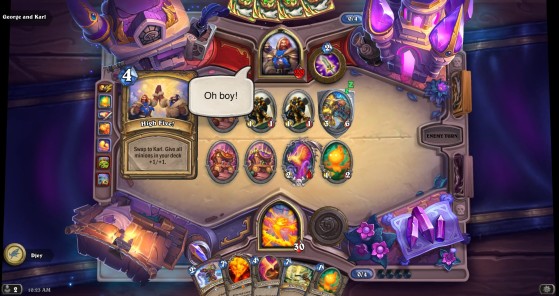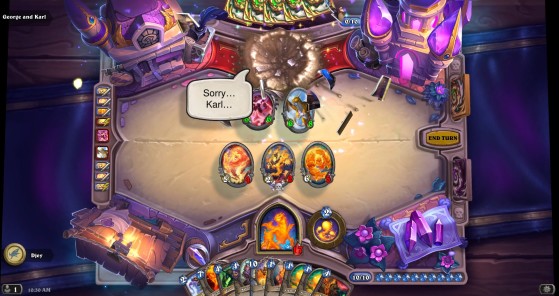 At the outcome of this battle, you will be rewarded with two Frenzied Felwing copies.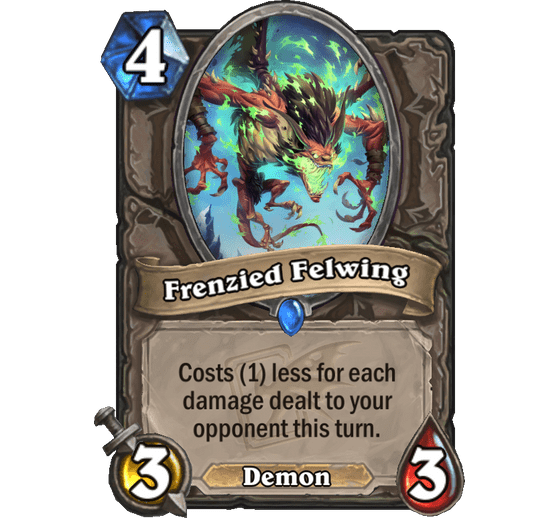 Second battle: Rafaam, Prime Evil vs The Amazing Reno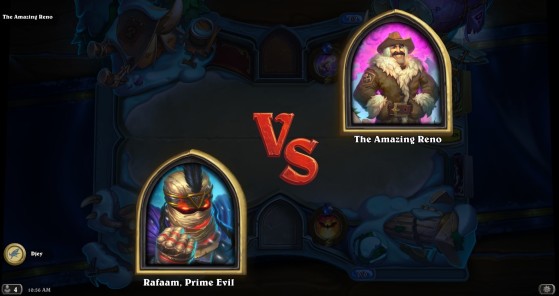 For this second battle, we will play a deck based on the Invoke keyword.
The goal is simple, invoke Galakrond as quickly as possible. He's a 5/300 with Mega-Windfury, meaning the match will be a simple formality as soon as he lands onto the board.
You're facing Reno and his Gatling Magic, a passive hero power: after you cast a spell, cast a random spell of the same cost. Reno plays on chance, and if certain confrontations will be easily manageable, other times the randomness of his spells will counter all your strategies.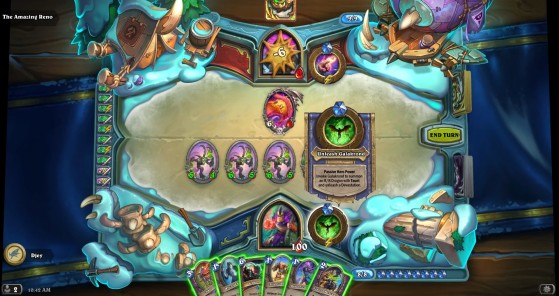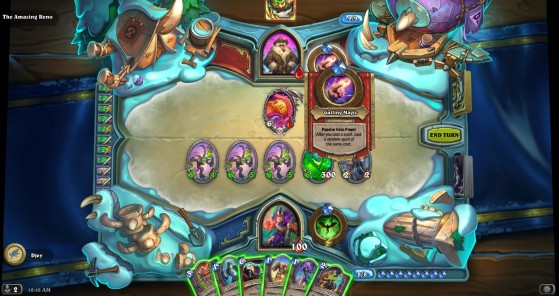 Did you think it was over? Nay! You will now have to face Anduin THEN Sylvanas who can both call 5 minions from their deck and boost them. While it seems super powerful, your Galakrond won't have any trouble dealing with them.
Be careful though, he remains vulnerable to spells like Siphon Soul. If he dies this way, you'll have to finish the game without him.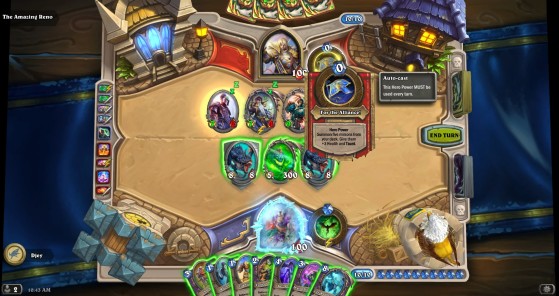 At the outcome of this battle, you will be rewarded with two Boom Squad copies.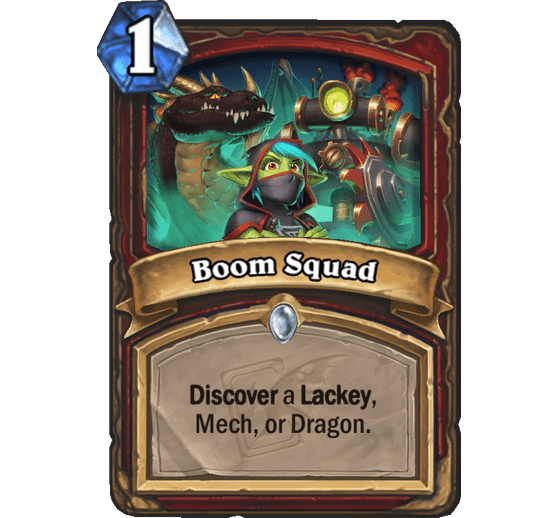 Last fight: Rafaam, Prime Evil vs Galakrond
For this last battle, you face Galakrond with a deck based on the treasures collected by Rafaam.
Your hero power, Gauntlet of Origination, is extremely powerful. For (1) mana,you can destroy a friendly minion to discover a random E.V.I.L. treasure and play it.
Similar to the effect Flisk Skyshiv, Galakrond's hero power is also completely overpowered: Anihilition allows him to destroy an enemy minion and all copies of it (wherever they are) for (2) mana.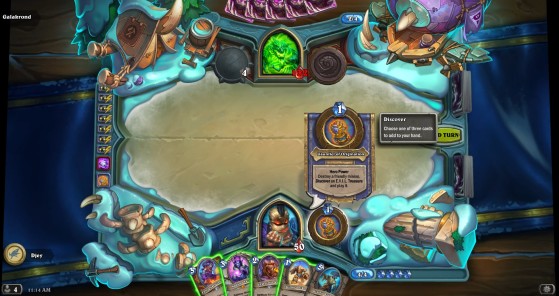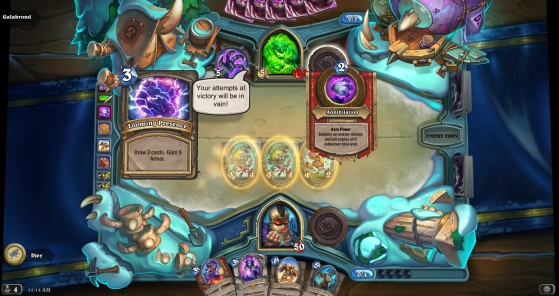 The fight is not as difficult as one might have hoped, as Rafaam's treasures are really very powerful. Note that Galakrond has also a weapon with Mega Windfury that, thankfully, cannot attack heroes.
Heroic mode
Nothing changes except the fact that you're deck isn't prebuilt anymore. We strongly recommend you to use any Highlander deck to defeat Galakrond. Otherwise, it might be impossible to deal with him.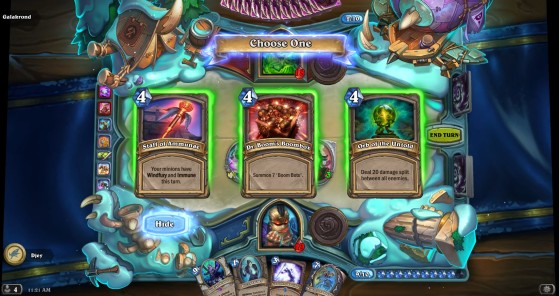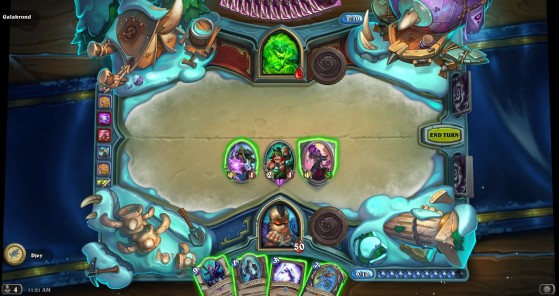 At the outcome of this battle, you will be rewarded with one copy of Grand Lackey Erkh and two copies of Chaos Gazer.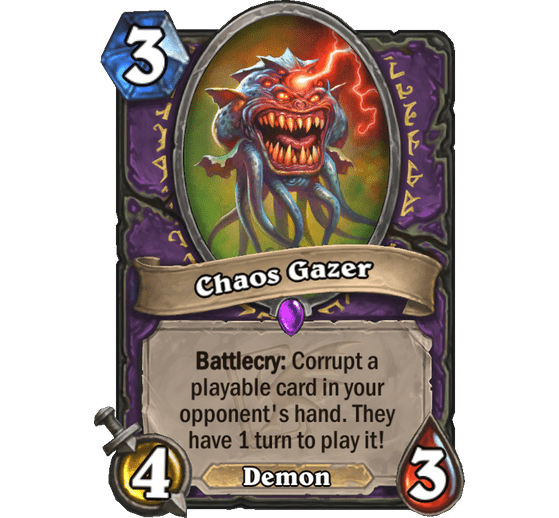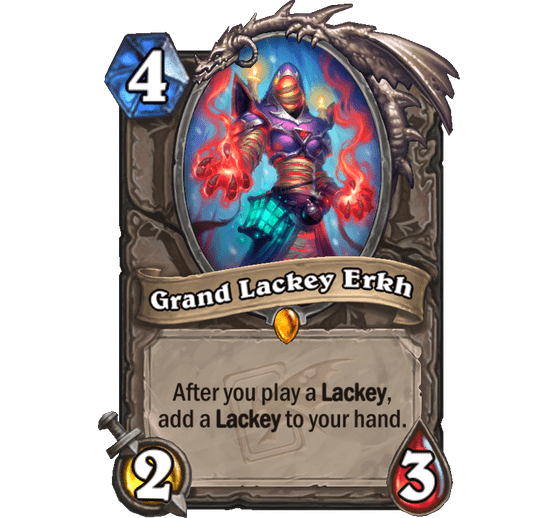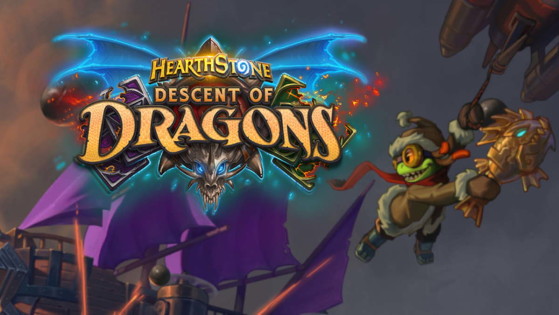 The third chapter of Galakrond's Awakening was just released yesterday. Fights, rewards, price — everything you need to know about Hearthstone's latest solo adventure is in this dedicated article!