The first chapter of Galakrond's Awakening, Hearthstone's latest solo adventure, is called Battle of the Frozen Coast. On this page you can access all the information about the E.V.I.L campaign version — but don't worry, explorer friends, you'll find all the information for your camp on the other page!
You will be able to access this first chapter for free, but only on the E.V.I.L. side! Of course, as we are the best, everyone can access our content!
Battle of the Frozen Coast: The E.V.I.L. campaign
In the course of this adventure, the forces of the Good and the E.V.I.L will face each other one last time in Northrend, for the future of the world of Azeroth. In the first three battles, you will play as one of the E.V.I.L. heroes, and you will face these damned explorers who will come to put a stop to your progress. Your deck (and your opponent's) is pre-built and themed according to your hero!
First battle: Kriziki the Winged vs. Sir Finley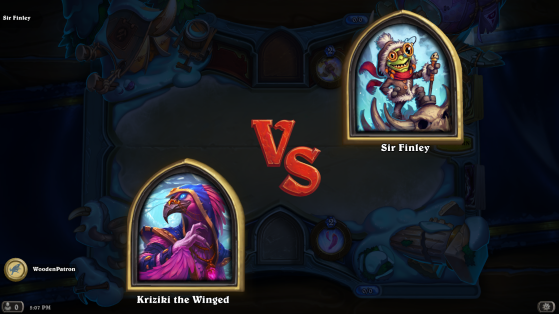 Your decks will be pre-built throughout this adventure, which means that there will be no deck creation for Galakrond's Awakening.
For this first battle, you play Kriziki the Winged.
Your hero power is Wings of Rebirth and costs (2): Confers Reborn to a minion and "Cannot be targeted by spells or hero powers".
This first fight makes you play the Priest and Warlock classes against Sir Finley, who plays a Paladin Murloc. His hero power, Lead the Charge, may prove to be quite awkward. Indeed, for (2), he confers Rush and Divine Shield to an allied minion.
To destroy all these nice Murlocs, you will be able to count on the help of your Lackeys, and on the many cards that will allow you to generate them. Feel free to use your hero power on cards such as the E.V.I.L Recruiter, which will allow you to get an extra lackey as well!
Heroic Mode
Finley's hero power goes from (2) to (1).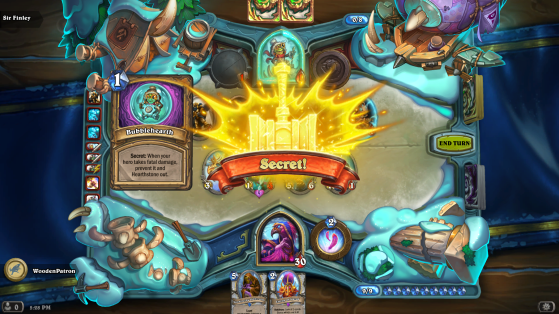 At the end of this fight, Sir Finley escapes thanks to the secret: Bubblehearth and you can get your loot back! You'll unlock two copies of the rare Paladin card: Air Raid.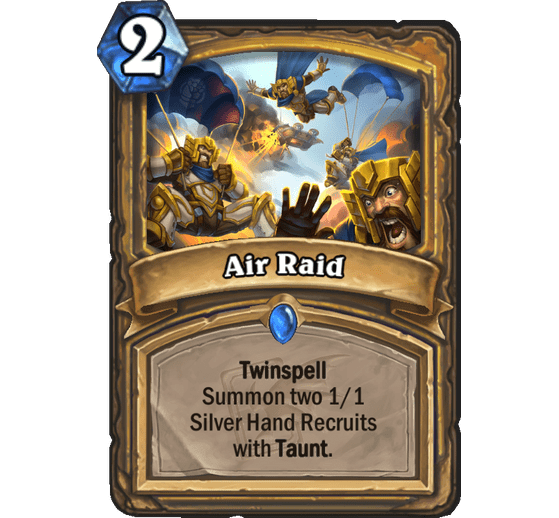 Second battle: Puppetmaster Lazul vs Chenvaa'la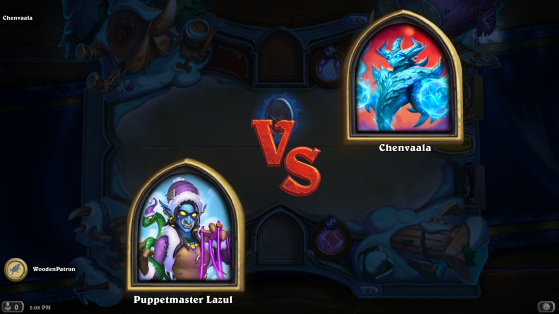 For this second battle, we will play a Priest deck, and this time we control Puppetmaster Lazul. Her goal is to awaken a minion named Dragonslayer Skruk. This one has been frozen by the Mage Chenvaa'la, and you'll have to defeat him to succeed! You won't be able to interact with Skruk, who is only there for the good of the scenario. Your power is called Fortune and it will discover a copy of a card from your opponent's deck. For a single mana, this hero power is quite powerful, and will often give you minions to help you defeat Chenvaa'la.
Chenvaa'la, on the other hand, has the hero power called Snowstorm, which summons a frozen 4/4 elemental for 3 mana. As you can imagine, your opponent's mechanics revolve around freezing. Be careful though, he has cards that might surprise you! Your goal will be to control the board while stealing cards from your opponent that can be used to do a lot of damage.
Heroic Mode
Chenvaa'la's hero power is greatly enhanced, from a cost of (3) to (1)! You'll have to pay even more attention to him.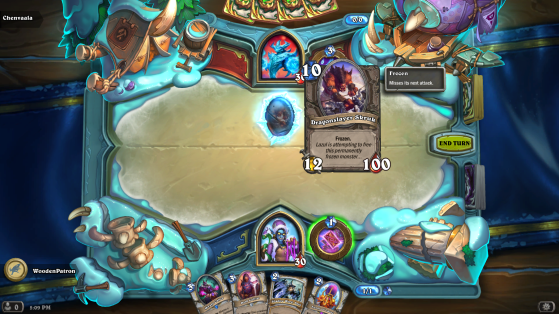 When the fight is over, Lazul succeeds in freeing Skruk, who goes off to slay the dragon. You will obtain two copies of the Shaman card Eye of the Storm as a reward.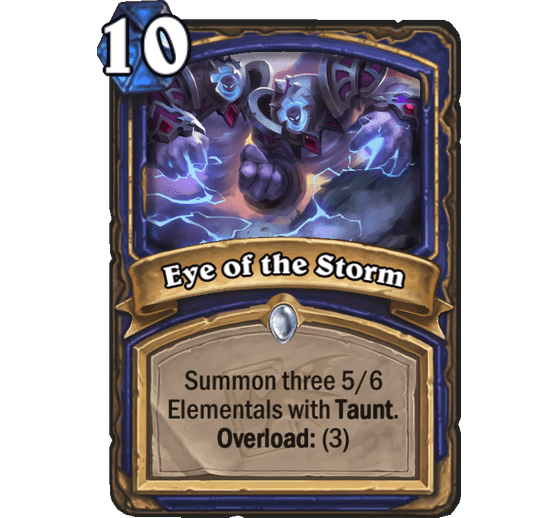 Last fight: Dr. Boom vs The Amazing Reno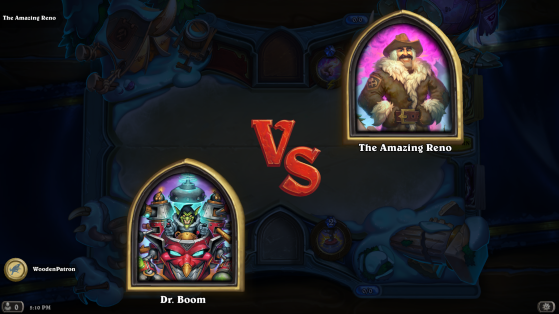 In this final battle, you face the Amazing Reno with a Warrior deck mixing Mechs and bombs. After all, you are playing Dr. Boom!
For (2), your hero power SUMMON THE BOOTS! adds a random Boom Labs Mech in your hand.
Where you'll want to build up your mech synergy and put bombs in your opponent's deck, across the street, Reno is... more random. His heroic power, Gatling Magic, is passive and indicates: Once you cast a spell, cast a random spell of the same cost. Totally unpredictable, then. Once Reno is defeated, you capture him with a giant metal clip and take him to the Violet Hold.
Heroic Mode
Reno's power remains the same, so it's still as random as ever.
The fight is over, and Reno captured, it's time for the final reward! When you finish this chapter, you'll get the common Warlock card: Twisted Knowledge.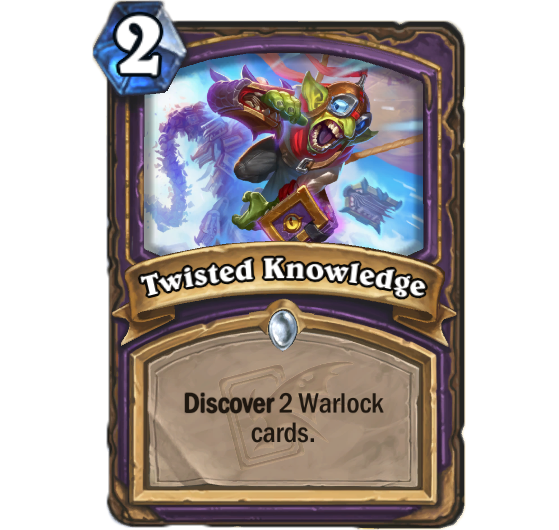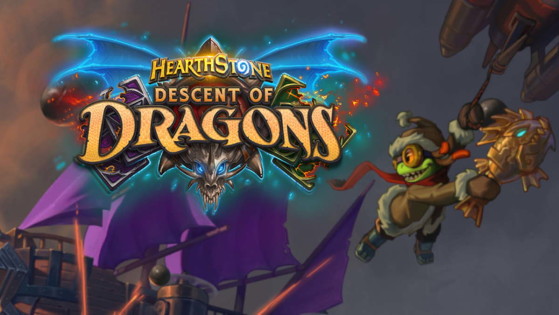 The third chapter of Galakrond's Awakening was just released yesterday. Fights, rewards, price — everything you need to know about Hearthstone's latest solo adventure is in this dedicated article!