Since its release into the Hearthstone universe, Battlegrounds has undergone a number of updates and nerfs to maximize the game experience.
Recently, Demons have been grinding their teeth. Their domination is such that to tryhard the battlefield, their use is indispensable. However, rest assured, the Floating Watcher nerf should change this primacy. So it's time to focus on those who are most likely to steal first place from them: the Mechs.
Identify your "go for" indicators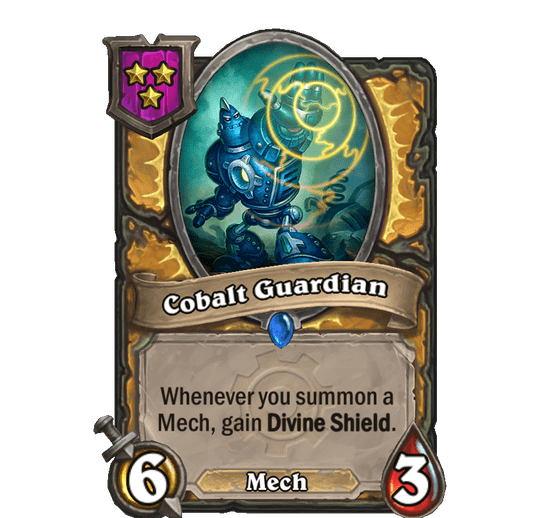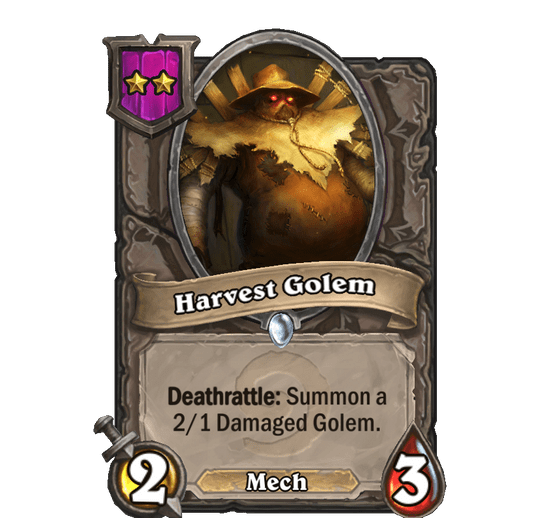 When the tavern is at level 3, you already plan to build a composition that will take you far. It is precisely at this level that you have a great chance to stumble upon the Cobalt Guardian. This is the essential card to play Mech.
For a level 3 Mech, his stats and ability to refresh its Divine Shield every time a Mech appears on the board are very advantageous. If you find it early, with another Mech or if you already have the Harvest Golem, there's no need to hesitate. From then on, give preference to Mechs, fill up your board and give yourself a chance to have a triple.
Which minions to fill your board?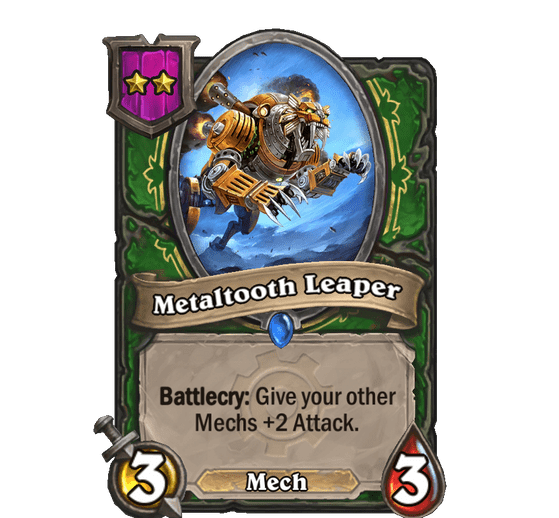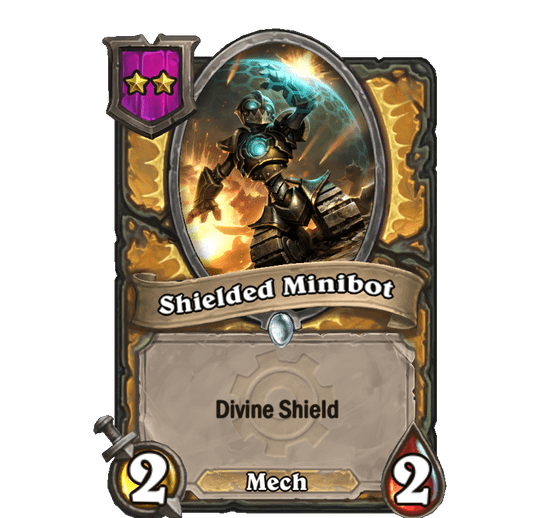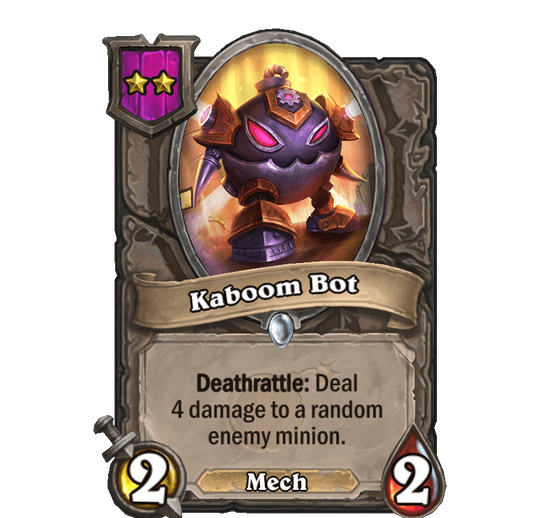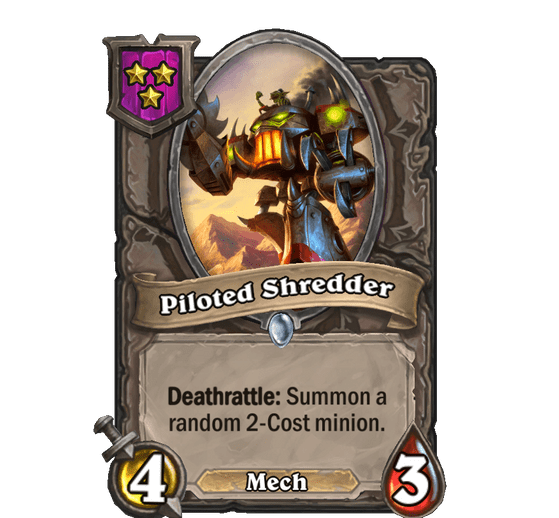 During the mid-game, it is important that your board is entirely composed of Mechs.
To take full advantage of Metaltooth Leaper's Battlecry, Kaboom Bot, Shielded Minibot, and Piloted Shredder will be good transition minions.
Of course, if you manage to greatly inflate their stats and triple the first two, they will make good late-game servants: Kaboom Bot's Deathrattle can lately synergize with Baron Rivendare and Shielded Minibot already has Divine Shield. If they don't, they'll allow you to save time and life points while waiting for the more useful minions.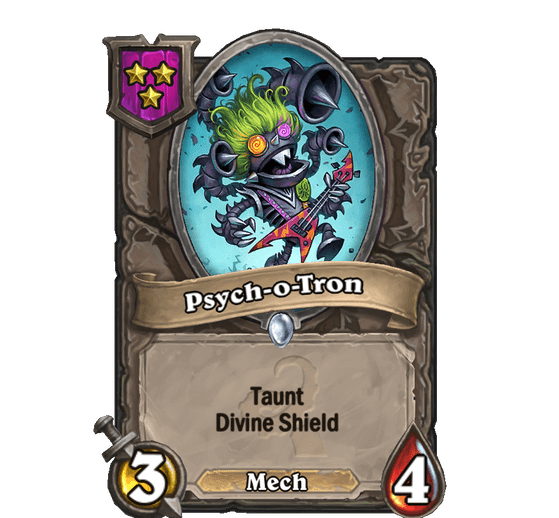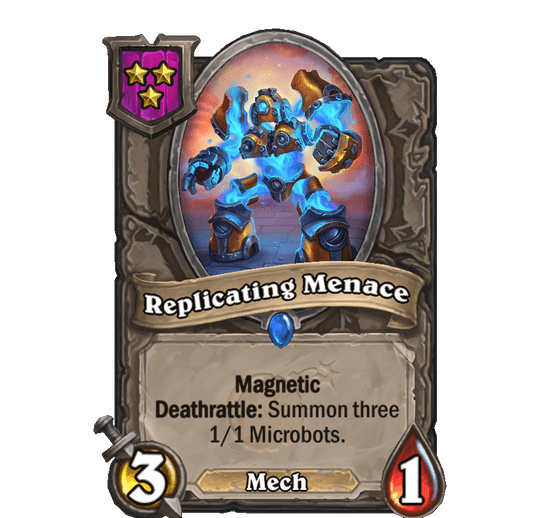 To protect your still fragile Mechs, there is nothing like the Psych-o-Tron to withstand two attacks. The Replicating Menace will be very useful since it can boost any Mech thanks to Magnetize, but also because the three Microbots summoned with his Deathrattle will refresh Cobalt Guardian's Divine Shield.
Most of the time, it is better not to triple the Cobalt Guardian. It is better to keep two of them, in order to increase their power and enjoy two minions with a refreshing Divine Shield. Magnetizing a Replicating Menace on one of them is perfect, as it will increase its attack while allowing to refresh the Divine Shield of your other Cobalt Guardian if the first one was to be killed.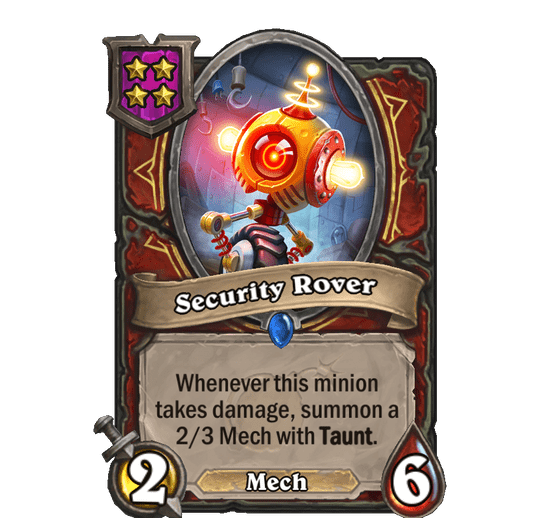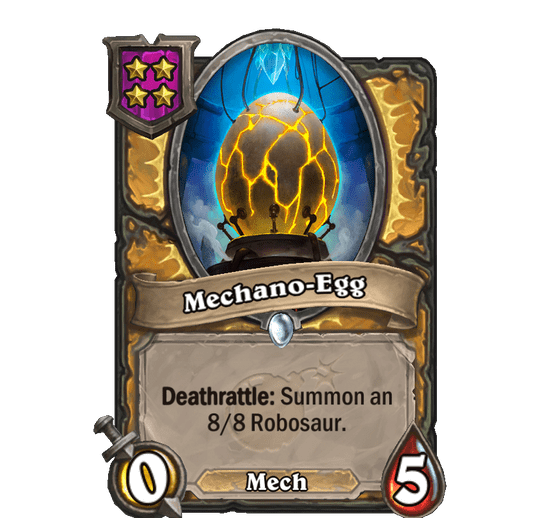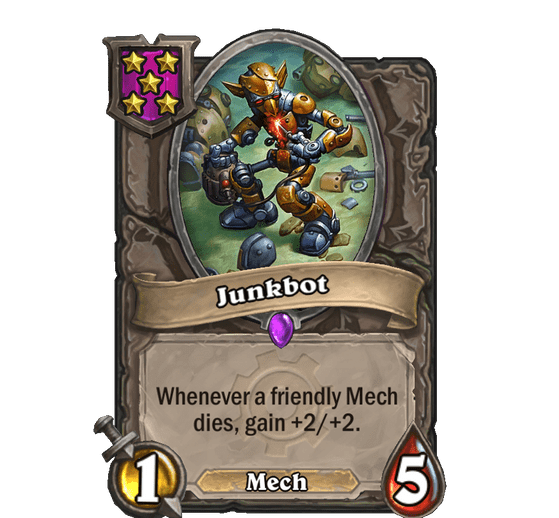 Level 4 minions are the most interesting in order to finalize your build and get to the late game.
Always by supporting the synergy with your Cobalt Guardian of cobalt, minions such as the Mechano-Egg and the Security Rover will offer you a certain advantage with their summon effects. You want to triple these minions at all costs to obtain your 16/16 Robosaurus or your 4/6 Mechs with Taunt.
Also, if you triple them when the tavern is at level 4, you'll have a better chance of getting Junkbot. This skill card combines perfectly with Replicating Menace's Deathrattle. It will grow as your Mechs die, like an end-of-level boss.
When you feel you've found the right minions, make them grow, either by tripling them or by using Screwjank Clunker and Metaltooth Leaper's Battlecries.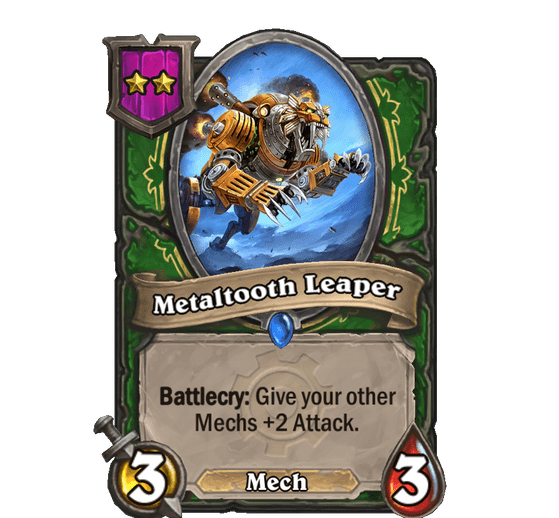 Cards that make the difference
Iron Sensei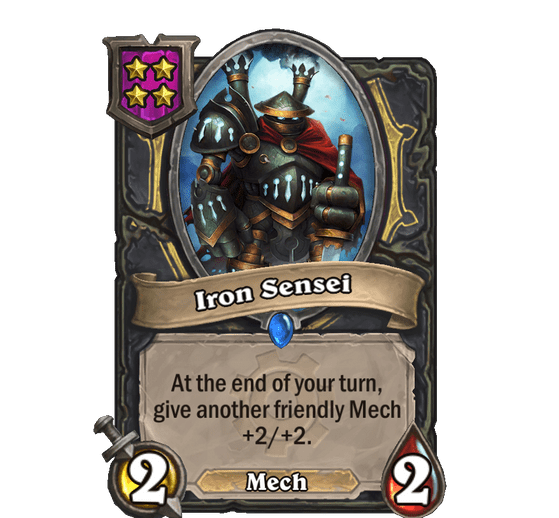 While Iron Sensei can be an incredible card, it can also be quite dangerous to play.
The first mistake is to play it too late (especially in late game) and the second mistake is to leave it too long on your board.
If it's too late, its passive will be very weak and its body will be non-existent. Even if it's to break a divine shield, Kaboom Bot is a better option. Leaving it too long will force you to sacrifice more interesting creatures just for the sake of a buff, finally quite light. The ideal is to find it with a triple turn 3, or really as soon as level up to level 4. Timing is very important to take advantage of its power. It can, unfortunately, quickly make you lose if you are too greedy.
Annoy-o-Module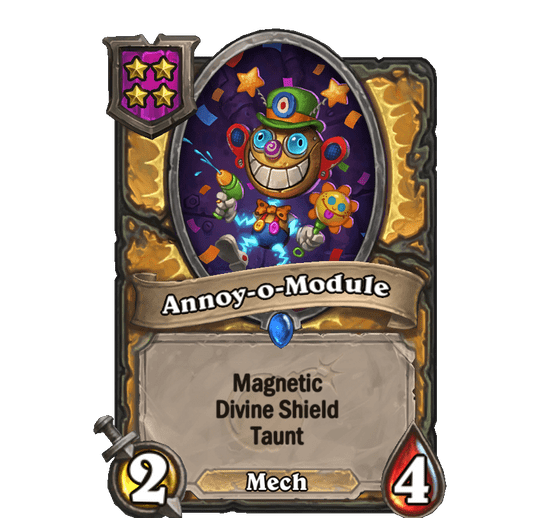 You must recruit itas soon as you can because offering stats, Taunt and Divine Shield to any minion via Magnetize is extremely strong. Annoy-o-Module can make any mech powerful and useful. The most effective combo is to merge it with a Mechano-Egg, a Safety Rover, or even both.
Kangor Apprentice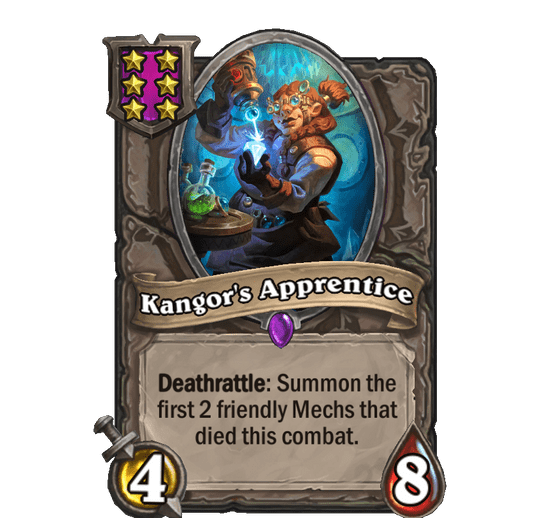 This is the card that will allow you to finalize your composition. If you organize your minions well by choosing which ones will die first, you won't be disappointed. If you want to counter a Zapp Slywick, you can make sure you have a Mech with less attack than your Kangor Apprentice and you're done!
Of course, the combo with Baron Rivendare is very powerful and even recommended. That said, be careful how much space you have on your board, the double (or triple) Deathrattle must be able to trigger the full extent of its effect.
Divine Shield tips and tricks
If you have bet on many Divine Shields and you still have some room left, Bolvar, Fireblood will be able to show his full potential and be useful to you.
Conversely, if you encounter many heroes using Divine Shields, the Kaboom Bot will have to be on your side. Its small body, as well as its Deathrattle effect, will pop a lot of Divine Shields on the other board.
Finally, beware of your worst enemy, Nefarian.
His hero power is the best counterattack against Mechs. It is therefore important to change the order of your minions and have your Cobalt Guardians attack after the death of the minions who allowed them to refresh their Divine Shields.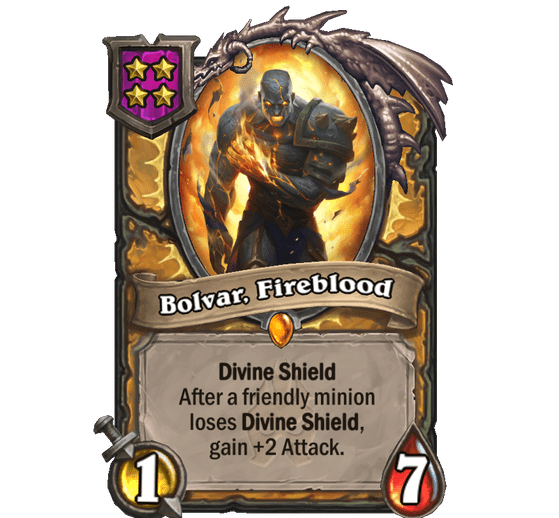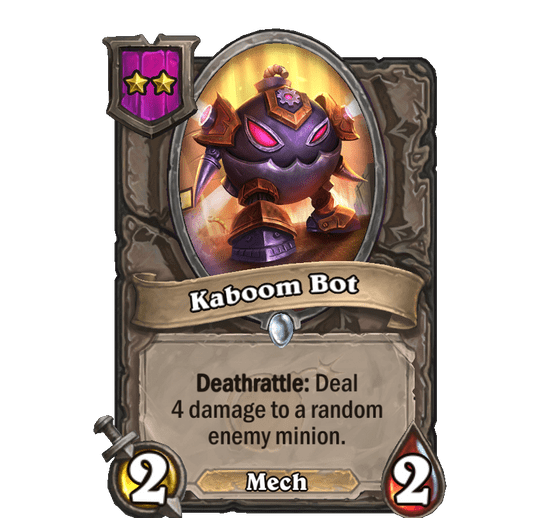 As you can see, the strength of the Mech archetype is its versatility. Magnetism, Divine Shield and powerful Deathrattle make it one of the most interesting tribes to play.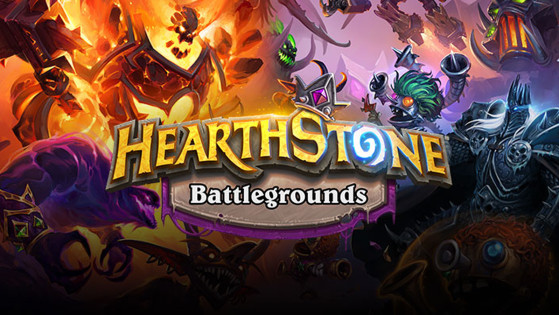 The new Hearthstone Battlegrounds game mode has been a huge success since the beta opened on November 12, 2019. However, tactics and strategies may still be unclear for beginners. Here is a guide to get started and understand how to make the right decisions.