Often in games called gacha game, there is a type table or elementary circle between the various character elements available.
First, we will come back to the different elements available in Genshin Impact and which characters are associated with each. You can also refer to our tier list if you want to know what each unit is worth below.
Cryo
In Genshin Impact, it slows down your enemies. Here is the list of characters that are of this element.

Pyro
The Pyro element uses flames to scorch enemies or surroundings and inflict continuous damage.
Diluc

Amber

Xiangling

Klee

Bennett
Geo
The Geo element uses the force of nature and more particularly that of the earth.
Hydro
The Hydro element uses water to put out fire or attack your enemies. It puts enemies under the "Wet" status, which leaves them vulnerable to electro-charged.
Anemo
The wind allow your characters to use its force.
Electro
The electro element uses lightning to beat your enemies. Be careful not to do anything in the water.
Fischl

Razor

Keqing

Lisa

Beidou
Actually, there isn't any Dendro character in the game (but some ennemies / mobs have the Dendro element).
Relations between the elements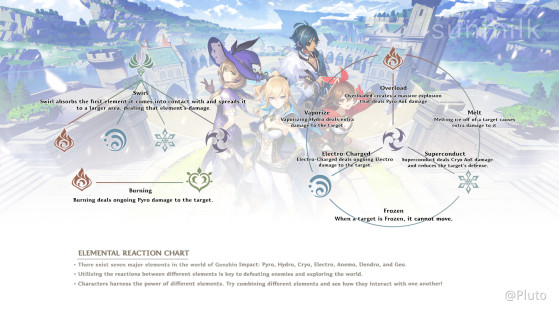 We offer you a summary table of the diagram presented above on the reaction between the elements and the elementary bonuses that you will earn. Many combos are currently available in the game that will allow you to build optimized teams according to the damage you want to inflict.
| | | | | | | | |
| --- | --- | --- | --- | --- | --- | --- | --- |
| Element | Hydro | Pyro | Electro | Geo | Anemo | Cryo | Dendro |
| Hydro | X | Vaporize | Electro-Charged | Crystallize | Swirl | Frozen | X |
| Pyro | Vaporize | X | Overload | Crystallize | Swirl | Melt | Burning |
| Electro | Electro-Charged | Overload | X | Crystallize | Swirl | Superconduct | X |
| Geo | Crystallize | Crystallize | Crystallize | X | X | Crystallize | X |
| Anemo | Swirl | Swirl | Swirl | X | X | Swirl | X |
| Cryo | Frozen | Melt | Superconduct | Crystallize | Swirl | X | X |
| Dendro | X | Burning | X | X | X | X | X |
Effects of elementary reactions
Vaporize: Increases damage from Hydro and Pyro attacks. (x1.5 for Pyro damage and x2 for Hydro damage)
Frozen: Traps an enemy in ice and immobilizes him. When attacking a frozen enemy, it's possible to break the ice if your attack is strong enough to deal bonus damage.
Overload: Create an explosion that deals Pyro damage in AoE.
Electro-Charged: Inflicts Electro damage continuously for a short period of time and if a nearby enemy is melt, an electric current is created that damages the nearby enemy as well.
Superconduct: Inflicts Cryo damage in AoE and reduces physical resistance to enemies hit.
Swirl: Deals extra elemental damage and spreads the effect.
Crystalize: Creates elemental shards to collect to generate a shield. The elements of the fragments are determined by the element with which the Geo element is in contact.
Melt: Increases damage from Cryo and Pyro attacks. (x1.5 for Cryo damage and x2 for Pyro damage)
Burning: Inflicts Pyro damage continuously for a certain amount of time.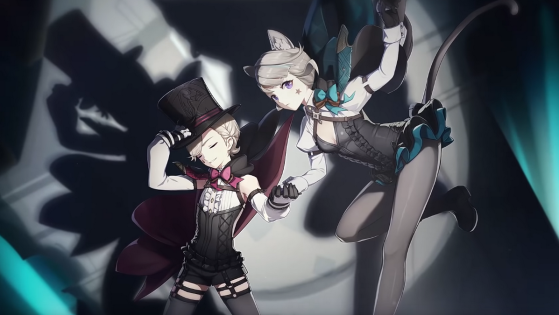 Do you want to ally with other players in Genshin Impact? You will have to play through the game for that, since you have to reach a certain Adventure Level first.
Original content by Donovan"ZeroAk" Plault.