A whole new series of challenges has become available in Fortnite, with Epic having teamed up with Free Guy to reward players with new cosmetics.
This includes a special emote that can only be unlocked by completing a series of challenges. In a nod to star Ryan Reynolds and his role as a banker who finds out he's an NPC, these challenges can only be started by visiting an ATM.
Where to find ATM machines in Fortnite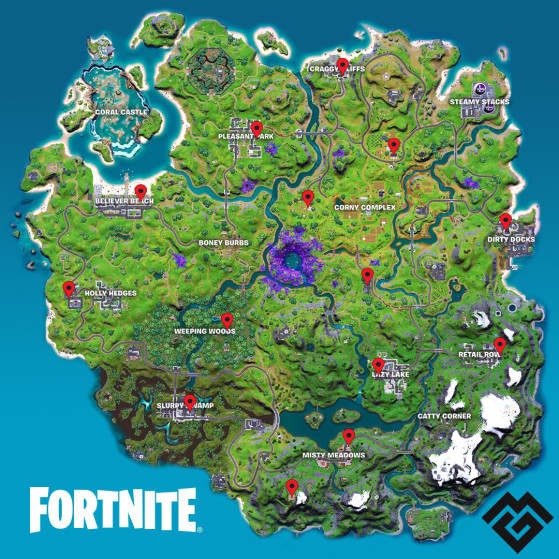 There are fourteen ATMs in all, scattered all over the island. Naturally, you'll find most of them in the larger cities and surrounding areas. 
If you're confident in hot-dropping, you can rush these at the start of matches, as soon as you dive out of the Battle Bus.
Otherwise, we recommend waiting until things have settled down and you're able to arm yourself adequately. The machine southwest of Misty Meadows is a bit isolated, which should prove ideal in kicking things off more or less in peace.
Interacting with an ATM will bring up a hologram of Ryan Reynolds' character Guy, who will then deliver a message full of positivity. This animation will automatically trigger the Free Guy challenges.
Check them out at the link below.
Fortnite: How to complete the Free Guy challenges
Epic Games has just announced another new collaboration, this time with the Ryan Reynolds-helmed movie Free Guy. Here's the list of associated challenges.