The brand new collaboration between Fortnite and the Shawn Levy-directed movie Fall Guy offers a new series of challenges.
They will allow you to unlock exclusive content to go alongside the hero's skin, which can be purchased in the Item Shop from August 13.
There reward for completing these challenges is an emote featuring the voice of Ryan Reynolds himself.
In the movie, the main character - Guy - is a rather lonely bank employee who goes through the same things day after day. He then discovers that he's actually just an NPC in a video game called Free City. Naturally, he doesn't want to be an NPC any longer.
In addition to the link with video games, you'll also find several gaming personalities in the movie -- including the Fortnite-skin-having Tyler "Ninja" Blevins and Imane "Pokimane" Anys.
Fortnite: Free Guy Challenges
Get hit by a moving vehicle (0/1)

Place coins around the map (0.3)

Reboot or revive teammates, or interact with campfires (0/1)

Take melee damage (0/1)

Talk with any NPC (0/1)

Use Free Guy Emote near opponent (0/1)
The challenges go live in-game on August 12, and will remain available until September 6.
To find the ATMs to kick things off, check out the link below.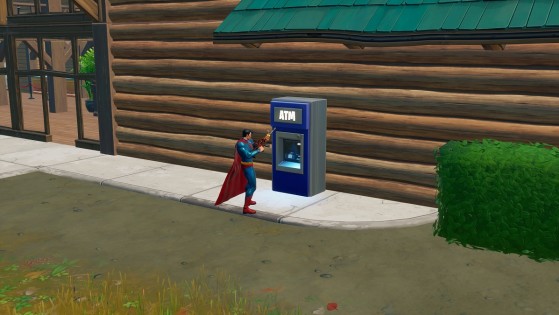 A new collaboration has come to Fortnite, this time with the Ryan Reynolds comedy Free Guy. To access these new challenges, you must interact with an ATM. Here's where you'll find them.