This year for the All-Stars event, Overwatch teams played online and spread across two regions: North America and Asia.
Both events were held prior to the Grand Finals weekend. These two events were broadcast live and available on demand on the official YouTube channel, website, and app.
Winston Skills Challenge
The first challenge was dedicated to Winston. The final between Gesture and Guxue ended with victory for the Hangzhou Spark player, who took home $4,000.
Genji Skills Challenge
The second challenge put Genji in the spotlight. With twice as much HP and an accelerated ultimate charge, the final was played between Sp9rk1e and Profit. 
Edging it 5-4. the Paris Eternal player claimed the $4,000 prize.
Ana Skills Challenge
Four players managed to reach Top 4 of this challenge. Jjonak, Izayaki, Viol2t and Highly competed against each other, and finally Jjonak took the victory and the $4,000.
Who is Meta?
For this new challenge, we were off on a heroes trail. The eight selected players faced each other in a Free For All through all the heroes in the game.
In spite of a tight fight, it was Rascal who secured the last kill with the hammer of his Torbjorn, winningthe $3,000.
Widowmaker 1v1
$15,000 was at stake in these duels. Diem and Ans went head-to-head in the final, and despite Ans' talent and patience, it was Diem who managed to win this challenge for a second time!
All Star Game
All Stars Teams
TRIPLE A
Coach: Byung-Chul "Moon" Moon
Yaki

Carp

Glister

Haksal

Mano

Choihyobin

Ameng

Crong

Tobi

Jjonak

Shu

Izayaki
TEAM UNIVERSE
Coach: Hyo-Jin "J1n" Cho
Fleta

Profit

Decay

Years

Fearless

Void

Hanbin

Guxue

Leejaegon

Alarm

Rape2t

Myunbong
For this last confrontation, we witnessed some beautiful matches between the two teams.
The first map was won by Team Universe, thanks to their total defense on the first point. In the second match, each team chose the characters of their opponents, and it was again Team Universe that won 2 - 0.
Even though it was a dead rubber, the third map was also played in Tiny Overwatch mode. This time Triple A managed to secure the victory as a consolation.
Team Universe took home a total of $90,000 from their win. The rest of the competition will take place next week for North America.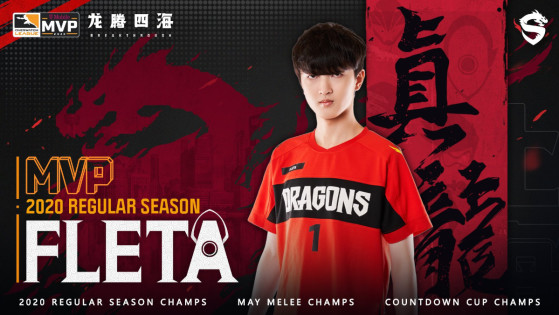 overwatch-esports
It's now official: Fleta has been elected 2020 Overwatch League MVP. Within Shanghai Dragons, he won the Regular Season championship, but also the May Melee tournament and the Countdown Cup!