Misfits Gaming's League of Legends squad was two thrown games away from making the 2020 LEC summer playoffs, and eliminating Fnatic from contention. Instead, following their losses, they have retooled their roster in key positions. The building blocks were already there with Iván "Razork" Martín Díaz and Kasper "Kobbe" Kobberup—all they needed was to fortify their lineup around them.
Judging by their moves, Misfits have assembled the blueprints for a LEC-worthy squad, with some caveats: a mass promotion of some of the LFL's best talents to the LEC is not the most guaranteed path to prominence, but it does it make things more interesting than usual. 
Couple that with the overdue arrivals of coaches Adrian "Hatchý" Widera and Ilias "Enatron" Theodorou to the LEC, and Oskar "Vander" Bogdan's arrival from Rogue, and you have a perfect storm of events.
Suddenly, looking down on Misfits would be a critical mistake.
Lineup
| Position | Player | Previous team | Comparison to previous player |
| --- | --- | --- | --- |
| Top lane | Shin "HiRit" Tae-Min | 1907 Fenerbahce (TCL) | ~▲ |
| Top lane | Tobiasz "Agresivoo" Ciba | Misfits Premier (Academy) | ~▲ |
| Jungle | Iván "Razork" Martín Díaz | Misfits Gaming | - |
| Mid lane | Vincent "Vetheo" Berrié | LDLC-OL (ERL) | ▼ short-term |
| Bot lane | Kasper "Kobbe" Kobberup | Misfits Gaming | ▲ as a duo, - individually |
| Support | Oskar "Vander" Bogdan | Rogue | ▲ as a duo |
| Support | Petr "Denyk" Haramach | Misfits Gaming | - |
Should HiRit receive the starting nod over Agresivoo, Razork would be wise to play around his lane state to secure significant early-to-mid game leads, especially around Rift Herald.
Razork has three lanes that can play defensively and/or aggressively as needed, without jeopardizing other lane states. In such a setting, it falls upon him to carry Misfits to victory.
Vander patches Kobbe's weaknesses in communication like few supports have done before, helping Kobbe focus on gameplay without worrying about factors outside his control.
Misfits' roster is a cut above that of Astralis on paper, with excellent options surrounding Razork and Kobbe in 2021. Indeed, Vetheo's flexibility (and odd propensity for Ezreal mid) may come in handy, particularly as HiRit commands jungle presence to spiral games out of control. Enatron's familiarity with HiRit (from the 2020 TCL spring split with 1907 Fenerbahce) will make the top laner's integration as seamless as it could be, further language barrier/homelessness issues notwithstanding.
More significantly, Vander's arrival frees Kobbe to focus on his performance and provides a voice and playmaking from the bot lane, akin to the 2017 lineup's bot duo of Lee "IgNar" Dong-geun and Steven "Hans sama" Liv. Bot lane success (or disaster mitigation) is all but assured, with Misfits' fortunes instead shifting to Vetheo's development.
Provided Vetheo develops quickly to match LEC standards, Misfits can choose where to create leverage in the early game and mid game stages, as they have strong players across the board. Furthermore, Vander's signing will help them navigate through the murky late-game waters.
However, much like Astralis, they will be hard-pressed to stand out in a league that demands greatness just to be the creap of the middle of the pack. Unlike Astralis, they have a significantly higher ceiling to reach.
Rating: B
C at worst, A- at best. Vander's signing alone fixed several issues with the lineup.
Misfits Gaming have the makings of a solid team, and their individual components will make or break them. However, so do SK Gaming, Excel Esports, Team Vitality and Schalke 04 Esports. With five teams potentially competing for two playoff spots (six if Astralis prove naysayers wrong), they are in for a bloodbath.
Expectations
Halfway between talent development and competition, Misfits Gaming sit in position to cause a ruckus in the 2021 LEC summer split, and possibly in the spring split should Vetheo, Agresivoo and HiRit adapt quickly. Unlike the 2020 summer split's blunders in closing out games, the 2021 crew is primed to do so adequately if only given Vander's veteran presence.
Misfits Gaming will be in the thick of the playoff race, although which boundary they compete in depends on their development and on the evolution of other teams: with SK Gaming and Excel Esports's projected level of play (especially SK), they will be in for a tough time. But it is in their power to compete for a playoff spot, if not for a Worlds spot in the best-case scenario.
Outlook: Promising if they develop one step at a time
Misfits' 2021 lineup may be overlooked when compared to SK Gaming's blue shell of a lineup, or to the proven commodities featured in G2 Esports, Fnatic and most of Rogue. However, such an oversight would doom would-be opponents if Misfits build mental fortitude and survive any setbacks.
Misfits' primary concern is development, and if they can ensure a strong summer showing at the expense of 'tinkering' during the spring split, the tradeoff would be acceptable as it could take them within reach of fourth place (if not third). But the same can be said of SK Gaming, their strongest direct competitors on paper.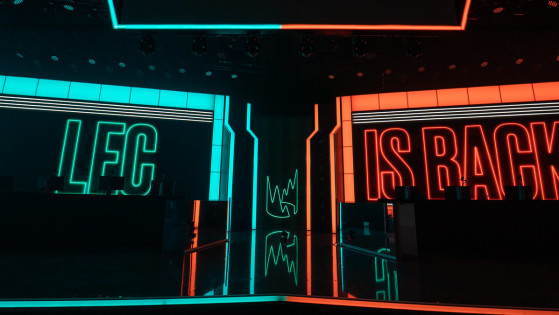 lolesports
The League of Legends European Championship (LEC)'s 2021 season is set to start January 22 as Riot Games announced the date on Twitter. The regional competition will see no format change, unlike its North American counterpart.