During the latest Developers Discussions, devs from studio miHoYo acknowledged that Genshin Impact's players have been asking for the chance to do gardening since the inclusion of the Serenitea Pot system. It was promised that this feature would be included in the next big update of the game, and that's exactly what's happening: Gardening will be available in Version 2.0.
In order to use the new feature, Travelers must complete the quest called The Art of Horticulture. This quest will be available after reaching Reputation Level 3 in Inazuma, the new area of the game, and obtaining a Naku Weed from Madarame Hyakubei.
After completing the aforementioned mission, Travelers will be rewarded with a new gadget: the Seed Dispensary. This brand new gadget "has the power to generate seeds" (see the description below).
This means that you can use it to collect seeds from different plants. You only need to go near plants and find the ones that you want across the land.
However, if you don't like the seeds that you have gathered, you can buy specific ones from the Realm Depot, using the Creatures of the Realm option.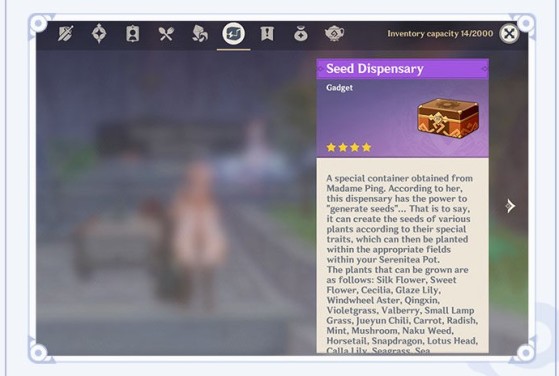 Planting the seeds isn't really difficult. First of all, Travelers need to enter their Serenitea Pot and buy a field. The type of plant that you will grow depends on the kind of field that you have purchased (see the picture below).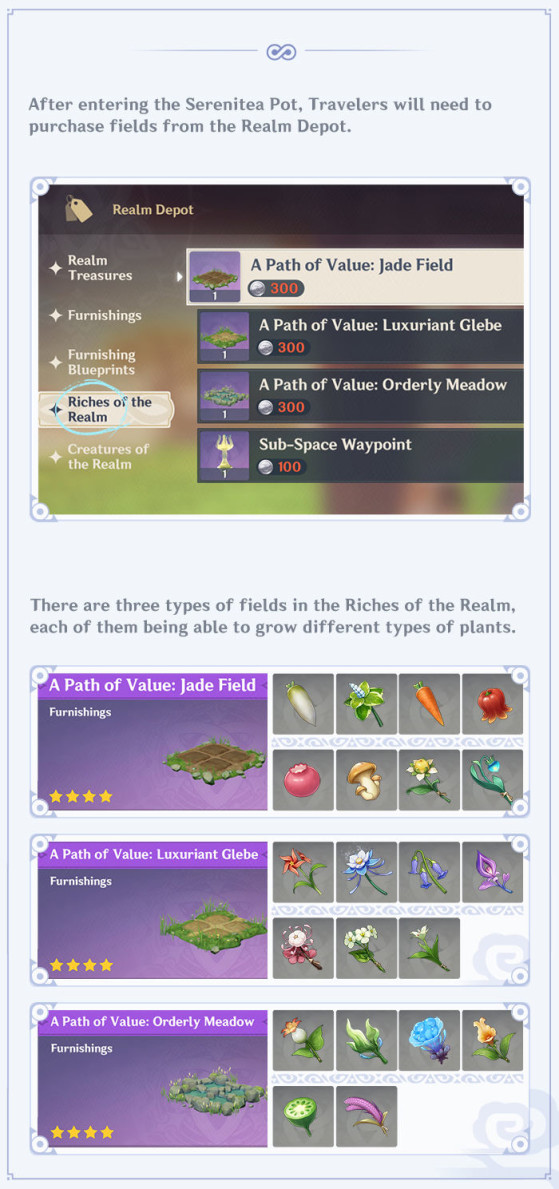 Then, it's time to locate the fields wherever you want. Its locations will be marked in the minimap. After doing so, you will be able to start planting the seeds that you want (and are compatible with the field selected). It's worth mentioning that only four seeds can be planted in each field.
Nonetheless, you can clear any field before the plant has grown (it isn't automatic, it takes quite some time) and the fields can also be reused when the plant has been harvested.
That's all for now regarding the upcoming Gardening mechanic. Stay tuned for more changes coming to Genshin Impact in Version 2.0.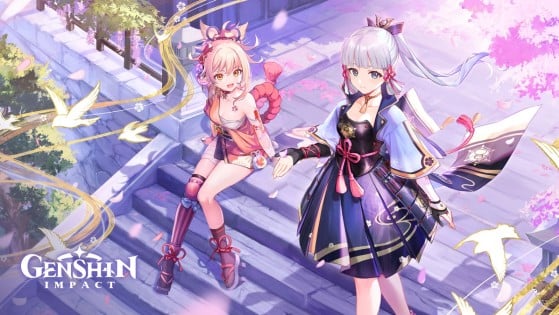 This is what's coming in Genshin Impact 2.0: Inazuma, new characters, and more
Details of the next update to Genshin Impact have been revealed, showing what will be added when Version 2.0 goes live on July 21. Here's what you need to know.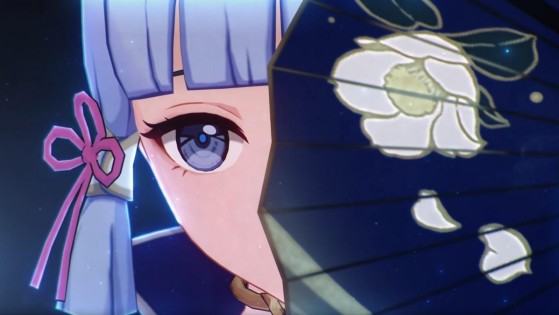 The update drops on July 21, and with it you'll be able to save all of your progress across multiple platforms