We thought it was not possible, and yet, Distortion2 did it! The famous streamer, known for his exceptional speedruns on many games, including Elden Ring, has just once again exploded all records. FromSoftware 's latest game, released on February 25, has indeed been subject to a lot of speedruns, as there are so many ways to finish it as quickly as possible.
Recently, a Youtuber named Mitchriz had achieved an impressive speedrun in 12:32, making Elden Ring the fastest FromSoftware game to finish ahead of Sekiro: Shadows Die Twice or the Dark Souls series. We therefore thought that it was not possible to lower the counter even more, and yet…
The first speedrun in less than 9 minutes
Distortion2 has been the subject of some of our articles in the past as it seems to be the fastest of all Splinterless. Indeed, he inaugurated each of the Elden Ring speedrun levels, being the first to go below the symbolic bar of 30 minutes, in 28 minutes and 59 seconds to be exact.
The "All%" category remains the most popular among speedrunners and consists of using glitches and other techniques that do not respect the normal flow of the game in order to complete it. All shots are therefore allowed and Distortion2 has understood this well. Thanks to various bugs that teleport him through the Underworld, he managed to complete the first speedrun in less than 9 minutes , and in "Any% Unrestricted"!
In 8 minutes and 56 seconds , the streamer managed to defend his title as the international number 1 in the Elden Ring speedrun on the current patch, 1.03. A totally insane feat accomplished using a number of techniques that, through glitch and zip magic, teleported him across the map and helped him take down game bosses like the dreaded Maliketh, the last boss of Farum Azula.
The advantage of this completely glitched category is that viewers are never spoiled . Apart from certain key bosses in the game, we don't really see much of Elden Ring and its Entre-terre. In addition, in the latest speedruns made, players no longer even need to directly face the bosses in question. This type of performance is generally not very indicative of the gameplay and plot of games.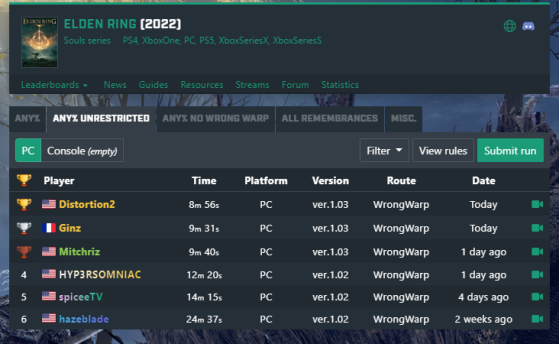 For his latest performance, Distortion2 is also one of the first to perform a speedrun without the precious steed of the Shardless, Torrent, and is content to teleport (zip). The streamer said he is trying to beat his own time and he won't stop until he succeeds. What will be the next record?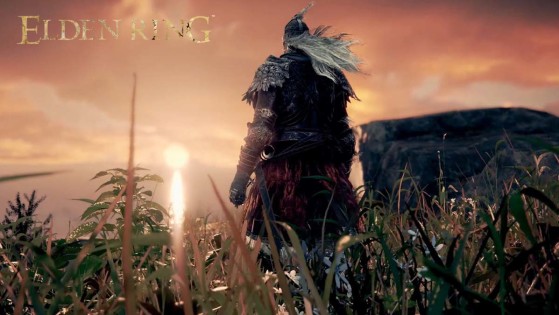 In order to defeat the formidable bosses of Elden Ring, it is quite helpful to have something to heal yourself. What if we told you that there was another way to heal yourself, without even having to resort to any vials?