Elden Ring is one of the top games of the year. Upon its release on February 25, it made a solid place at the top of the charts around the world. It immediately dethroned all the other video game productions released at the start of the year and established itself as a must in the industry.
But while the game has been out for almost four months now, we were starting to see it disappear from the best-selling video game rankings. Dethroned in turn by the various releases (Gran Turismo 7, Tiny Tina's Wonderland, ...), it made a reappearance at the top of the charts!
Elden Ring is not dead
Far from there ! In the United States, Elden Ring has regained its position as number 1 in video game sales, ahead of LEGO Star Wars: The Skywalker Saga and Nintendo Switch Sports (figures from NPD Group). With this, it even becomes the best-selling game in the United States over the past 12 months (end of May), ahead of Call of Duty: Vanguard, which had nevertheless been phenomenally successful in the country.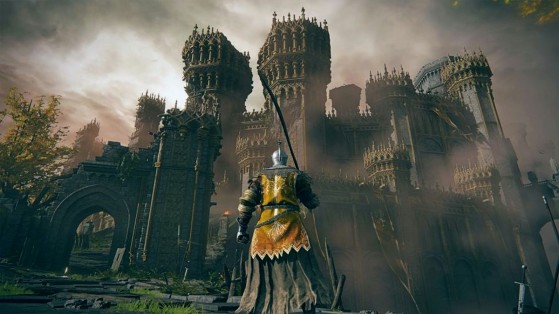 The craze for big releases therefore quickly disappeared in the face of the popularity of Elden Ring. Since the beginning of the year, FromSoftware's latest game has almost never disappeared from the top 5 . But these results, which are very encouraging for the company, reflect a much bigger problem.
This beginning of the year remains a difficult period for the global video game industry, but this is felt in the United States in particular. These latest rankings reflect this cruel lack of new releases , which prevents the charts from really renewing themselves.
In May, for example, the only novelty that managed to reach the top 50 (4th) was Evil Dead: The Game. In the top 20 were also recorded the return of certain games that we thought we would no longer see in this type of ranking, such as Skyrim or Call of Duty: Modern Warfare. Two nuggets of the video game certainly, but which have been out for years already and are (usually) drowned under the various releases.
According to NPD analyst Mat Piscatella , traditional game releases are sorely lacking, in an ecosystem "blurred by subscriptions and free-to-play" . Piscatella will have something to be reassured however, because this end of the year will bring many new releases, which will undoubtedly invade the charts. For now, Elden Ring enjoys a well-deserved first place!
The implementation of Sumeru on Genshin Impact is expected for this summer. And one of the first playable characters to hail from this region might just be Cyno. A little focus on this rather mysterious scholar.