Every week, Tim Sweeney's firm showers players with a completely free game via its Epic Games Store platform. All you have to do is log in and download the precious gift to add a new title to your collection. Here is the list of games to download from the Epic Games Store during the month of June 2022. Each new title overwrites the previous one on Thursdays at 5:00 p.m. every week. This article will be updated weekly with each change.
Geneforge 1 – Mutagen
A unique, open-ended fantasy role-playing game set in a strange world. Fight on the battlefield or use cunning to change the world, with an army of bespoke mutant monsters at your service. Tons of skills, treasures, factions and creations. Unparalleled freedom and replayability in an epic story.
Duration of the offer : from June 30 to July 7, 2022
Initial game release : February 2021
Iratus: Lord of the Dead
Iratus: Lord of the Dead is a turn-based tactical roguelike RPG set in a dark fantasy universe. Lead an army of undead to help an angry necromancer reach the surface world and annihilate the mortal realms!
Duration of the offer : from June 30 to July 7, 2022

Initial game release : April 2020

Note that a DLC is also available if you fall in love with this roguelike: Iratus: Wrath of the Necromancer, offered at a price of €14.99 (but also available on sale with the Supporter Pack for only €5.74).
Hood: Outlaws & Legends
Compete in intense and violent PvPvE multiplayer heists. Loot the treasures of gigantic, heavily guarded fortresses. Infiltrate the scene without being seen, or dominate the guards and the opposing team in a bloodbath.
Duration of the offer : from June 30 to July 7, 2022
Initial game release : May 2021
Ancient Enemy
Ancient Enemy is an RPG card game set in a world on the brink of chaos where the forces of evil are already at the top. Pulverize twisted enemies using numerous spells and skills. Journey through a desolate wilderness and defeat your most fearsome enemy!
Duration of the offer : from 7 to 14 July 2022
Initial game release : March 2020
Killing Floor 2
In KILLING FLOOR 2, players discover continental Europe ravaged by an unstoppable epidemic of gruesome and deadly clones, the Zeds, created as a result of failed experiments by rebels within the Horzine Corporation. Play 6-player and 12-player co-op as humans and Zeds in turn. Let the slaughter begin!
Duration of the offer : from 7 to 14 July 2022
Initial game release : July 2020
Wonder Boy: The Dragon's Trap
Transformed into a hideous half-human, half-lizard creature by the Meka-Dragon, you can only regain your appearance by recovering the Salamander Cross, the only magical object capable of getting rid of the curse.
Explore huge environments populated by hideous monsters and exotic dragons. Be careful, each dragon eliminated will only make things worse and turn you into various animals!
Play as the classic Hu-Man or discover the all-new character Hu-Girl. Transform into Lizard-Man, Mouse-Man, Piranha-Man, Lion-Man or Hawk-Man and use the characteristics of each to discover the buried secrets of Monster Land.
Enjoy 3 difficulty levels and go from the modern version to the original version (graphics and sounds) wherever you want whenever you want!
Duration of the offer : from July 14 to 21, 2022
Initial game release : June 2017
Tannenberg
Experience authentic World War I action with 64-player maneuver combat on the Eastern Front. Grab your gun, ready your saber and hold on to your gas mask as you prepare to take part in one of history's most important conflicts!
Tannenberg brings the great battles of the Eastern Front of World War I to life with 64 players competing for control of key sectors on the battlefield, each offering a specific strategic advantage. The war between the Russian Empire, Germany and their respective allies offers a new experience for both first-person shooters and history buffs. There are seven squads, over 50 weapons, eight large maps that give players tactical freedom, and a 64-player game mode with full AI player support to let you experience epic battles at any time !
Duration of the offer : from July 21 to 28, 2022
Initial game release : November 2017
Lawn Mowing Simulator: The free game of the week
Live the unique experience of mowing the parks and gardens of the most beautiful English countryside in Lawn Mowing Simulator, the only simulator that allows you to drive authentic lawnmowers from prestigious manufacturers such as Toro, SCAG and STIGA, and to develop your business mowing.
Duration of the offer : from July 28 to August 4, 2022
Initial game release : August 2021
The best free games on Steam
If you are not really keen on the idea of downloading the Epic Games Store launcher, the Valve store also offers an entire category of games reserved for free games. We pass the tenors of free-to-play who have been squatting at the top of the ranking of the most popular games for ages, with a selection of the best titles to be downloaded for free on Steam.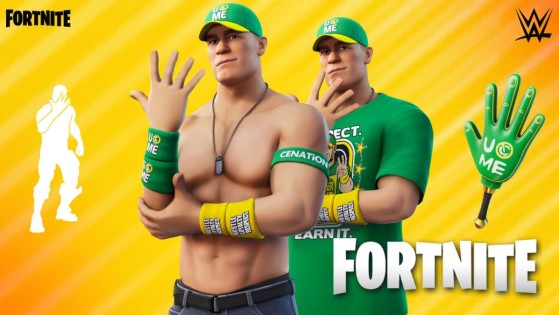 By collaborating with superstar John Cena, Epic Games has achieved a masterstroke, and the skin resulting from this partnership is on the way to becoming the most oconic of all this season 3, already rich in attractive cosmetics. But the wrestler will soon disappear from the shop!