The 5th and last Diablo Immortal Dungeon is located a little east of Port Justinian in the 7th area of the game: Bilefen. With a minimum level requirement of 40 , it's very short and will mostly have you facing off against chain bosses after a few enemy packs and dialogue that everyone laughs at.
Namari Temple
This small dungeon is only made up of 4 rooms connected by a corridor, with quite a few enemies, which makes it unsuitable for level or Paragon farming. It is nevertheless quite profitable, especially in solo, thanks to its many end bosses.

Talk to Namari in the first room, open the first chest during the ensuing battle, then go open the second chest to the north while she tells her story and decides to open the door.
Kill the trio of Skeleton Summoners in the next room. Namari opens a door again, this time with 3 summoners, but protected by shields. Kill enemies to disable shields one by one. Kill the summoner who has become vulnerable each time. Then go to the last room, where the boss is waiting for you with his friends.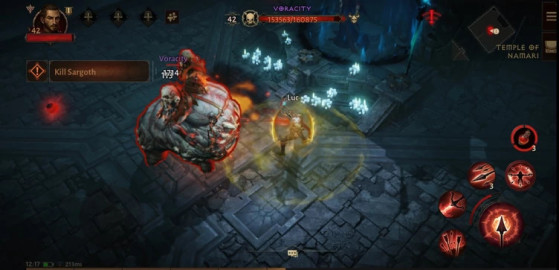 3 Random Bosses then Sargoth
In this last room, Sargoth will summon random bosses, one at a time. There are quite a few possible bosses, and you'll normally have faced them before, so they shouldn't normally be unfamiliar to you, these include Frimaire, Voracity, Fallen War Matron, Perdition, the Ignited, the Ash Marauders and the Siegebreaker. Each boss drops items, and you have some time to breathe between summons.
Sargoth will then come face you in person, he uses different lightning attacks that you will have to dodge. But it's not particularly difficult as long as you stay mobile. A peculiarity of this boss is that he almost often drops the same rare item, "Betrayal Strand", a belt related to his story.
Item set
Like all dungeons, the Temple of Namari contains set (green) items that can be found on Hell difficulty 1 and above. As it is quite complex and divided between the different difficulty levels, we invite you to consult our guide to item sets. There is one piece of each set available in this dungeon, 2 per difficulty mode.
Size : The Geoler - Temple of Namari (Hell 1)
Feet : Shepherd and Leader - Temple of Namari (Hell 1)
Neck : Cut Throat - Temple of Namari (Hell 2)
Hands : Luminary's Urge - Temple of Namari (Hell 2)
Finger : Mountebank's Misdirection - Temple of Namari (Hell 4)
Finger : Resting Fangs of Shal'baas - Temple of Namari (Hell 4)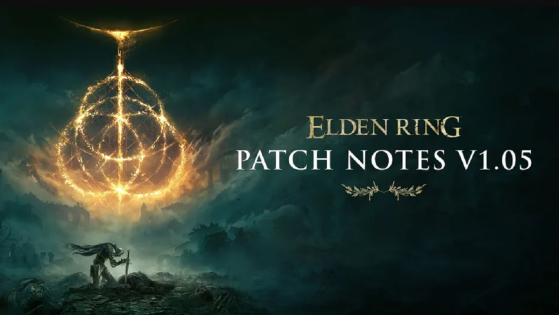 Patch 1.05 is now available on FromSoftware's latest game. There is no doubt that with these discreet but very useful improvements, your adventure in the Underworld will be much easier. Let's find out all the changes coming to Elden Ring through this patch!