Last Thursday, a first teaser had finally unveiled the new appearance of the demigod of the Ursidae, Volibear. Via a stream, Riot Games presented his new splash art, his brand new page of lore, and gave us a short preview about his reworked ability kit.
Riot also sprang the surprise by announcing a new skin, Thousand Pierced Volibear, a dark skin with a mysterious allure...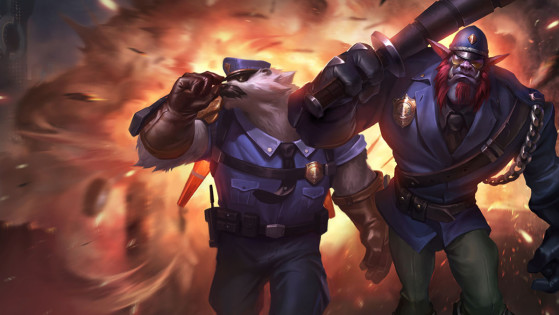 With his new design, Volibear hasn't only received a new ability kit: his appearance, as well as that of all his skins, have been entirely reworked.
Stats
Base HP: 580
HP per level: 85
HP regen per level: 9
Mana: 350
Mana per level: 40
MP5: 6.25
Mana regen per level: 0.1
Base AD: 60
AD Per Level: 3
Base Armor: 31
Armor Per Level: 4
Base MR: 32
Movespeed: 340
Attack Range: 150
Attack Speed: 0.66
Attack SpeedRatio: 0.7
Attack Speed Per Level: 2
Ability Kit

Passive - The Relentless Storm
Volibear gains 3% attack speed whenever he deals damage, which stacks up to 5 times.
Lightning Claws: At 5 stacks, Volibear's claws ignite with lightning, causing his basic attack to deal 11-60 (+40% AP) bonus magic damage to the 5 closest enemies. Volibear must deal damage within 6 seconds to maintain this effect.

Q - Thundering Smash
14/13/12/11/10s Cooldown
50 Mana
Volibear gains 10/15/20/25/30% movement speed for 4 seconds (or 20/30/40/50/60% towards enemy champions) and the ability to move through units. While active, Volibear's next basic attack deals 25/50/75/100/125 (+120% bAD) bonus damage and stuns the target for 1 second
Volibear becomes enraged if an enemy immobilizes him before he stuns a target, resetting this ability and its cooldown.

W - Frenzied Maul
5s Cooldown
30/35/40/45/50 Mana
Volibear mauls an enemy, dealing 10/35/60/85/110 (+100% tAD) (+6% bonus health) physical damage, applying on-hit effects, and wounding the target for 8 seconds.
If Frenzied Maul is used on a wounded target, its damage is increased by 50% and Volibear restores 20/35/50/65/80 health + 8/10/12/14/16% of his missing health (50% effective against minions).

E - Sky Splitter
After a delay, Volibear summons a lightning bolt at a target location. This deals 60/90/120/150/180 (+80% AP) (+7/8.5/10/11.5/13% of the target's maximum health) magic damage and slows enemies by 40% for 2 seconds. Damage against non-champions is capped at 100/200/300/400/500.
If Volibear is inside the blast zone, he gains a shield equal to 15% of his maximum health (+80% AP) for 3 seconds.

R - Stormbringer
160/140/120s Cooldown
100 Mana
Volibear transforms and leaps toward a target location, gaining 200/400/600 health, 50 attack range, and the ability to move through units for the next 12 seconds.
Upon landing, nearby enemy towers are disabled for 2/4/6 seconds and suffer 250/475/700 (+250% bAD) (+150% AP) physical damage. Nearby enemies are slowed by 50%, decaying over 1 second. Enemies directly underneath Volibear suffer 250/475/700 (+250% bAD) (+150% AP) physical damage.
Following Fiddlesticks', the reworked version of Volibear will soon be revealed to the League of Legends community as Riot is apparently planning a stream to unveil more about the new Thunder's Roar.