The PCS3 action came to a close in a three-way battle for PUBG supremacy in North America.
Heading into the final day's play, Susquehanna Soniqs looked the team to beat in a three-horse race. Their sheer consistency over the first two weeks saw them hold a 17-point lead over Guadalajara Gascans, with Oath Gaming a further six behind.
Their lead came from their placement point total — with 11 top-three finishes in twenty games, and just four without finishing in the top-eight of a match, they outscored their nearest rival by 14.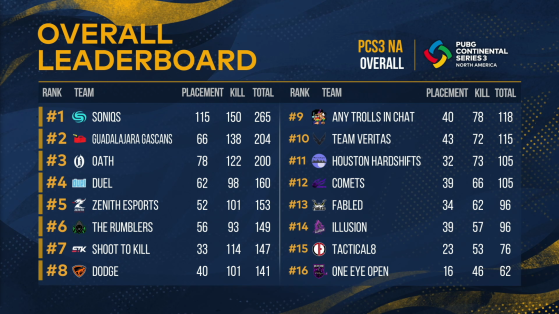 Looking to seal the overall victory quickly, Sonics swept to two wins in the first two matches of the day, racking up 18 kills in the process. That upped their lead to 39 points over Gascans with two to play, and they looked unstoppable. Oath kept up the pressure for second place, closing the gap to just four points.
All the major teams fell off the pace in Match 3 as Illusion took the win over Zenith E-Sports and Shoot To Kill. With the top three scoring just seven points between them, there was little threat to Soniqs lead.
Needing to overcome a 42-point deficit in the final match, the competition was effectively over. Needing more than 30 kills and a chicken dinner, and hoping Soniqs scored zero, the chasing pack gamely gave it a shot.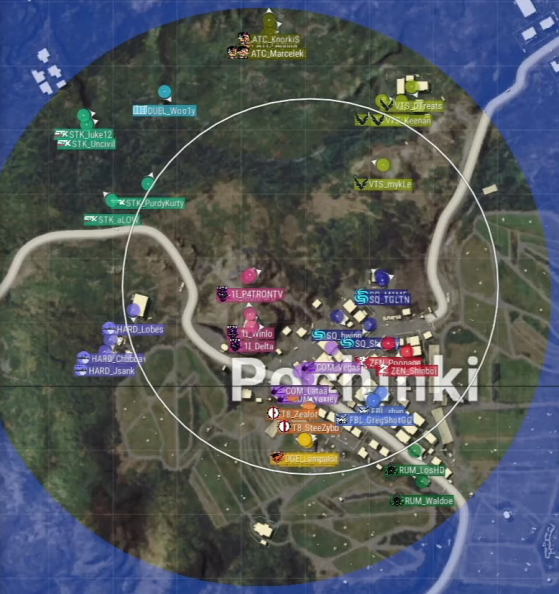 However, while Soniqs took a victory lap of Erangel, the real battle was now for second place. Gascans had a scare in the early stages of the game as Jace "Voxsic" Patras disconnected with Oath lurking near, but he managed to reconnect — all for naught.
A combination of Dodge and Tactical8 took them down almost immediately for a one-point game, leaving the Gascans praying for an Oath collapse. Dodge duly obliged, collapsing on Oath immediately after.
Noah "Relo" Jenkins was the only player left alive for Oath, and knowing the side needed just a handful of points to claim second, he bravely made a dash for safety in a UAZ.
He made it as far as a lone building, but tragedy struck. Just as he made it to the door, a stunning long-range shot from Fabled's Johnathan "rhyp" Eklund ended Relo's — and Oath's — tournament.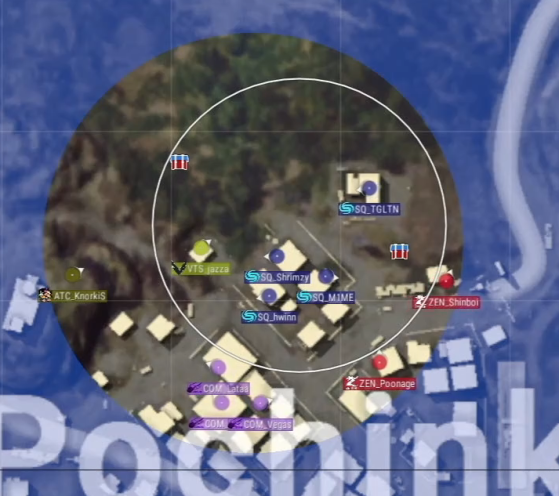 And so, with the top three positions filled, it left a mad Pochinki scramble. Eight teams were camped in the town, with Soniqs in prime position to end PCS3 in style.
The circle was immensely kind to the champions-elect, and will all four members up, they held position against Zenith, Comets, and Team Veritas to claim their third chicken dinner of the final day.
Left in a 4v1 situation, they went for the troll pan kill to round things off — but failed. Still, it was a noble effort!
PCS3 North America Day 6 Match Results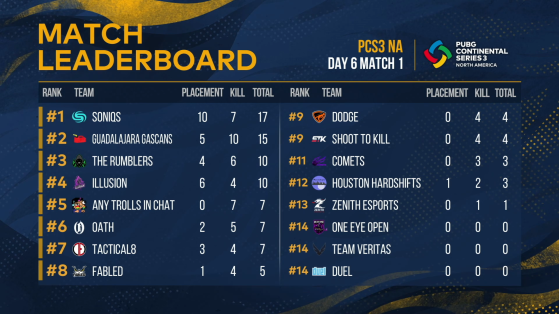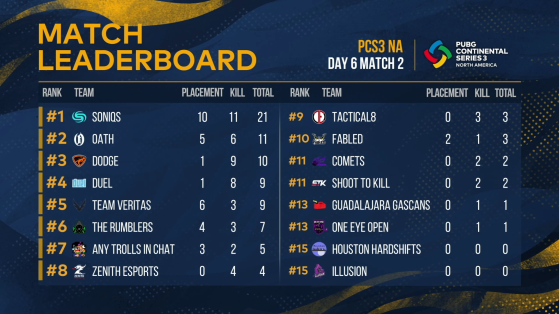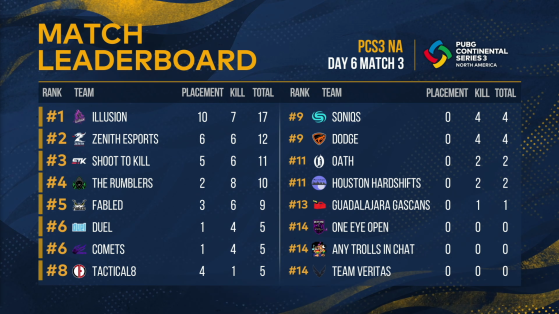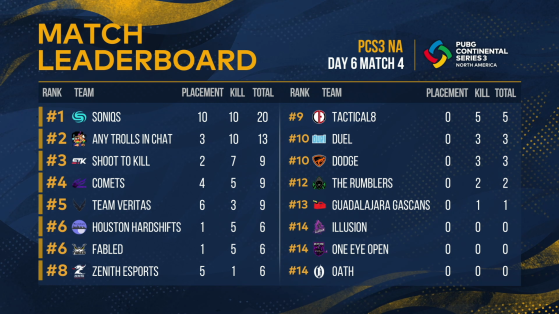 PCS3 NA: Overall Kills, Damage, Knocks & Assists Leaders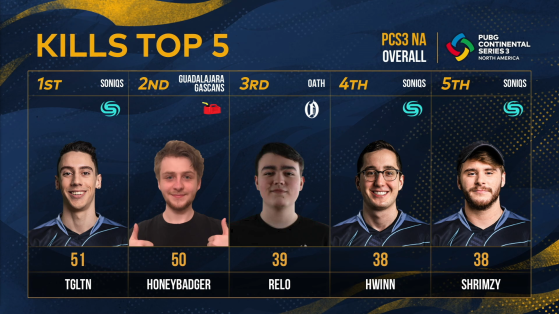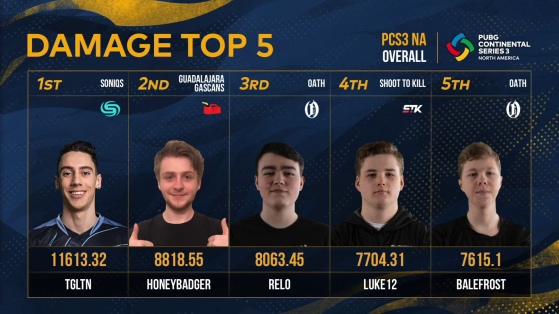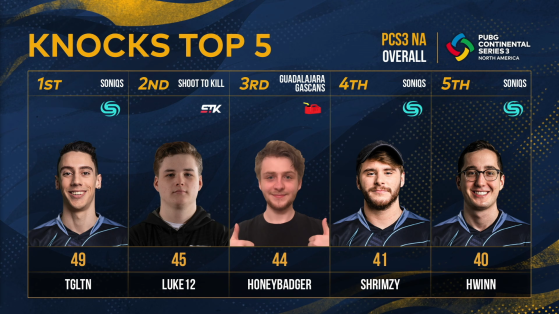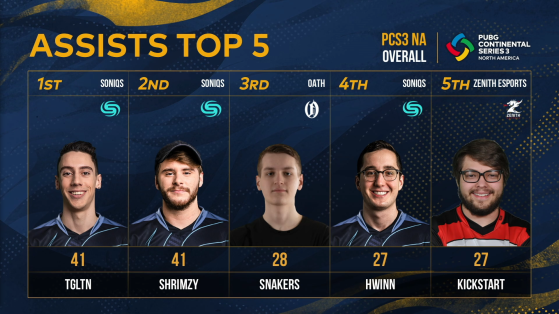 And so, Susquehanna Sonics claim their second PCS title in a row and the $50,000 first prize, to be boosted by sales of PCS gear from the in-game store. Guadalajara Gascans — only formed to take part in PCS3 — take home $32,500 for a mightily impressive tournament, with Oath Gaming pocketing $28,000.
Next up, PCS3 heads to APAC, with Day 5 beginning in just seven hours. LG Divine hold a nine-point lead over Buriram United Esports, with Oceania's FURY a further 12 behind. Who will fill their bellies with the ultimate chicken dinner?
And finally, PUBG Corp have announced their biggest ever tournament — the PUBG Global Invitational.S. Find all the details by following the link below!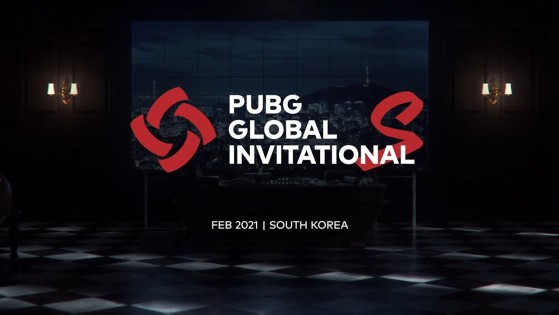 pubg-esports
The PUBG Global Invitational.S will be the biggest and most ambitious PUBG tournament held to date. It will see 32 teams from around the world head to South Korea for an eight-week event, with a minimum prize pool of $3.5m on the table.
All images and footage courtesy of PUBG Esports.