For the past couple of days, Fortnite's social media pages have been dropping a 'Catalog Entry' featuring three items, and different descriptions across the pages.
The first was a little less notable, but the second features glasses. A third and final one has dropped today.
While it could be just a pair of glasses, the text in the tweet says "when placed onto the face this strange plastic device seemed to make us appear unrecognizable." This must be a reference to Superman, who simply wears glasses to disguise himself as Clark Kent.
With Season 7 having an alien theme, it would make sense to have Superman be involved; especially as we constantly have DC content added to Fortnite.
These catalog entries may be giving us hints at content coming in the next Season, so far both have what appears to be a weapon, and what fans think could be Back Bling. It could also be thought that the milk carton might refer to a character too, or could be related to the lore as it seems to have a missing persons advert for Agent Jones on the side. Maybe Jones has been abducted by aliens?
This all comes after the teasers and puzzles we've had recently. Last month, people reported receiving postcards and DVDs, all giving a message that "they're coming". These all showed clips of crop circles and alien things.
These crop circles then appeared in Fortnite, at Colossal Crops, before UFOs started hovering above the island and abducting players.
Both of the video teasers so far have three symbols in the corner, so we should expect a third teaser to be released today to finish the set.
Fortnite Season 6 is reportedly due to end today, as Season 7 starts on June 8. We should therefore expect a host of releases over the next day before the release drops.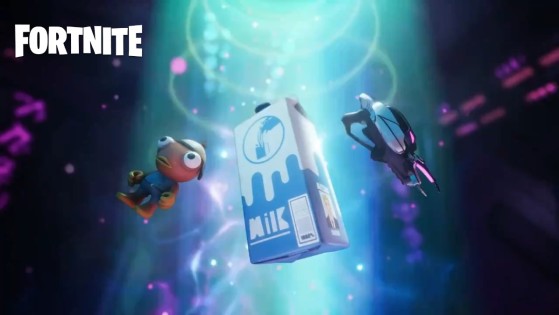 The first news of Fortnite Season 7 has lived up to expectations -- these are the three mysterious additions that have already been announced by Epic Games.
Just a few days before the start of Fortnite Season 7, Epic Games has begun to liven up our wait with a series of enigmatic teasers. Aliens are obviously at the heart of the new season.