The second FUT Champions Cup for FIFA 20 is over! Bucharest played host to the second stage of the competition, where 64 of the best FIFA 20 players in the world battled it out for Global Series points and a share of $200,000 in prize money.
After beating FUT Champions Cup 1 winner Tekkz in the semi final, Niklas "NRaseck" Raseck went on to take victory in both the Xbox final against Vini and the Grand Final against Italian pro Crazy.
Information
Date: November 22nd-24th 2019

Location: Bucharest, Romania

Players: 64 (32 Xbox & 32 Playstation)

Prize Pool: $200,000 ($100,000 for each platform)

Where to watch:

twitch.tv/easportsfifa
Format
For each match, there will be one leg played on Playstation and one on Xbox.

The winner will be determined by aggregate score.

In each phase of the competition, if a tie occurs, extra time will be played and if there is still a tie, a penalty shoot-out will take place.
Group Stage
The group stage will be using the Swiss system.
The first round will see 32 players split into two groups and will be randomly drawn against an opponent with the same win/loss record.

By the end of the group stage, 16 players from each group will qualify for the knockout stage.

Players will play up to five matches, needing three wins to qualify for the knockout stage.

Players that lose three games, will be eliminated from the tournament.
Knockout Stage
The remaining 16 players will compete in a knockout tournament, with their results from the group stage determining their place in the bracket.
At the end of each platform knockout bracket, one Xbox and one Playstation player will compete in the grand final.
Grand Final
FUT Champions Cup 2 represents the last phase of the November FUT Champions Cups.
One match will be played on Xbox and Playstation, with the player with the most goals scored wins the FUT Champions trophy and $50,000 in prize money.
Playoff Brackets
Xbox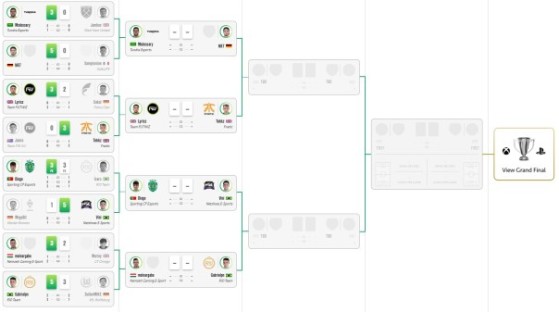 Playstation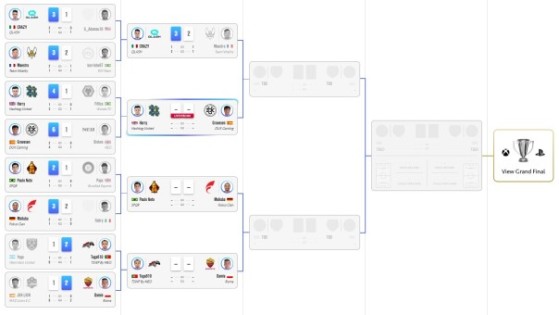 Full Schedule