This is the moment that football fans have been waiting for, the latest release in EA's iconic football series: FIFA 21.
We know that this edition of FIFA will get a next-gen release in the near future, but how good is this year's game, given that it falls between this generation of consoles and the next?
FIFA 20 received heavy criticism throughout the season, but the development team have taken community feedback on board to make FIFA 21 the best it can be. But is it worth all the trouble? Read on for our review and find out!
Genre: Sports Simulation

Release Date: 9th October 2020

Platform: PS4, Xbox One, Nintendo Switch, PC

Developer: Electronic Arts

Publisher: Electronic Arts

Price: $59.99 on PS4/Xbox/PC and $49.99 on Nintendo Switch, all on

Amazon

Played on: PS4
Getting to Grips with a More Complex Defence
Gameplay is often what determines whether a game is good or not. Previous versions of FIFA have come under fire for exactly that, and whether the criticism is justified or not — every has their opinion after all — FIFA 21 comes with a lot of expectations. We've already noticed some interesting changes during our time with the game in its pre-release state, but experience tells us that what we played doesn't always end up making it to the final product.
Even though the game carries itself on its attacking gameplay, there are noticeable improvements when it comes to defence. In FIFA 21, players have much greater inertia across the board compared to previous instalments, making it harder to control players while defending and giving gameplay a more realistic feeling. In essence, it makes sense for a heavier player to be unable to turn as quickly as a more agile player, with some exceptions.
Since we're already on the topic of gameplay, FIFA 21 offers players some pretty notable new features, all of which can be found here. The new agile dribbling system gives players even more ways of beating their man, provided that they've got decent footwork. Players will also have greater control with the ball at their feet and will find creating space after a one-on-one much easier in this year's FIFA.
When it comes to managing your off-ball teammates, after you receive a pass you can either take direct control over their run, or you can influence the direction they take, all through a simple move of the right joystick. Finally, Competitor mode grants the AI a deeper understanding of the game's mechanics, which provides players with an even greater challenge than they would get in Legendary or Ultimate mode. We should also quickly mention the attention that FIFA has paid to custom formations, creative runs, player locking, and also the natural collision system, all of which provide the game with an added touch of polish which should not be overlooked.
A Bright Future for Career Mode
Although the core gameplay remains the most important part of the game, what else is new this year besides that? When it comes to teams, FIFA 21 unfortunately does not have any new leagues to speak of. However, Serie B has disappeared, as have AS Roma, who have been replaced by Roma FC in an exact repeat of the same situation we witnessed last season with Juventus and Piemonte Calcio. But given the number of new features this year, especially in Career mode, you can quite easily look past this missing content.
The developers have continued to improve on the successes of last year's Career mode, which itself was already much improved on FIFA 19. They've gone on to add a fair few new features to Career mode for this season, including Interactive Match Sim, which allows you to have a even greater influence on the outcome of a simulated match, in-game match notes on players, as well as being able to organise your team's weekly training, new options for player transfers, and additional settings that let you tweak Career mode to your liking. All you need to know about these new features can be found here.
One significant new feature this year is Match Sharpness, a new stat that indicates how effective your players will be during clutch moments in a match. It can be worked on and improved through the new Active Training system, which gives you the ability to set up group training sessions to improve your strikers' end product or your defenders' ability to make match-saving tackles.
As for some of the returning features that might pass under the radar, there's the Player Development system, which gives you the ability to manage your players to the finest detail, even letting you change their position if you so wish. FIFA fans across the world can breathe easier knowing that AI has been improved this year: opposition players will behave more intelligently, in both attack and defence. The AI displays improved decision making when it comes to marking, tackling, passing, and dribbling, which is bound to offer more of a challenge in matches. Finally, Career mode is now more realistic than ever following the addition of custom UI and branding for major leagues and competitions, including the Champions League and the Copa Libertadores.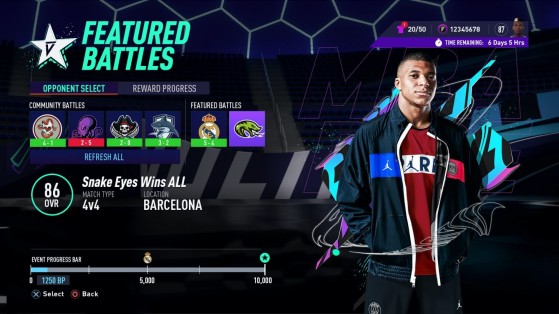 Is Volta Better Than Ever?
Volta, a feature added in FIFA 20, has also returned for the new season. It's received its share of new features as well (which can be found here), especially when it comes to mode's playability, which has been adjusted to feel a lot more realistic on Volta's reduced pitch. These changes make Volta a much more satisfying experience, with its quicker pace and smarter teammates. The addition of a new defensive counter system will also make duels more intense.
In Squad Battles, an entirely new mode, you'll encounter some of the biggest names in football and freestyling, and you'll even be able to recruit them to your roster. You can also take them on — either by yourself or with the help of friends and other players — on pitches with or without walls, in 3v3, 4v4, or even in a futsal setting. Finally, The Debut, Volta's story mode, will give you a cinematic introduction to the world of street football.
Is all this enough to make Volta a key part of FIFA 21? It's hard to say, but Volta is an immensely enjoyable fresh take on football as we know it.
FUT Just As Competitive in '21
Since the arrival of FUT Champions and Rivals Divisions, FIFA Ultimate Team has quickly developed into an ultra-competitive landscape. This has caused casual players, who would once field rag-tag teams of nobodies in Gold, Silver, and Bronze tournaments, to be alienated. FUT wasn't always about fielding the best side, and the shift away from playing just for fun has left these sorts of players by the wayside.
Just like Career Mode and Volta, Ultimate Team has also received several new features in FIFA 21. Among these new additions, we took particular notice of Co-Op FUT, a new way of playing with your friends online and receiving various rewards in the process. New team rules and special incentives will push players to try out new formations and approaches in live friendlies during the FUT season. Other rewards can also be won during FUT events, both for your club and the FUT community.
To cap off the new features and improvements that we noticed in this year's game, some players will be particularly interested to hear about the improvements to FUT Stadium, as it has received a wealth of new options for FIFA 21. Players will have to option of transferring their FUT Club from the PS4 to the PS5, from Xbox One to Xbox Series X, or from a next-gen console to the current generation, with FIFA 21 having multi-platform transfer markets and leaderboards.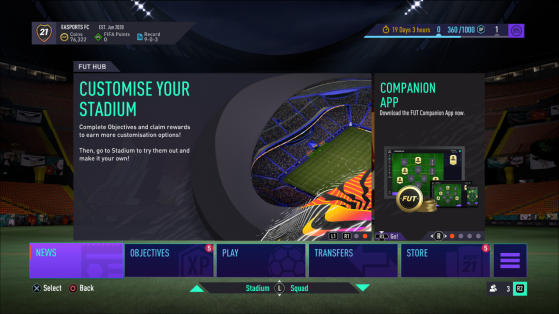 On the topic of changes, '21 introduces a new club management interface to Ultimate Team, though may not appear particularly intuitive at first glance, since players have long since gotten used to the old interface. As time passes, players will let go of old habits and realise that this UI is quite pleasant and easy to navigate.
We briefly touched on it earlier, but the changes to FUT Stadium are just some of the new features in FUT this year. In FIFA 21, you'll be able to go even further when it comes to customising your club, as your stadium can be completely changed to your liking. You can have your say over the colour of the lines on the pitch, pyrotechnics after a goal, seat colour, and pitch-side advertising. You can have complete control over anything and everything. But all this shouldn't distract us from the fact that players are still looking for the enjoyment that has been missing from FIFA Ultimate Team for some years now. Admittedly, the game does offer the chance to partake in themed friendlies, but is anyone really going to bother to play them?
Defence has been reworked to once again give players more control
FUT Stadium customisation is a nice touch
Interactive Sim in Career Mode
Changes to player inertia makes the game feel more realistic
Gameplay has been improved across the board
Pro Clubs has been a bit overlooked
Graphics are on their last legs
While FIFA 21 may look like just another instalment in the series, it really feels like EA Sports has taken community feedback into account in this year's game. As of writing, FIFA 21 is a very good game, but the question is, "Will it still be at the end of the season?" Only time will tell, though we hope that EA won't tinker with the gameplay too much, as it's a real pleasure this year. The decision to spread out new features evenly across a variety of game modes is an intelligent one, and it may just offer football fans what they're looking for. FIFA 21 is a good game, with lots of interesting new content. It's up to EA to ensure that it remains exactly that until the end of the season.