Rush Wars could be Supercell new nugget. Very easy to learn, this mobile RTS incorporates some of auto-chess and TFT mechanics. Your units act on their own and resolve the battle on their own. In Attack, you have the chance to deploy your units knowing your enemy position.
Destroying the three enemy mines will allow you to optimize your farm and your collection speed. So carefully choose your troops!
Consider an upstream deployment
The resolution of the battle directly depends on how the troops are deployed and how they encounter enemy defenses. Try to anticipate the opposing AOEs, and where the fire from the defensive buildings will be concentrated. Do not put all your eggs in the same basket, and avoid packing front lane and back lane.
The key unit at the beginning of an assault: Shields. These shock troops will be able to take damage while your DPS units are within firing range. The icing on the cake? They attack in melee and counter Mortars, which abound in defense.

Spreading out over two entries is also important, especially if you are still unfamiliar with the game's units.
Play with the explosive barrels!
Enemy lines are dotted with explosive barrels. Try to use them to cause explosions with your Arcade spell!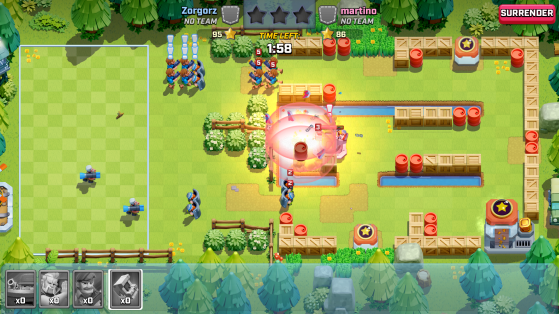 Once you are more familiar with the game and its mechanics, look at Support Care spell. Well placed, it will allow your main unit to win its battle and resist until it snatches the 3 stars!
Read the cards and only mount the best ones
Supercell games often use the same recipe: a large number of different cards/units, which are difficult to upgrade in late game. In Rush Wars, there are 43 distinct troops, and an effective offensive composition doesn't require you to upgrade everything and anything! Focus on a bunch of meta troops:

Shield
The best unit in early game. Allows your DPS to survive to attack!

Bazooka
Devastating and remote AOEs.

Hotshot
Excellent DPS at short range.
Written by Romain "Zorg" Becquelin. Translated from French by Millenium.us.org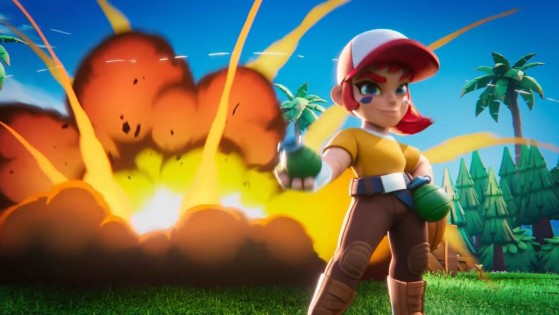 Supercell has finally launched the beta of its new game, Rush Wars — a mix between Clash Royale and Clash of Clans. The editorial team offers some tips to get you started properly.