Welcome to our step-by-step walkthrough of your Pokémon Brilliant Diamond and Shining Pearl adventure!
There have been several changes made since the original titles released in 2006, so this new walkthrough aims to guide you through Sinnoh without missing a single thing.
Your adventure begins in Twinleaf Town!
After choosing your language, the game begins. As is custom with Pokémon games, you'll receive an introduction to the world of Pokémon, this time from Professor Rowan and his trusty Munchlax.
You'll then be asked to create your avatar, with a choice of eight possible faces - four male, four female.
Note that it will be possible to change your outfit later in the game.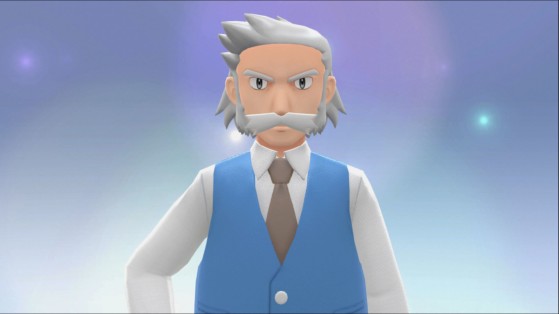 Then, choose your nickname (up to 12 characters), and that of your rival.
Note: From now on, we'll refer to the Rival as 'Barry'.
A program on Jubilife TV tells you that an exploration team has failed to find the famed Red Gyarados.
Just like every other Pokémon main series game, you start in your bedroom.
Your first task is to talk to your mother downstairs. She'll tell you that your best friend and rival, Barry, is waiting for you outside.
Exit to Twinleaf Town, your hometown. Head to the house in the northwest of town.
After the cutscene, join Barry upstairs.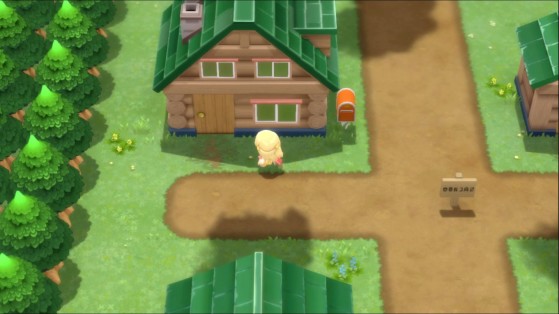 Head out of town onto Route 201.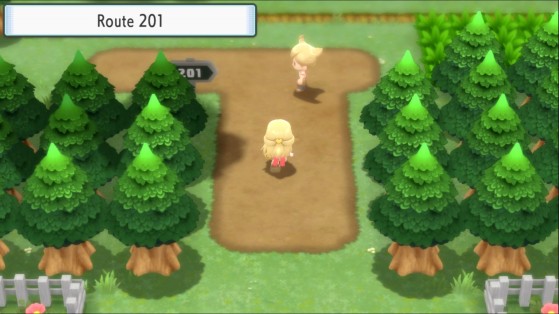 Route 201
Pokémon found on Route 201:
Overwhelmed by the idea of finding a Red Gyarados, Barry dashes off in the direction of the Lake Verity. Take the left path and follow him through the entrance to the lakefront.
You'll find Luca/Dawn and Professor Rowan doing some research. They'll depart, leaving behind a briefcase in the tall grass that contains the three Generation IV starters.
Note: From now on, instead of typing both names for Rowan's assistant, we'll just refer to them as 'Dawn'.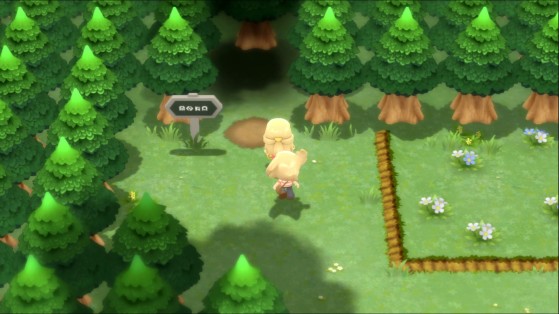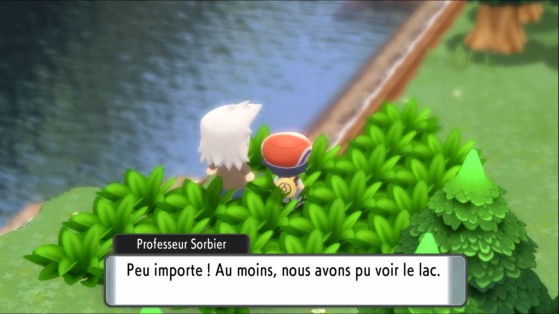 However, upon investigation, you'll be attacked by a pair of Starly. It's time to choose your starter, between Turtwig, Piplup and Chimchar!
Once you've carefully chosen your first Pokémon, it's time for your first Pokémon battle.
Luckily, it's not too difficult -- just attack, and you should win. Dawn will come to retrieve the briefcase and tell you to go see the Professor.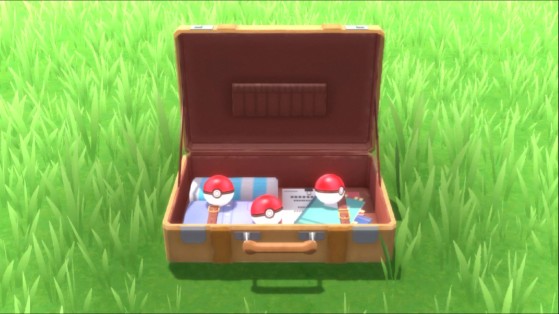 First up, you'll need to tell your mother about your impending adventure, so head home.
She'll completely understand, and give you the Running Shoes so that you can run faster. You'll default to a run when using the controller's stick, and walk when you use the directional buttons.
Now it's time to set off. Head out of town to Route 201. Your objective is to visit Professor Rowan at the Sandgem Town Laboratory.
At the Route marker, take the right path. Expect to do battle with wild Pokémon as you traverse the tall grass. You won't be able to capture any, but you can train up your starter a little to make things easier.
If you need healing, head home to Twinleaf Town and speak to your mother.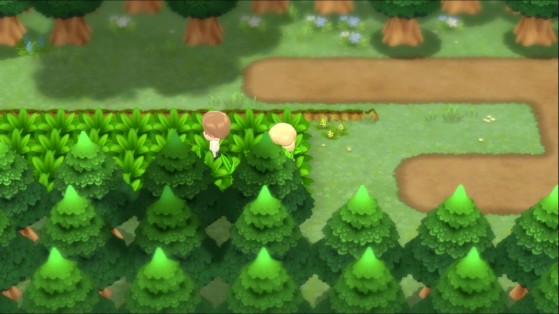 Continue heading right. A saleswoman can be found in the tall grass, and if you speak to her she'll give you some Potions.
When you arrive in Sandgem Town, Dawn will be waiting.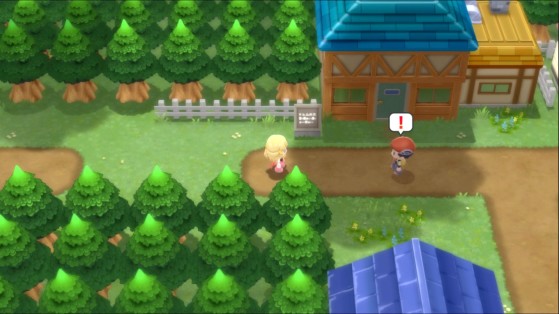 Sandgem Town
She'll take you straight to the Laboratory, where Barry will rush out before you can enter.
You'll explain things to Professor Rowan, who will then officially give you the starter you chose at the lake. You'll be able to give it a nickname.
Rowan will also give you the Pokédex, and explain the task of collecting data on the Pokémon of Sinnoh.
As always, the mission is to catch 'em all.
Leave the Laboratory, and Dawn will teach you all about Pokémon Centers and Poké Marts.
Heal up your Pokémon in the former, and if you really feel the need to, purchase some supplies. We don't recommend it though; save your money for later.
Before you head off on your adventure proper, return home to Twinleaf Town. Your mother will give you the Guidebook, a key tool that you can check whenever you need to know where to go.
Barry's Mother will turn up and ask you to give him a Parcel when you see him next.
Head back to Sandgem Town, and take the south exit to Route 219 where you can pick up an Antidote.
Then, take the north exit from Sandgem Town to Route 202.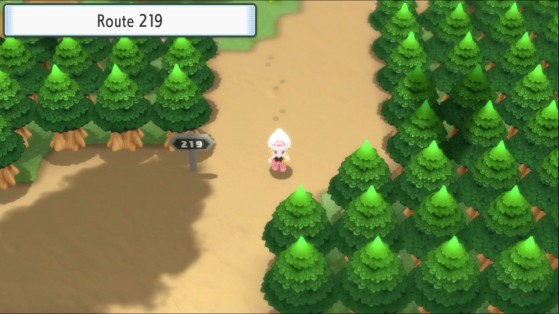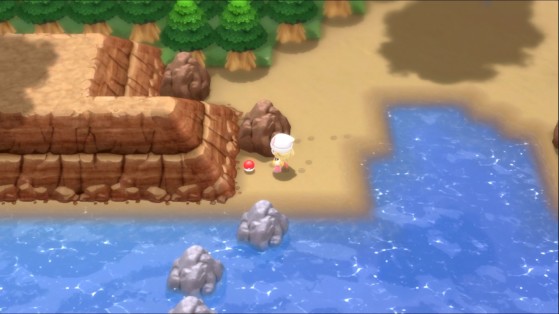 Route 202
Pokémon found on Route 202:
Starly

Bidoof

Shinx

Kricketot (morning/night)
You'll bump into Dawn in the tall grass, where she'll explain how to catch wild Pokémon.
She'll give you 20 Poké Balls, and you're now free to battle and catch Pokémon!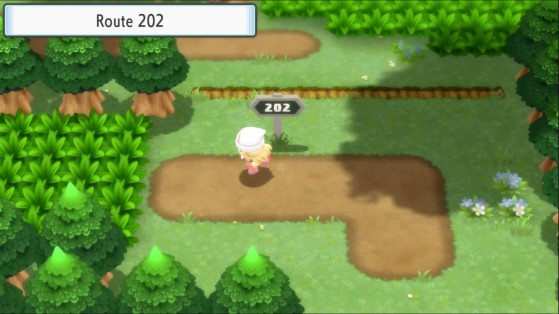 Keep progressing along Route 202, where you'll encounter your first Trainers in the wild.

Youngster Tristan
Starly, Level 5
Win: 380 Pokédollars

Lass Natalie
Bidoof, Level 3
Bidoof, Level 3
Win: 348 Pokédollars

Youngster Logan
Shinx, Level 5
Win: 380 Pokédollars
At the end of the road, you will find a Potion.
Soon, you'll arrive in Jubilife City.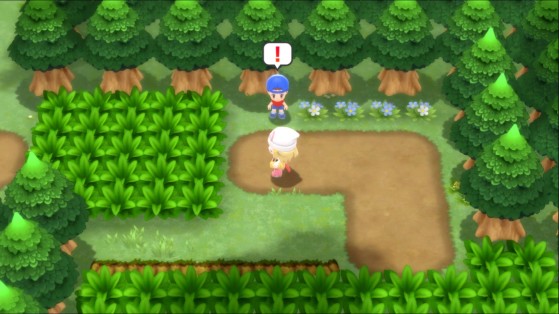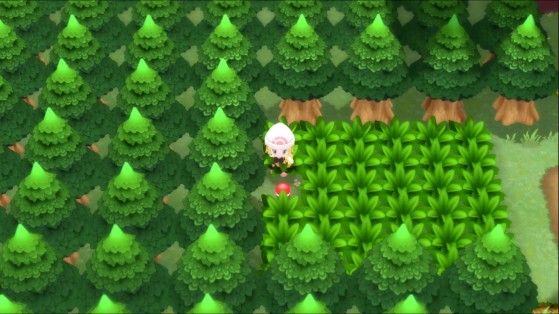 Jubilife City
Upon entering Jubilife City, you'll bump into Dawn once again. She'll tell you to go and visit the Trainer School.
First, however, take a trip to the Pokémon Center and heal your team.
The School can be found on the left side of town. Enter and speak to Barry to give him the Parcel. This is the Town Map, and because Barry's mother gave him two, you'll get one too!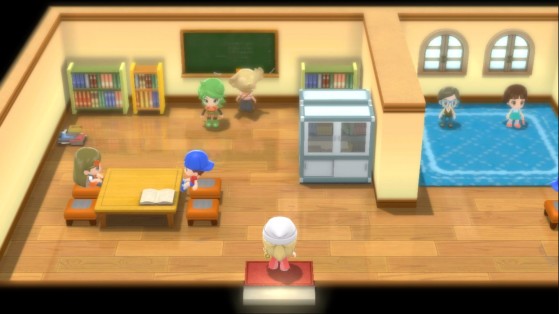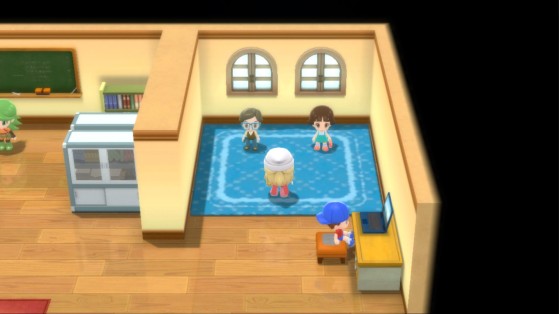 You can face two trainers, found in the right half of the School. Be mindful of their Charge Beam, which raises the enemy Pokémon's Sp.Atk as well as dealing a fair bit of damage.
Defeat the pair, and you'll get three copies of TM10 Work Up.

School Kid Harrison
Abra, Level 6
Win: 408 Pokédollars
School Kid Christine
Abra, Level 6
Win: 408 Pokédollars
Head out of the School and explore Jubilife City. You can't pass to the left of the School, as the GWS is currently closed.
North of the Pokémon Center you'll come across the inventor of the Pokétch, who offers you a challenge -- find three Clowns, answer their questions, and return the three Coupons in return for a free Pokétch.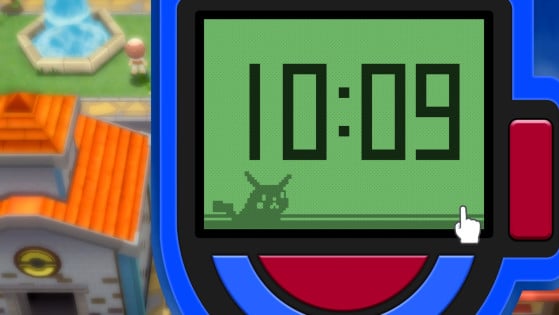 A vital source of information in Pokémon Brilliant Diamond & Shining Pearl, here's where you can get the Pokémon Watch, shortened to Pokétch.
Your next objective is to reach Oreburgh City.
Before you set off, head to the Jubilife Condominiums behind the Poké Mart. The girl with the Pachirisu and Pikachu will give you the Quick Claw, a held item that occasionally lets your Pokémon attack first.
Take the eastern exit out of Jubilife, and onto Route 203.
Route 203
Pokémon found on Route 203:
Abra

Starly

Bidoof

Shinx

Zubat (night)

Kricketot (morning/night)

Magikarp (via Old Rod)
As soon as you enter Route 203, you'll be accosted by Barry. Time to battle!

Rival
Bidoof, Level 7
Starter, Level 9
Win: 1,188 Pokédollars
While he does use the starter that's strong against the one you chose, he shouldn't prove too difficult provided you've battled all Trainers available up to this point, and caught a couple more Pokémon along the way.
Once beaten, you can progress along the route at your leisure.
You'll come across a girl who will explain order, while there's another Trainer to battle for some easy EXP.

Youngster Michael
Bidoof, Level 5
Zubat, Level 5
Win: 380 Pokédollars
You'll find a Poké Ball in the grass near Youngster Michael.
Continuing along Route 203, you can encounter four more Trainers.

Youngster Dallas
Kricketot, Level 7
Win: 392 Pokédollars

Lass Kaitlyn
Bidoof, Level 4
Starly, Level 4
Budew, Level 4
Win: 352 Pokédollars

Youngster Sebastian
Machop, Level 7
Win: 392 Pokédollars

Lass Madeline
Starly, Level 5
Bidoof, Level 5
Win: 380 Pokédollars
You'll soon come to a cave entrance, but before you head inside, go to the left instead. You'll find a Repel waiting.
Now head into the cave, which is the Oreburgh Gate.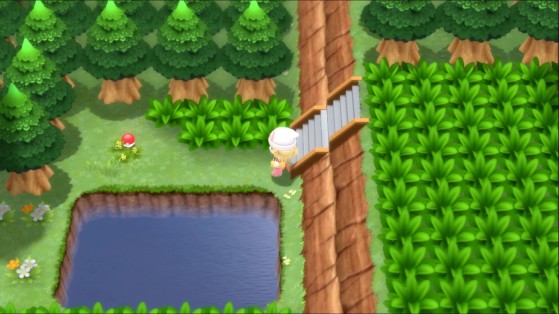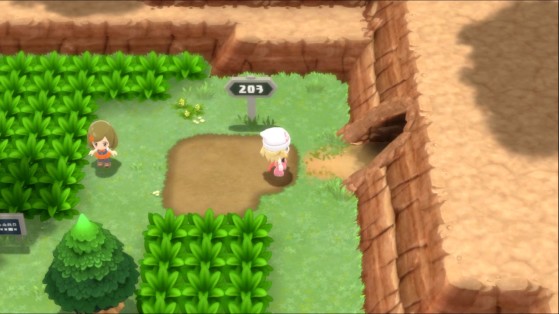 Oreburgh Gate
Upon entering the cave, a Hiker will accost you and give you TM98 Rock Smash.
He'll explain that as well as being able to teach your Pokémon the move, this Technical Machine also includes the Hidden Move version for your Pokétch, allowing you to use the move outside of battle.
However, he'll also inform you that you need the Coal Badge first.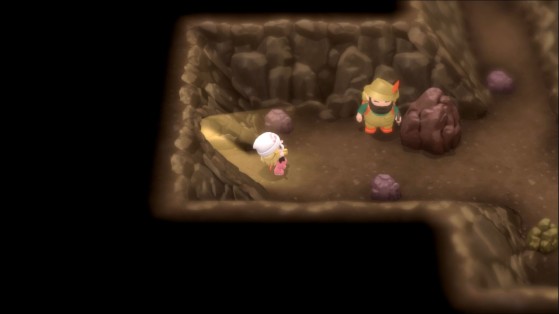 Since you don't have that badge just yet, take the right path.
There's a coupld of Trainers for you to deal with on the way.

Camper Curtis
Shinx, Level 7
Win: 392 Pokédollars

Picknicker Diana
Budew, Level 5
Psyduck, Level 5
Win: 380 Pokédollars
Exiting the cave leads you directly into Oreburgh City.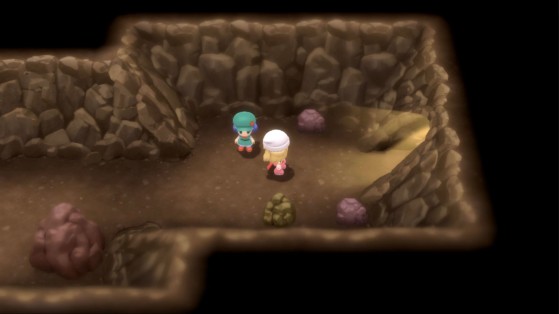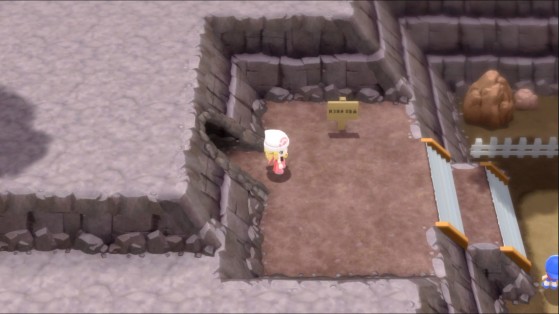 Oreburgh City
A kid will accost you and introduce you to the Gym, only for Barry to block your entrance. He explains that he already has his Coal Badge, but now the Gym Leader has gone off to the Oreburgh Mine.
Before you head there, take the time to explore the city and gather the items on offer.
On the northwestern side of town, you'll find a girl upstairs in an apartment block who will give you a Dusk Ball.
To the right of this building, inside a second apartment building, a girl will want to exchange a Machop for an Abra. You can get one on Route 207, so remember to return here should you want a strong Psychic-type Pokémon.
In the apartment building next to the Poké Mart, show the old man a Zubat. He'll give you a Heal Ball in return.
Heading past the Pokémon Center you'll come to another apartment building, where a kid upstairs will give you a Great Ball.
The entrance to the Oreburgh Mine is found south of the Pokémon Center. From now on,. you can encounter wild Pokémon.
In the part of the mine above ground, head to the bottom right where a minerwill give you a Super Potion.
Enter the mine.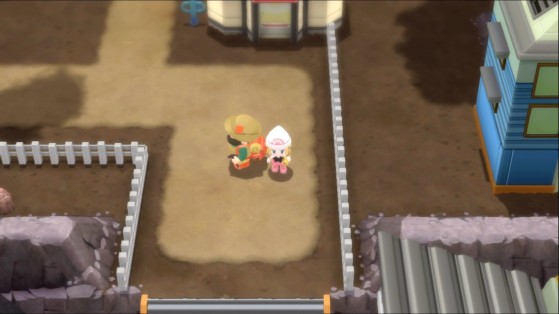 Oreburgh Mine
Pokémon found in the Oreburgh Mine:
Head down the first flight of steps in the lobby-like area, and then right under the conveyor belt. The Poké Ball in the top right contains an X Defense.
Continue down the stairs into the mine proper. The path is pretty linear, and there are a couple of Trainers to battle and items to be found.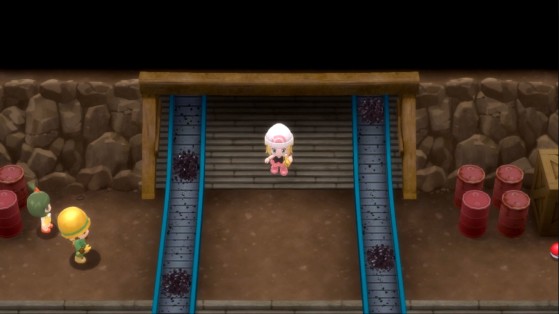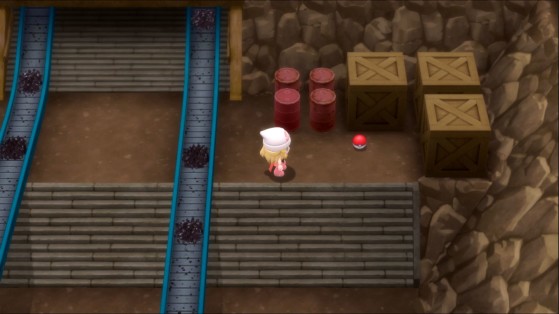 Worker Mason
Machop, Level 9
Win: 648 Pokédollars
After beating Mason, pick up the Potion.
You'll then come across Roark, the Oreburgh City Gym Leader. He'll demonstrate the Rock Smash move, then disappear back to his Gym.
Before you follow him, explore the rest of the mine.
Another Trainer is waiting to do battle further down the path.

Worker Colin
Geodude, Level 7
Onix, Level 7
Win: 560 Pokédollars
You'll find an Escape Rope to the left of Colin. We'd recommend keeping this for later, when there are much larger dungeons to escape!
Once done, return to Oreburgh Gym and get ready to take on Roark. Our comprehensive guide will help.
The first Gym Leader you'll encounter in Brilliant Diamond & Shining Pearl, Roark holds the Coal Badge and uses Rock-type Pokémon. Here's how to beat him.
Defeating Roark will net you the Coal Badge, and you'll now be able to use Rock Smash outside of battle. You'll also get TM76 Stealth Rock, as well as some Stickers.
Make sure you heal up your team after leaving the Gym. Head back towards Oreburgh Gate to continue your quest, which will take you north.
Now that you have Rock Smash you can explore Oregurgh Gate more, but without the Bicycle a lot of it will be inaccessible.
However, you should make the effort to pick up TM70 Flash, a useful move for a future cave.
Return to Jubilife City, and then head north onto Route 204.
Our next destination is Floaroma Town.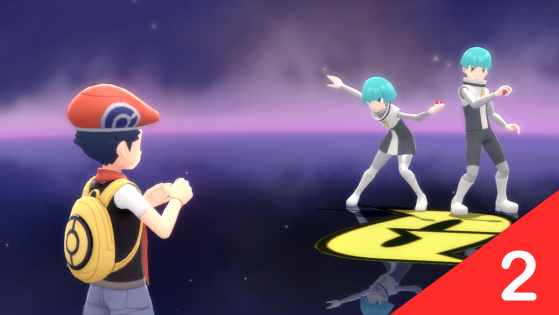 The second part of our full Pokémon Brilliant Diamond and Shining Pearl walkthrough for Nintendo Switch guides you from Oreburgh City through to your second badge in Eterna City, and taking on Team Galactic.