Fans of the various Marvel franchises should know what to expect when they see Taskmaster land in Marvel's Avengers, this dangerous mercenary with a photographic memory is an interesting fight for Black Widow. It's also a good way to introduce players to the basics of fighting and fundamentals against bosses. Here is a video demonstration of our fight, then advice and details.
Marvel's Avengers: Taskmaster Fight
1st phase: Black Widow, run!
It's not necessarily obvious, but you have to climb on the red bridges and run straight to jump on the back of Taskmaster who has decidedly excellent timing with his passage to the jetpack below you. Staying in place for more than a few seconds causes the mission to fail.
2nd phase: QTE Master
The scene that follows is as improbable as it is impressive. You can just keep hammering the X / Square key in order to automatically validate most of the following QTEs. You'll just have to use Y / Triangle once in a while, nothing too bad.
3rd phase: Dodge and counter-attack
Once at the top of the bridge, dodge when Taskmaster rushes over you, then shoot his back several times. After finally getting out on the road, the real fight begins. In accordance with his reputation and his power, the boss will adapt his fighting style to suit yours. It just means that you have to vary the attacks and not just do the same thing all the time. Attack in melee with quick attacks and dodge with B / Round when attacking. If your timing is right, this will give you a melee and even pistol attack window behind his back. You can also put pressure on him by shooting him when he is away from you.
Taskmaster will end up enriching his fighting style, whether it be with jumps that cause an area of flames (get out of the red area quickly with a dodge) or by throwing bombs on the ground. Ground bombs can be safely set off by stepping inside and then dodging back.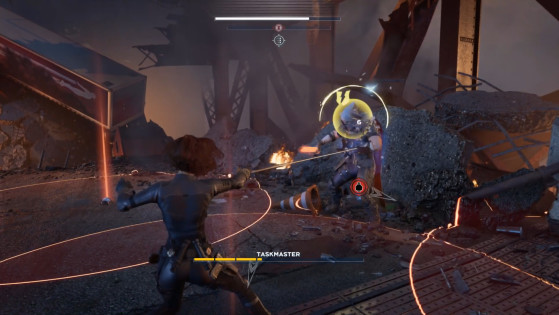 When you get the warning message asking you to take it with RT / R2, you will have more options. When the yellow icon appears on his head, it triggers a counter from you, which can be used to send him into a nearby bomb zone. But it is useless to force the thing, just concentrate on the fundamentals: A few attacks then dodge his counterattack, before counterattacking in your turn.
When he throws his shield from a distance you can either attack him in melee or shoot him, he won't be able to block your shots this time.
Finally, when his life is almost empty, Taskmaster will counter all your attacks, that's normal. The game will invite you to trigger invisibility to finish it off. Go behind his back and attack.
Original content by Robin "Raiden" Bouquet.