In addition to the classic mode of Resident Evil Village, the Mercenaries Mode is added as bonus content. In this guide, we explain how to unlock it and what it consists of.
How to unlock Mercenaries Mode in Resident Evil Village
To unlock this game mode, you must first complete the main story of Resident Evil Village for the first time. You won't be able to have it before.
Once you have finished your game, go to the Bonus tab where you can find the Special Store. With the help of your trophies from your first game, you'll have more than enough change to purchase this game mode which costs 10 Challenge Points. 
Once you buy it, you can play it by going to the Bonus menus.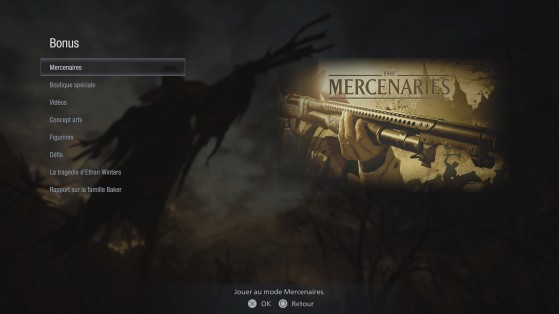 What is Mercenaries Mode in Resident Evil Village?
Mercenaries Mode is an arcade mode that will require you to kill a specific number of enemies within a time limit. When you have defeated a certain number of enemies, the exit will appear. On the end of the map where you will be thrown, yellow and blue orbs will be available to you: the first will be used to save time and the other will grant you bonuses for the round.
It is an arcade mode which has no relation to the history of the game. The goal is to make an excellent score for your personal pleasure.