As in Demon's Souls and games of the Dark Souls series among others, Elden Ring let you select a starting class and customize the appearance of your character. You will also need to select a starting gift. If it can reassure you, choosing the wrong gift does not have significant long-term consequences, but it is certain that choosing the right one can help start the adventure a little easier.
List of starting Keepsakes in Elden Ring

Crimson Amber Medallion
Description : A purple amber medallion. Increases maximum HP (estimated at +5%).
Comment : A nice talisman, but it can also be purchased quickly from a merchant in the starting region for 1500 runes.

Lands Between Rune
Description : The gold of grace shines in the eyes of the inhabitants of the Underworld. Use it to earn many runes.
Comment : A good way to gain a few levels as soon as this option is unlocked. She gives 3000 Runes, which allows you to immediately gain a few levels, making her a pretty good choice to start quickly.

Golden Seed
Description : A golden seed from the Underworld. She is said to be able to strengthen sacred vials.
Comment : Allows you to immediately gain a healing or mana flask charge when reaching the first grace point in the game (the equivalent of an estus flask). Their availability is very limited.

Fanged Imp Ashes
Description : The ashes of tiny golems. It is said that the ashes still harbor souls.
Comment : You need a Summoning Bell, which is given to you shortly after, to use this item. It allows you to summon spirits to assist you in combat, presumably those that haunt crypt-like mini-dungeons. That being said, it's very easy to find other summons, this one isn't particularly useful or unique.

3 Cracked Pot
Description : Three strange cracked pots that repair themselves. Containers to create objects to throw.
Comment : These pots serve as reusable crafting components to create throwing bombs of different types (eg explosive, holy water). They are recovered after use. The more such pots you have, the more projectiles you can build up. This makes them an especially enticing choice if you're going to actively use them to assist you in combat.

2 Stonesword Key
Description : Two stone blade-keys in the shape of swords. They break seals on imp statues, but each can only be used once.
Comment : There are many magical barriers in play that always have an item of value behind them (with or without combat). There is even one in the second part of the tutorial, which allows you to immediately get your hands on an excellent talisman, at least if you are ready to die a bunch of times along the way. These keys provide direct access. Otherwise, you have to find them everywhere or buy them from merchants (2000-5000 runes each, and available in very limited quantities).

5 Bewitching Branch
Description : 5 sacred branches, charged with bewitching power. This gift would come from the demigod Miquella
Comment : Consumes CP and temporarily transforms the pierced enemy into an enemy. This can help handle some tough fights when facing multiple opponents initially. How it works on bosses has yet to be confirmed.

5 Boiled Prawn
Description : 5 boiled prawns. They temporarily improve physical damage reduction.
Comment : Another combat consumable that can help survive attacks from a formidable enemy like the one in the intro, or a boss.

Shabriri's Woe
Description : The representation of a mad nobleman whose eyes have been gouged out. It provokes the aggression of enemies.
Comment : This item is a talisman to equip, it will provoke enemies who will tend to focus on you. If you want to complicate your life, or protect your summons or other players, because you are playing a pseudo tank for example, this may be an interesting choice.
Best Starting Gifts
For once, there are many valid options for the starting donation, although some are better than others:
It's obviously not something absolute and valid 100% of the time, but Golden Seed is probably the best choice overall. This will allow you to get an extra charge for the Healing or Mana Vial immediately after the first enemy in the game, which is a big help in absolutely any scenario.
The second best choice in our eyes is the Stonesword Key x2 gift , since it allows you to immediately deactivate the force field of the tutorial, or the first of the Round Table, or even another elsewhere in the game, in order to get one of the valuables hidden behind. It's a choice that requires fairly good knowledge of the game, to obtain a precise weapon for a build, for example. That being said, Stoneblade Keys are much less rare than Golden Seeds, you can buy one quickly for 4000 Runes from a vendor for example, so that makes them a much inferior choice.
Then comes the Rune of the Underworld, 3000 Runes quickly allow you to gain a few levels, and therefore to speed up your first steps a little.

The other objects are very situational, it will greatly depend on how you plan to play. They don't have immense value, and they can usually be obtained quickly in-game or from a merchant, such as Crimson Amber Medallion.

Seduction Branches and Boiled Shrimp are common consumables, but they can help defeat the special enemy in the tutorial if used well.
This guide has been translated from MGG France by bxakid and was originally written by Raiden Robin.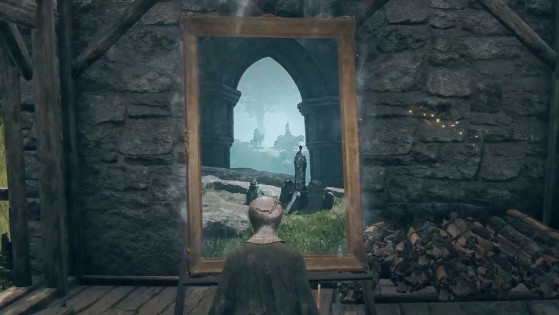 The paintings will be on of the Elden Rings puzzles and here's everything you need to know on these.