Officially announced on Fall Guys Twitter, a new patch note will land on the game today.
Official patch note
Fixed physics behaving erratically at high framerate on levels like Tip Toe

Fixed crown in Fall Mountain not being grabbable in rare situations

Addressed some collisions in Block Party allowing players to bypass the blocks

Fixed Parties sometimes failing due to too many requests

Addressed some special characters causing display issues in player names

Fixed Big Tease Achievement not unlocking in specific regions

PC only - Fixed certain game controller models not being detected on PC
New map: Jump Showdown
This is a mini-game used in particular during the last round. Your objective will therefore be to obtain the Crown by being the last survivor on the platforms.
Be careful, unlike the normal version of the mini-game, the bars are present on both sides, so you will have to be twice as careful. The platforms will fall faster and faster as the game progresses until only one remains.
Unlike the basic mini-game, a single hit of the golden sausage will take you off the field.
As a reminder, new levels and cosmetics are expected soon on the game.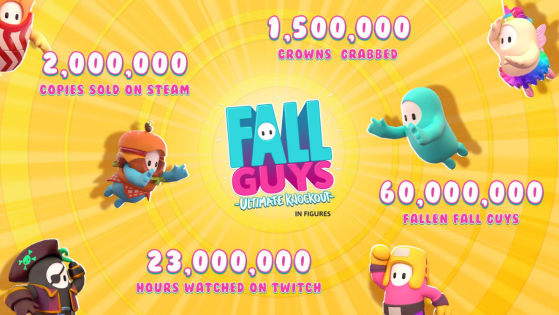 Fall Guys has just officially communicated on the sales of the first week and some interesting statistics of the game such as the number of crowns collected or the number of fallen fall guys.