To celebrate the launch of Warzone Season 4, the Dallas Empire is the latest CDL franchise to host its very own high-stakes Warzone tournament. Known as the Warzone Heist, the event will be one of the very first to take place in Season 4.
Beginning on June 16th, Season 4 will feature a wealth of brand-new content including new additions to the weapon arsenal, new playable Operators, a new Battle Pass, and new points of interest.
As competitive Warzone continues to grow at an impressive rate, the Dallas Empire Warzone Heist is set to be one of the biggest tournaments to take place, much to the excitement of competitive Warzone fans and the players in with a chance of competing.
In this article, find out everything that you need to know about the tournament including the prize pool, format, and a list of players taking part.
Day 1 Results
After the opening day of the tournament came to an end, the formidable duo of Tommey and Almond led the standings with an impressive haul of 213 points.
Find a full list of the top eight teams advancing to day two below:
1st - Tommey and Almond - 213 Points

2nd - Newbz and HusKerrs - 200 Points

3rd - Swagg and Booya - 167 Points

4th - Destroy and ZLaner - 155 Points

5th - UnRationaL and ScummN - 149 Points

6th - Metaphor and Smitty - 147 Points

7th - pickNICK and Nickool - 145 Points

8th - Angel and Lenun - 137 Points
Dallas Empire Warzone Heist $100K Warzone Tournament Schedule
The tournament is set to begin on June 17th and will run until June 18th where a champion will be crowned.
Format
The first day of the competition will feature a Kill Race qualifier alongside a range of challenges competitors can complete in order to earn some additional prize money.
Day two will consist of a best-of-three double-elimination bracket where the winner will be determined.
Challenges
To add a bit of variety to the competition, the Dallas Empire has introduced a range of challenges where some additional cash can be earned.
Find a full list of challenges and their values below:
IRL selfie with your character by the Empire trophy - $100 (x30)

In-Air Kill from the drop - $100 (x20)

3rd Highest Kill count - $400

Win a Gulag without killing your opponent - $500 (x2)

Win a Gulag with an Assassination kill - $500 (x2)

Kill with each vehicle in one match - $750 (x2)

2nd Highest Kill count - $600

1st Highest Kill count - $1000

Community challenge - $1000

Most match wins in 3 hours -$1000

Sniper kill over 400m - $1000

360-degree in-air snipe - $1000

Squad wipe with a helicopter - $1000

Win the game with an Airstrike - $1000

Win with a 0 kill, 0 death teammate - $1000

Blow up a helicopter with a motorcycle in mid-air - $1000

Win the game with an Assassination - $1500

Have $100K Cash as a team - $1500

Solo in-air sniper kill from a helicopter - $1500

Highest Kill Game - $2000
How To Watch
A dedicated hub for the event will be shown live on the Call of Duty Twitch channel.
To view the perspectives of individual players, it's likely that they will be streaming the action on their own channels.
Players
A full list of players can be found below:
Tommey/Almond

Rallied/OtterEyes

Newbz/HusKerrs

IMAngelikaa/Fuzzn

Destroy/ZLaner

Galex/Shway

SuperEvan/DiazBiffle

Speros/Fluxuryy

Vikkstar123/Warsz

MrDaft/BasedGodXenon

KaleiRenay/Pork

JoeWo/Stukawaki

HollyLive/JerKy26

TTinyy/Zepti

Neslo/OPMarked

Metaphor/Smitty

JessieCooks/Luvey

Jordy2d/Spidey

LEGIQN/SloppyHarry

Jukeyz/Fifakill

P90Princess/Jxsephs

BobbyPoff/Mayappo

MarkClark/Frozone

ClutchBelk/Med1cine

NuFo/Bartonologist

exzachtt/DougisRaw

Blake/Jorge

iSmixie/Flxnked

SebasBeron/FazeBloo

TeeP/DKarma

Rated/Aydan

JaredFPS/zColorss

IceManIssac/breadman

Swagg/Booya

pickNICK/Nickool

UnRationaL/ScummN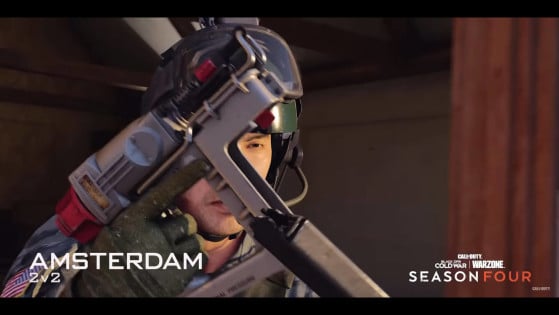 The Nail Gun is coming to Warzone as part of Season 4, providing an alternative to the usual weapons dominating the meta. Find out how to unlock this unusual weapon in this article.