Since its release last February, FromSoftware's game has fascinated and attracted players from all over the world. Its soulslike gameplay yet much more accessible than other productions of the genre makes Elden Ring one of the most popular games of this year. But while many have already explored every corner of the Underworld, defeated every boss, explored every cave, mastered every build, players are now eagerly awaiting new content... like DLC for example.
A DLC earlier than we thought?
It is true that a DLC would not be refused , and would allow the Without Shards who have completed the game to explore new horizons, or even to measure themselves against new formidable creatures. Although we still do not know the precise content of a potential next additional content, a Reddit user thinks he has deduced a release window for the latter.
"Poranges" , his nickname, published on Reddit the result of his strange discovery. Not long ago, Future Press announced the big news: the first volume of a guide for Elden Ring will soon be marketed in Europe (end of October) . As for Volume II, the situation is a little more complicated and the company has therefore decided to postpone its publication until early 2023, saying that it is important to them that their work includes everything there is to know. on the production of FromSoftware, so that it remains relevant over the years.
"We are still hard at work on Volume II, and have made the difficult decision to delay its release to early 2023. We strive to include everything there is to know at the time of publication. , so that the document is accurate and useful long after it is published."
According to Poranges , this is a sign that a DLC is on the way. According to him/her, Future Press would have liked to postpone the release of the second volume in order to include everything that is in the first DLC of Elden Ring. Of course, this is only a theory (which has become very popular, however) that it is important to take with a grain of salt. Who knows, maybe FromSoftware will announce the arrival of a DLC in the next few weeks?
"While some have speculated that this could be due to changes in the recent patch, this seems unlikely given that Elden Ring will continue to be patched, and a physical guide cannot be expected to It seems rather likely to me that they know of some bigger changes (perhaps in the form of a DLC) and delay Volume II until early 2023 based on that information ."
What can we expect?
Here again, we will address the subject of the findings of Lance MacDonald as well as Sekiro Dubi, who following Patch 1.07 noticed several details in the game files, which could be linked to a DLC.
"DLC01" : A new file, named "m61_arena_026", is said to have been discovered by Sekiro Dubi, along with loot from two arena enemies and new hairstyles potentially usable by the player. New files would also have been stamped "DLC01", with arena-related content.
Ray-Tracing : According to

Lance McDonald

, this functionality should land very soon in Entre-terre because he would have found in the game files the mention of this system several times.
Two new maps? This is the detail that caught the attention of the Shardless, the mention of two new cards that are not (yet) available in Elden Ring. No more details were revealed by Lance McDonald, but this announcement was enough to ignite the web and hyper fans of FromSoftware's production.

Elden Ringed City : Also particularly intriguing is the addition of alternate maps, textures, and elements for arenas, similar to how there are for the different versions of the map, such as Necrolimbo before and after. Radhan's Meteor, or the Underworld after the World Tree burns down.

Lots of speculation but unfortunately, the impatient Shardless will have to be patient before discovering what the FromSoftware teams have in store for them.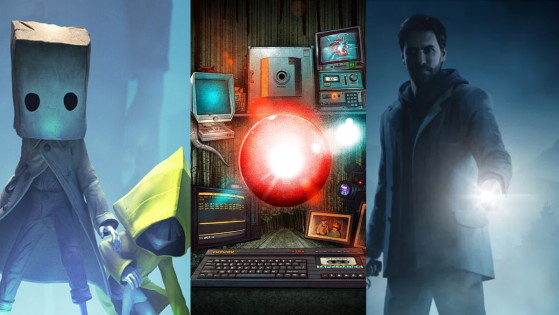 Do you like horrific atmospheres and scary stories but are you anxious about life? Don't panic, we've put together a small selection of games for you that don't have any screamers, jumpscares, or other surprises that could hit you in the face.