During this really short Dragon Ball Z Kakarot sub story, after defeating Kid Buu, you will have to prove that you are worthy of invoking Porunga who will grant three of Goku's very special wishes.
Porunga Part 2
After completing the main adventure, three planets will be available to you, including the New Namek. This is where you'll have to go to access this sub story. As Goku, talk to Muri: he'll tell you that in order to summon Porunga, you'll have to pass the trial of wisdom.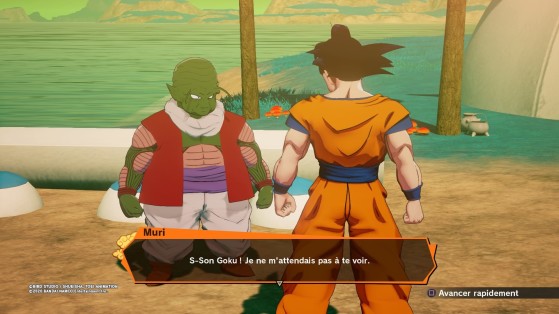 Three questions will be asked and the answers are all in the village. Three Namek marked with sub stories blue beam will give you the answers. Return to talk to Muri: he'll test your wisdom through these questions. Once completed and Porunga summoned, you'll learn that Frieza, Cell and Dabura have been resurrected on Earth. Three new sub stories will appear in different areas.
This time, you'll unlock Porunga's soul emblem, complet the community board by linking him to Shenron.
Rewards
| Reward | Quantity |
| --- | --- |
| EXP | 241638 |
| D Medal | 3 |
| Porunga Plush | 1 |