The World Series of Warzone is Activision's second esports series that revolves around the Call of Duty franchise, joining the popular Call of Duty League. Unlike the CDL, the World Series of Warzone is open to players that manage to make it through the qualification events in order to participate alongside the very best players in the world.
After several weeks of anticipation, the first tournament of the series is going to take place with 150 of North America's best Warzone talent facing off against each other in a bid to win the lion's share of the largest Warzone prize pool in history.
Find absolutely everything you need to know about the first World Series of Warzone event in this dedicated guide.
How To Watch The $300K World Series of Warzone Event
A dedicated hub that will cover the entire event will be streamed live on Twitch Rivals' official channel which can be found below.
Schedule
The action gets underway on June 22nd at 5PM ET with the Captain's Draft. The draft will see the five captains decide on their squad ahead of the start of the tournament which will begin on June 23rd at 5PM.
Format
Unlike other Warzone tournaments, the World Series will utilize private lobbies rather than teams dropping into public matches. The event will see six matches take place with points awarded for placement and the number of kills scored.
Each kill scored equals one point

The total will be multiplied depending on the final placements of the team.
Find a full breakdown of the multiplier below:
1st: 2x multiplier

2nd-15th: 1.5x multiplier

15th-50th: No multiplier
The inclusion of a multiplier adds an incentive for teams to place as high as possible in order to secure a high place on the overall leaderboards.
Prize Pool
The tournament will see a total of $300,000 in prize money up for grabs, making it the largest prize pool ever seen in Warzone. $200,000 will be distributed to the individual teams while the remaining $100,000 going to the Captain's Cup.
Individual Teams
1st - $50,000

2nd - $30,000

3rd - $20,000

4th - $15,000

5th - $10,000

6th - $9,000

7th - $7,000

8th - $6,000

9th - $5,500

10th - $5,000

11th – 20th: $3,000

21st – 25th: $2,500
Captain's Cup
1st (Captain) - $30,000

1st (Team) - $20,000

2nd (Captain) - $15,000

3rd (Captain) - $13,000

4th (Captain) - $12,000

5th (Captain) - $10,000
Players And Teams
Although the draft will be taking place, four of the five team captains have already unveiled their squad ahead of the tournament. For a full list of competitors taking part in the first World Series of Warzone tournament, click here.
Team Aydan - Aydan, Rated, HusKerrs

Team Swagg - Swagg, Booya, DiazBiffle

Team TimTheTatMan - TimTheTatMan, Frozone, Sirciz

Team TheDanDangler - TheDanDangler, DougIsRaw, Wagnificent

Team Nadeshot - Nadeshot, Kenny, Slasher
Team Aydan
Find the nine teams representing Aydan's team below:
UnRationaL, Nickool, ScummN

Iron, yeet, bbreadman

BoobyPoff, Mayappo, Ottereyes

FaZe Bloo, Fukluvey, Flxnked

Russ, JerKy26, SupAustyn

YuhLegit, KunjTV, Drifts

ShawnJ Gaming, GunMW, Djmas23

CitizenSnipes, Drakota, Steelcurtain

BigcheeseKIT, TheMurdaa, SnipingCookie
Team Nadeshot
JoeWo, Symfuhny, MuTeX

Tfue, Pieman, Blazt

ZooMaa, Asim, Clayster

Methodz, Slacked, Ricky

Xampz, Ebatez, Sureangxl

FaZe JSmooth, Spreezyy_, Redman_Lyons

Studlie, TrickyRick, NateHades

Vinnie, Zed, TaylorFritz

ItzLiveee,SlimSlay86, Lmbo238
Team TimTheTatMan
Tommey, Almond, Newbz

Karma, FormaL, Scump

ZColorss, TheDezmond, aHTracT

Theory, Tiny, Aqua

SenseiSwishem, Bartonologist, Yata

MVS_11, Royalize, Sage

Pork, Kalei, NiicoInfinite

Aircool, AvonteMaddox, BaySoldier

Jordy2D, ZeusyAf, SpideyoD
Team Swagg
Repullze, LuckyChamu, SuperEvan

ShadedStep, Reidboyy, Bonq

IceManIsaac, OPMarked, Devious

SkyyrozTV, Blingcjay, NobuSpartan

Jkrinkz, Sport_Tm, Gooeyguyy

Smixie, Arrayyz, EyeQew

BrittneyRaines, picNICKbaskest,OakleyBoiii

GabbyDM, zJelley, skullface49

BossLadyLily, Scriptehh, PatienceGGs
Team TheDanDangler
Destroy, ClutchBelk, ZLaner

Teep, Crimsix, Cloakzy

Metaphor, zSmith, Intechs

JaredFPS, Rallied, exzachtt

LEGIQN, QueenShadows, Stukawaki

SebasBeron, Finessen, MrDaft

NuFo, KingProdigy, Speros

OpTic Blake, Holly, OpTic Jorge

RLaw, Powfu, Ollie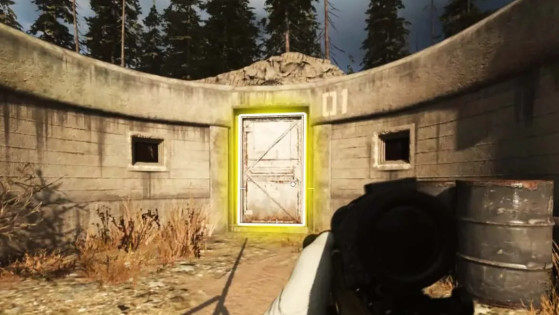 Season 4 of Warzone has remained relatively bug-free but players have managed to discover a glitch involving a door that kills players when they attempt to go near it.