You follow the quest of poor Diallos and you have just killed Juno Hoslow, the blood knight, but also the brother of the poor new Sans-servante? It may turn out that the rest of his quest is not easy to understand, because you will have to kill Rykard, then go to a village hidden in Liurnia of Elden Ring.
In order to help you complete his quest, here is the location of Jarrebourg , so that you can finally continue the story of this NPC.
How to get to Jarrebourg?
As we told you just before, you will have to go to Liurnia. Taking the "Artist's Cabin" grace site as your starting point, you will have to descend below, behind the Caria Study Room .
You can easily reach this part of the map by following the cliff just past the tower, then descending to the tombstones placed on the cliff. Once down, head southeast until you come across a grace site named Jarrebourg , just past the bridge.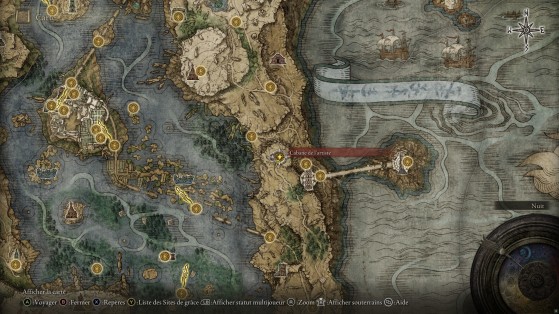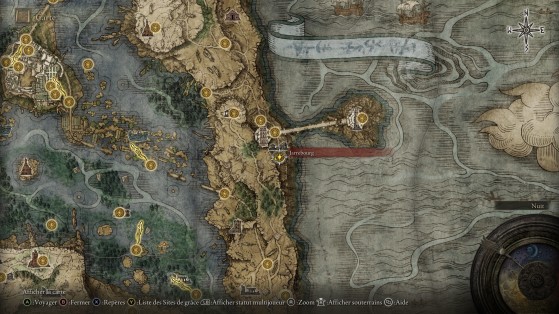 The Diallos quest does not activate in Jarrebourg, what should I do?
By going to the village of Jarrebourg, you will have to discuss with Môme-jarre ; it will be located just in front of the house on the left. By agreeing to become a Potentate, the latter will tell you that you do not have the necessary qualifications to take on this role. It is at this precise moment that the quest hangs, because no indication is specified.
In reality, to get out of this infinite loop of unqualified Potentate, you just have to reload the area as many times as necessary by going to talk to the Kid-jar each time . The latter will tell the story of the poachers and the plants, so continue until he unlocks a new line of dialogue, that of their new Potentate who turns out to be Diallos.
This way, you can continue his quest. However, again, you may find yourself blocked. It takes some time to activate the following steps. We had to change zones several times and spend several days via the option at a point of grace . When you return to Jarrebourg, you will notice that the majority of the jars are broken.
In order not to spoil Diallos' story for you, we simply invite you to chat with the Kid-jar who is now at the top of the stairs to continue Diallos' quest. This is also where you can continue Alexander's quest, so if you also follow his quest, don't hesitate to kill two birds with one stone.
Sumeru still has many playable characters in store for us! The dataminers have centralized various information and are setting up a roadmap of the next banners. Cyno, Candace, Nilou, Kusanali or even Scaramouche; they are all coming very soon!