Temtem is a Monster Capture MMORPG that has taken many ideas from Pokémon. Within the Airborne Archipelago, which includes six islands, your mission will be to collect various Tems, while helping others by completing quests, and above all by asserting your strike force in the Dojos or even in PvP combat.
Once the tutorial phase is over, you will be free to roam the world to challenge various TemTem Tamers, go on an expedition to find Lumas and many other quests that will make you evolve in the game.
Get a first idea of the Starters
On Temtem, as on Pokémon for that matter, you can start your adventure with a creature of your choice among two others. During the tutorial, you will be able to choose between three starters: Crystle, Houchic and Smazee. Each has very specific skills, so here is a small summary of the different staters to make your choice easier.

Crystal
Type Crystal
talent
Amphibious : its Speed increases a lot if it is hit by a Water -type attack.
Rested : Its Attack and Special Attack increase by 25% for the first two turns.

Houchic
Mental Type
talent
Accomplice: Increases ATQSP by 15% if the ally is Mental type.
Delicate : When you attack a target with the Asleep State, it does not wake up and receives 20% more damage.

Smazee
Boxing type
talent
Annoyed : When getting a status issue, gives an ATK boost. Does not work with Alerté.
Friendly : Immune to allies' offensive Techniques.
Understand the lexicon of Temtem in combat
Before embarking on the adventure of Temtem, you will have to take a piece of paper and a pencil, because there is a whole lexicon to take in hand so that you can get by in PvE or PvP combat. It may be a bit complicated the first time, but with some explanation everything will become clearer to you.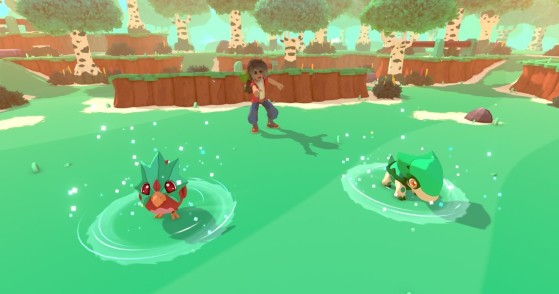 Temtem is a little more demanding, so to avoid missteps, here are some explanations of the basic terms.
Type — Elements of your skill (fire, wind, earth, melee, etc.)

Category — Stat that the skill gives you

Damage — Indicator of the damage that will be inflicted

Cost — Stamina needed to do the technique

Hold — Number of turns to wait before using a skill

Priority — Indicator that shows when the technique will be used

Synergy — Boost provided

Status Technique — Inflicts stat changes on the hit Tem or status effects like burn, sleep, freeze, etc.

Physical Technique — Physical Techniques attack the target Tem's defense.

Special Technique — Special Techniques attack the target Tem's Special Defense.
Know how to manage your Tem in combat
Your Tem will be of a type that will be more or less strong against other creatures, it's a pretty simple notion.
In addition to the types, there is also an important element to consider: overwork. Each skill requires a specific number of stamina and if the skill you want to do at a higher rate than your stamina it will be in a state of overwork and take damage due to this penalty.
In order to avoid these inconveniences, you will need to take some time off so that your Tems can recover their strength. However, it is also your role to manage the stamina in the smartest way possible, each skill has a stamina hit, so be sure to monitor these indicators to avoid exhausting your Tem.
To rest your Tem, you can simply force him to take a break during his turn. He will be able to regenerate in stamina and will be able to attack without taking damage in the next turn.
Understand farming

Within your adventure, you will be able to acquire eggs; note that you can also create them by reproducing two of your Tems. Breeding will allow you to make a Tem who will have all the inheritance of both parents, so who can perform much better than the others in view of the inherited statistics.
However, different steps must be taken into account for the reproduction to be as successful as possible:
check the compatibility between your Tems

drop off the couple in a Breeding Center

wait for egg production

hatch the egg

When hatching, the creature may not be as exceptional as it seems, so you will have to pay attention to the different traits of your Tems in order to avoid negative ones as much as possible.
Features, but what is it?
In addition to having skills called Techniques on Temtem, your creatures may have traits that can either be a bonus or a penalty. They are sort of passive skills that activate when various events occur in combat. Indeed, the traits can be activated to notably improve the effects of synergies or even increase the speed during combat. Therefore, you will have to be vigilant about the different traits of your Tems so that they are as optimized as possible.
As we told you, the traits are not always beneficial for your monsters, so when capturing your Tem, but also during its evolution, you will have to be careful, because you could get in the way. To be clearer, some traits deal extra damage if your Tem gets hit by a particular type or inherits a constraining status effect (freeze, burn, poison, etc).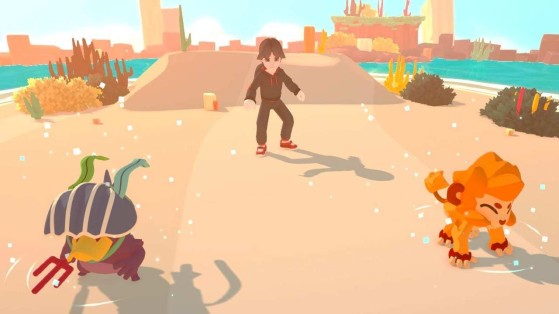 While one might think that the traits are given completely randomly, in reality, some traits are really specific to certain e. Therefore, any Tem can obtain one of the two traits of his species.
The Lumas, what are they exactly?
Lumas are the ultimate goal of many Trainers: sparkling, differently colored from their "normal" Tem counterpart, they have at least three perfect stats. They are also rather rare, but there are some smart strategies that can help:
Radars can be obtained from Trainer's Paradise, the end-game island. Radars will guarantee you 300 encounters with a specific Tem species, with bonuses to their SVs and Luma chance increasing as you go. and as you progress. There's also the Deniz Island Saipark, which will feature two different Tems each week, each with either better stats or a better chance of being a Luma.
Therefore, if a Tem seems very different from another, run to capture it, because it will be in its most optimal form.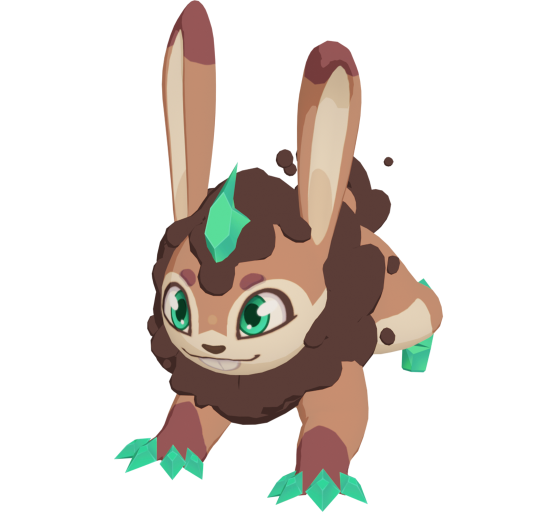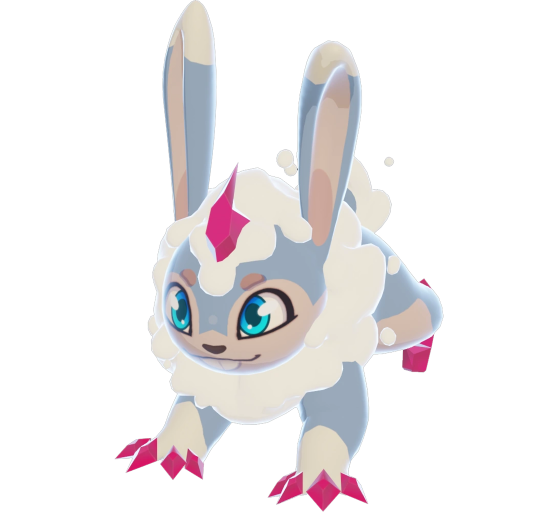 Advance with cunning!
While advancing in the story, you will be able to gain experience for your Tems, but also money. These two aspects are important, because by not leveling up your creatures, you will not be able to advance and without money, you will not be able to buy resources necessary for the good continuity of your adventure. Therefore, before starting your adventure, here are some tips so that you can progress quickly.
How to get money easily?
Throughout your adventure, you will get money by winning fights against the NPCs you meet or completing side quests. You can also sell items, such as Silicone Fragments which yield 299 Pansols each.
But once all the islands are completed, the best way to get money is to release mobs. This practice is called Libertem and it is on the second island that you will hear about it. Freeing the Tems is therefore currently the best way to make money. The amount received depends on the rarity of the Tem and its level. During early access, the creatures that brought in the most money were: Ukama, Magmis and Shuine. Also note that you will have a much better chance of capturing Tems with the Clover, so go get it quickly to take advantage of it as soon as possible.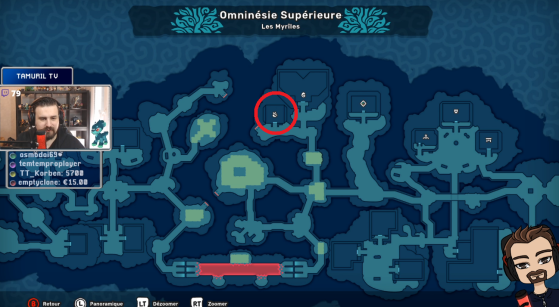 How to gain experience faster?
Then finally, to gain experience much more quickly, it will be necessary to go in search of the Veil of the Couard. This is an item that allows the Temtem holding it to gain experience from a fight without even having taken part in it. If you have a slightly feverish Temtem, this is the best way to gain experience without risking him falling in battle.
And there you have it, with these cheats, you will be able to embark on the Temtem adventure with already a good idea of what to expect. We invite you to consult our many guides that deal with the game!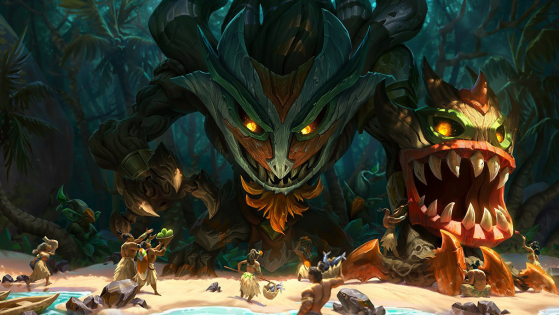 The 12.17 cycle has already started on the PBE League of Legends and Riot Games has already announced some changes, especially aimed at Maokai. The studio wants to restore the superbness of the tortured Treant and in particular bring it back to the jungle.