That's the rule with Hearthstone competitive scene: between each Grandmasters season, three players from each region are relegated, making room for nine new players. For Season 2, the following players were relegated:
Europe
Pavel (Division B)
Kolento (Cloud 9, Division B)
Hunterace (Nordavind, Division A)
America
PapaJason (RBG Esports, Division B)
PNC (Team Genji, Division B)
Purple (Team Liquid, Division B)
APAC
Staz (Bren Esports, Division B)
SamuelTsao (Division B)
FroStee (Legacy Esports, Division B)
Their departure means that nine new players will integrate Hearthstone's most prominent league.
Although it was safe to assume a few weeks ago that most of these players will indeed join the GM, the last Masters Tour was decisive to confirm the new Grandmasters qualifications.
America
To replace PNC, PapaJason, and Purple, Rami94, NoHandsGamer, and brimful will join the dance!

Ramiro "Rami94" Ponce
Rami94 is an Argentinian player from the tierras de fuego e-sports team who earned the most throughout the three last Masters Tour, pocketing $ 15,850.
Luke "NoHandsGamer" Kooken
NoHandsGamer is well-known for being the creator of the Warrior deck that's currently ruling the meta, which also took its name: the NohandsWarrior (also called Tempo Warrior). However, the craziest thing about Kooken is that he literally plays without hands. Because of a health issue, the ATK Mode player can only play with his eyes.
Brian "brimful" Schneider
Not far from Rami94, brimful earned his spot in GM thanks to the $14,100 he earned over the last Masters Tours, as well as a Top 8 rank in Arlington.
Europe
For Europe, Pavel, Kolento and Hunterace will be replaced by three French players: AyRoK, xBlyzes, and Warma.

Zakarya "xBlyzes" Hail
He is the only player to have won two Masters Tour — and he did it back to back. By earning $ 65,850 over the last two Masters Tour, he automatically qualified for Season 2.
Enzo "Warma" Flock
With the Masters Tour Jönköping victory in his pocket, Warma propelled himself to second in the world ranking for the biggest prize earned this year. Just like his compatriot xBlyzes, he automatically earned his spot in GM thanks to his MT title.
Xiaomi "AyRoK" Dubois
AyRoK is the only one of these three French players than hasn't won a Masters Tour. Defeated in finals by xBlyzes, he first failed to qualified for GM, but he made more than correct results during the last two Tours. Thank his Top 8 placement, he finally secured his spot for the upcoming Season 2.
APAC
With the departure of SamuelTsao, Staz and FroStee, Alan870806, Bankyugi, and TIZS joined the GrandMasters season 2!

Alan "Alan870806" Chiang
Alan870806 is a popular Chinese streamer that has been playing competitively since his debut in 2015. Although he played an impressive number of tournaments over the past years, he only met success recently, reaching Top 4 in Arlington.
Poramet "Bankyugi" Putchakan
Bankyugi is a Thai player from the 1st Esports team. His Top 4 in Los Angeles allowed him to secure his place for the new season.
Li "TIZS" Ching-Li
TiZS is a Taiwanese player who has performed well throughout these three MTs. With a Top 8 in Arlington, he was able to join the Grandmasters.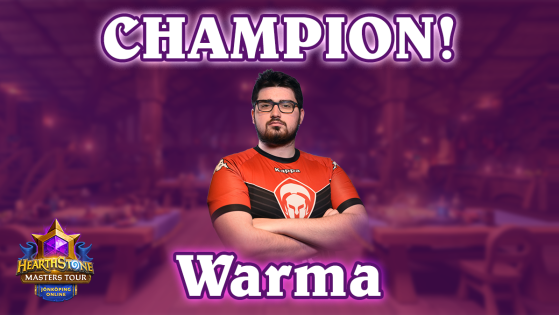 This weekend, the Masters Tour Jönköping crowned a new champion, the French player Enzo "Warma" Flock!
Original content by Jean-Vincent "Durvil" Cannata.