Nintendo recently released a robust demo for Hyrule Warriors: Age of Calamity ahead of the game's Nov. 20 release, and it features a bevy of characters from Breath of the Wild. Here are some of the best moments from the demo.
The Return of Rhoam
In BOTW, we see King Rhoam Bosphoramus Hyrule as a shadow of his former self – a tattered old man. He also appears as a spirit, but in the demo, we see Rhoam in prime form.
He gives an inspiring speech to a battalion of soldiers, including Link, and he gives a sense of the royalty and majesty of the Kingdom of Hyrule pre-calamity. Very cool.
The Warrior Princess
In BOTW, Princess Zelda was weighted down with the burden of trying to save Hyrule from the calamity. She was often (understandably) emotional and spent most of her time researching. Other scenes fleshed out her relationship with Link. They even enjoyed a few quiet moments together that fleshed out their development.
In the demo, things are refreshingly different. She uses the Sheikah Slate to fight in a capable and fierce fashion. It's awesome to see the warrior side of Zelda, without her attachment to Link or as the gentle princess of the kingdom.
Those pesky Guardians
One of the most formidable enemies in BOTW was the large arachnoid-like Guardian. The game's music changed when you met one and they locked on to you with a devastating laser. Early in the adventure, it was better to run.
They're back in the prequel, and not much has changed. One mission involves a certain amount of steps to defeat one. Toppling the mechanical menace is really rewarding. They add a strong element of danger to the game, and it's even harder to avoid the lasers this time.
Robbie and Purah in simpler times
The two quirky BOTW scientists, Robbie and Purah, a really old man and a really young girl respectively, are back but in their more natural forms.
Robbie is just as eccentric, but with a shade of youthful strength, while Purah is sharp and quick-witted. Both are well fleshed out characters. The attention to detail, down to the clothing, will please eagle-eyed fans of the series.
Top-Notch Voicing
One thing that really stood out in the demo was the voice acting quality. Not that the voice acting in BOTW was bad, but there's something about seeing characters that you know and love in a brand new setting.
It feels like the writer's really got a sense of what they were working with and capitalized on every opportunity. The result is a distinct and believable cast of characters.
It's just fun
At the end of the day, we play games because they provide either an escape from the drolls of everyday life or a portal into another dimension filled with fun. I was genuinely surprised by the demo, and it went from a maybe to a must-buy. It's fast-paced and dripping with depth. I can't wait to play the whole thing on November 20.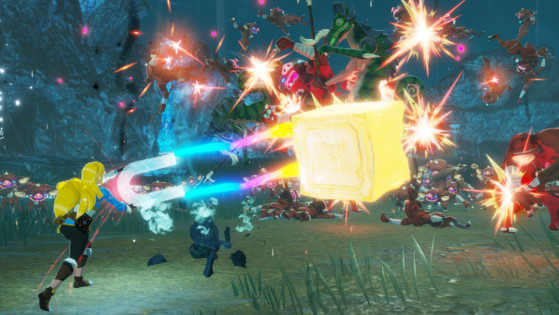 nintendo
Nintendo released a fairly large chunk of the upcoming game in demo form, and it's full of fast-paced battles and surprises that will delight casual and diehard fans alike. Let's review.