Season 4 of Warzone has kicked off with the launch of a brand-new limited-time event that goes by the name of Ground Fall.
The event revolves around the ongoing conflict between Adler and Stitch, the latter of which has managed to send a number of satellites crashing down onto Verdansk in order to execute the next part of his plan.
Like previous limited-time events for Warzone, players will get the opportunity to earn exclusive cosmetics by completing a range of challenges across Black Ops Cold War and the battle royale.
Find everything you need to know about Warzone's Ground Fall event in this article!
Warzone Ground Fall Event Start Date
Ground Fall begins as soon as Season 4 gets underway, meaning it will get underway on June 16th.
Warzone Ground Fall Challenges
Find a full list of challenges to complete as part of the Ground Fall event below:
Cold War
In Black Ops Cold War, earn 1000 Points from captured Uplink Stations in Fireteam Sat-Link.

In Black Ops Cold War, get 250 eliminations in matches on Collateral, Collateral Strike, Hijacked or Amsterdam.

In Black Ops Cold War, get 15 kills with the Hand Cannon Scorestreak
Warzone
In Warzone, secure 5 Uplink Stations.

In Warzone, eliminate 10 enemies while near an active Uplink Station or recently crashed Satellite.

In Warzone, collect 3 rewards from crashed Satellites
Warzone Ground Fall Rewards
As always, an LTM means that there are plenty of rewards that can be earned.
Based on previous events, there will be a variety of cosmetic items to collect when completing a challenge that ranges from exclusive Calling Cards, Weapon Charms, Stickers, and so much more.
Once all of the challenges have been completed, a rare Secondary Weapon blueprint will be available to unlock.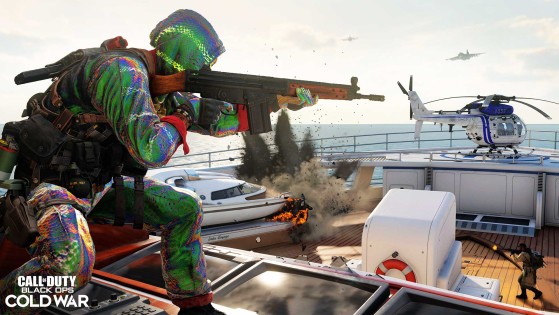 The C58 is the latest assault rifle to arrive into Warzone as part of Season 4. Find out how to unlock the rifle in this handy guide.